Gaza is an overpopulated coastal region blighted by conflicts, water shortages and poverty. KfW is promoting water supply projects and the construction of wastewater treatment plants.
Quenching their thirst and washing clothes: for people in Gaza, it is becoming increasingly difficult to carry out everyday tasks. Clean water has become a luxury commodity. Roughly two million Palestinians live in a small area on the narrow strip of coastal land between Israel and Egypt. The water shortage is catastrophic and is constantly escalating. Untreated wastewater poses a risk to people's health and to the environment. If nothing changes, the United Nations has warned that the Gaza Strip could become uninhabitable by 2020.
The problem is that ground water is scarce, and it increasingly becomes brackish owing to sea water that soaks into the soil. Wastewater flows unfiltered into the sea or seeps into the ground water, contaminating it with bacteria and nitrates. "If we do not tackle this problem then the already difficult supply of drinking water will get worse and the Gaza Strip will degenerate into a stinking cesspool," says Jonas Blume, who heads up the KfW Office for the Palestinian territories in Ramallah. Contaminated water also implies a high risk of infection, especially for children bathing in the sea.
KfW has invested more than EUR 350 million into water-related projects in the Palestinian territories, with the funds provided by the German Federal Ministry for Economic Cooperation and Development. In the Gaza Strip, this means destroyed reservoirs, wells, pipelines and pumping stations are being rebuilt to supply the population with drinking water, just like the Muntar reservoir that was recently put back into operation again. It also means wastewater treatment plants are being promoted: an old treatment plant has already been repaired, and a new modern treatment plant is currently being built. The new plant is to filter 60,000 cubic metres of wastewater every day, creating new jobs as well. "Unfortunately, we have struggled with significant project delays," says KfW Office Director Jonas Blume. These have been caused by the recurring conflicts and laborious negotiations and consultations with Israeli military authorities on the location of the treatment plant and the supply of materials. "Approvals are needed for almost all construction materials and equipment that are to be transported to Gaza, for every sack of cement and every individual pipe."
The Gaza Strip, which is part of Palestine, is sealed to the outside because Israel and Egypt keep the border almost completely closed. Within the borders, the radical Islamic group Hamas has the say. So, despite being located at the Mediterranean, trade is almost impossible. Fisherman, for example, are only allowed to cast their nets within a small radius from the coast, otherwise their boats are shot at. Provision of supplies would have long since collapsed were it not for aid from donor countries like Germany.
Read more under the picture gallery.
Development cooperation projects in dangerous countries
DR Congo
Poachers slaughter elephants in national parks, eat the meat and make a profit from the ivory. The population of wild animals like rhinoceroses, eastern lowland gorillas or okapis is dwindling, not least due to marauding rebel groups. There are repeated deadly attacks on park managers and rangers in the national parks. The photo on the left shows gamekeeper Erik Mararv, who was shot by elephant poachers. Three of his colleagues died. KfW supports the management of six nature conservation areas, in part, in cooperation with the WWF. "The projects are not just about helping to protect species. They are also about providing more safety and better working conditions for the rangers," says Karin Derflinger from KfW. Better ranger training, equipment and measures for protecting the animals in their natural environment are supported.
Dossier
In many countries, development cooperation is associated with risks for aid workers. In our dossier we describe where the dangers are.
To the dossier
Working in the Gaza Strip is dangerous. There is always the threat that military conflicts with Israel will flare up again. Radical groups in particular represent a risk. According to Jonas Blume, violence is generally not aimed in the direction of foreign aid workers though. Yet the risks are there: "It is difficult to gauge the behaviour of splinter groups."
"The new wastewater treatment plant will give a million people access to proper sanitation," says Jonas Blume. Approximately 250 people are working on the construction site in Bureij, close to the border fence to Israel.
Source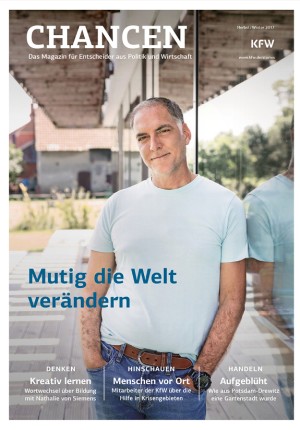 This article complements the picture gallery about development cooperation in the autumn/winter 2017 issue of CHANCEN "Mut".
To German edition
"Nobody knows just now what will happen to Gaza moving forward," says Jonas Blume. "If the borders to Egypt were actually opened, it would become easier to obtain building materials in the Gaza Strip. This could then accelerate the construction of important water infrastructure."
Published on KfW Stories: Tuesday, 12 December 2017
The described project contributes to the following United Nations' Sustainable Development Goals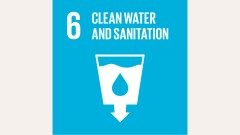 Goal 6: Ensure access to water and sanitation for all
There is no life without water! We need it for drinking, but also for producing food in agriculture. The United Nations thus recognised access to clean drinking water as a human right in 2008. However, 748 million people still live without clean drinking water. According to estimates, this causes the deaths of 5,000 children around the world each day. 2.5 billion people lack access to basic sanitation services.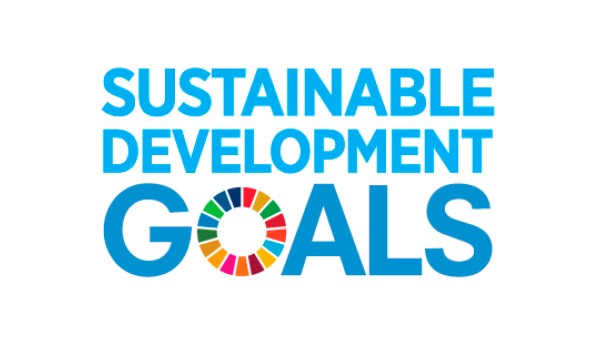 All United Nations member states adopted the 2030 Agenda in 2015. At its heart is a list of 17 goals for sustainable development, known as the Sustainable Development Goals (SDGs). Our world should become a place where people are able to live in peace with each other in ways that are ecologically compatible, socially just, and economically effective.