It is repeatedly said that Germany needs to catch up when it comes to digitalisation. What are the challenges and opportunities of digital transformation? Hartmut Jenner, Chief Executive Officer of global market leader Kärcher, talked in 2017 to Jörg Zeuner in his position as Chief Economist of KfW.
About Hartmut Jenner
The CEO of Alfred Kärcher GmbH & Co. KG has been working at the company since 1991, where he held various management positions before taking over management of the family business in 2001. Hartmut Jenner is from Winnenden, Germany, which is also home to Kärcher headquarters. He is also Deputy Chairman of the Supervisory Board of VfB Stuttgart.
Mr Jenner, Mr Zeuner, let's start with an initial assessment: how is the German economy doing when it comes to digitalisation, especially the SME sector?
JENNER: I think all the dimensions of this issue are not yet on our radar. Everyone in the SME sector has heard about it and says they are also working on it. But in light of disruptive technologies that create new business models and replace established systems, in my opinion, we still have much more to do.
ZEUNER: This was also shown in a representative analysis performed by KfW. Although most companies are doing something, the broad majority are still doing too little. The smaller the company, the less is done. And the amounts being invested are still too small.
The numbers say that investments in digitalisation are at about EUR 10 billion per year. That is too little?
ZEUNER: I think that amount is too small, and we're concerned about this as well. When that is broken down to individual mid-sized companies, that's an average of EUR 10,000. If I were to own a restaurant and invest EUR 10,000, I might buy three tablets, connect to an online delivery system and invest a couple of hours in training the employees. Then the money is gone. And at that point, we still are far from doing things like collecting and using data differently, using it in production, pre-calculating demand and so on. Different dimensions need to be achieved with regard to investments.
About Dr Jörg Zeuner
Jörg Zeuner was Chief Economist of KfW from September 2012 until April 2019. He regularly engages in current debates in Germany and Europe, providing an economic standpoint. Among other professional endeavours, he also worked at the International Monetary Fund in Washington for over ten years.
Kärcher already offers its customers digitalised devices and is opening itself up to completely new lines of business. Do other companies not see sufficient opportunity?
JENNER: I have to say, I can't give you a precise answer. Digitalisation offers customers considerable added value and presents a huge opportunity for the company. But new technologies also require change. Things were exactly the same when IT was introduced 40 years ago. Certain jobs or vocational training positions won't exist anymore, while other ones will take their place. Change is always an issue that people respect, or even fear, but I myself don't see it critically. Instead, I see the opportunities for the company.
ZEUNER: The conversations I have about digitalisation are also not marked by fear. This is a technology that people deal with a lot, but all its individual aspects aren't yet understood, so people don't feel completely comfortable with it. Our surveys show that the majority of companies are picking up on this issue to take advantage of the opportunities these technologies offer.
JENNER: I think that interacting with customers is very important for manufacturers. And this is strongly influenced by digitalisation in a positive way. Because the closer manufacturers are to customers, the more rapid the pace of economic development becomes. We see this over the course of decades and centuries.
In dialogue
Dr Jörg Zeuner met Hartmut Jenner at Kärcher headquarters (KfW Group/Thomas Schuch).
Let's assume that Tesla founder Elon Musk decides to stop investing in space travel and instead invests in revolutionising the pressure washer segment. Would he have a chance to subvert Kärcher's business model?
JENNER: The fact is, we already have this type of risk on our radar. No question: there are disruptive business models that could become dangerous for us. We should never underestimate someone with a lot of money tackling any type of business model. It would be very arrogant to believe that we aren't at risk. On the other hand, I am not very concerned because we have worked through this very thoroughly with many, many workshops and with support from external experts. We've come up with many good ideas, not least because of this work. This type of disruptive model would be something like no longer selling a product, but instead providing a service. In the commercial sector, the customer could pay us according to the number of square metres cleaned, so for the actual benefit, for example.
"No one can live from digitalisation alone. You also have to produce something."
The company
Alfred Kärcher GmbH & Co. KG employs 12,000 people in 65 countries. The product portfolio includes pressure washers, sweepers, Floor scrubbers, vacuum cleaners and much more. Innovation is the most important growth factor for Kärcher: approximately 87% of all products are five years old or less.
Find out more
ZEUNER: That sparks my interest, when I hear you say that a service will be sold instead of a product. That's a topic that we have to increasingly deal with at KfW because it affects financing.
What do you mean by that?
ZEUNER: That means there will be companies that change their balance sheet structure and business model. Some will have fewer, others will have many more tangible assets. After all, someone also has to provide the service and staff. There has to be a fleet, in your case, the cleaning equipment. This will change the financing structure of the companies that then use the service, financing working capital instead of fixed assets. For us as a bank, this is exciting because we will then have to consider who needs which type of financing.
The term Industry 4.0 is used everywhere in the context of digitalisation. Kärcher has also automated production to a great extent. How important is that for mid-sized companies?
JENNER: That is a fundamental issue because it's a very different approach. We now assume that decentralised intelligent structures that function in a network will be used. This affects every industry, no matter the size of the company. Today, every component can be made intelligently.
ZEUNER: The term Industry 4.0 suggests that the process only concerns large companies with fully automated production lines. Perhaps this is the reason why it isn't sufficiently attractive for small businesses at the moment. Here, we should talk about digitalisation instead, but see it as the same – as another process, another construct at the root of things.
Mr Jenner, Kärcher works very closely with Amazon, both in sales and in outsourcing IT processes in the cloud. Isn't that risky? Aren't you putting yourself at the mercy of American high-tech conglomerates?
JENNER: The cloud will prevail as a basic technology. The great benefit is having low costs and it is much easier to scale. It's a very flexible system, it's good, and can be deployed quickly and affordably. And I also think it's secure. Even if there is a certain residual risk, no doubt. I'm not naive about it. In today's world, no data is 100% secure. To a certain extent, we have to learn to come to terms with that. We don't just have one cloud provider, we use several. We use this as a method of spreading risks.
Mr Zeuner, is Mr Jenner's opinion still relatively rare in the realm of commerce?
ZEUNER: When it comes to data security, yes. Many other SMEs would probably act much more cautiously. When we ask companies which digitalisation issues cause them headaches, data security is often their response. There is still a good deal of uncertainty surrounding cloud computing. That's one reason why many are not as far along as they would like to be in their digitalisation process. Another important reason is insufficient IT competence, both in management and among employees.
We have many leading tech companies right here in Baden-Wuerttemberg. And a young, completely digital generation is right on our doorstep. Why isn't anything happening?
JENNER: I think more is happening than it may seem. We currently have three start-ups in the company. We also have organisational structures that analyse new companies. We are currently in discussions with around ten start-ups. That is very important for companies today. But there are also obstacles. I live in a village here near Winnenden. The Internet connection I work with there is like something from the Middle Ages. I travel the world a lot and sometimes I have a better Internet connection in the middle of the wilderness than I do in Germany.
Having an Internet connection that is fast enough is a basic prerequisite for being able to work at all. And then: how should we train people in the area of digitalisation? I don't think it's right to keep it out of schools.
ZEUNER: I completely agree with that. We should reconsider whether having nationwide distribution of a certain speed is really the right solution. We will have regions that require much higher data speeds and others where it can be lower sometimes.
Where will we be in ten years?
ZEUNER: A big step further. I assume that the investment expenditures will increase in this area and do so quickly and by a relatively large amount. The majority of companies will use the opportunities of digitalisation and integrate them into their business models step-by-step. I think it's important to note how much the discussion in Germany has accelerated in the last two years, and it's going in the right direction.
Connected Cleaning
A total of over 950 employees work in research and development at the global leader for cleaning technology. Kärcher uses the data from networked devices to generate new "Connected Cleaning" offers like the "Kärcher Fleet" fleet management introduced in 2014. It helps cleaning companies locate their devices and monitor their use, thus making them more transparent and efficient. It also notifies Kärcher headquarters of damage, ensures quick repairs and sounds alarm if devices are stolen. In 2016, Kärcher saw the highest turnover in the company's history at EUR 2.33 billion.
JENNER: Where will we be in ten years? I don't think the issue of digitalisation is hype. I think it will change companies, customer behaviour and employee behaviour too. We will work differently in future. At Kärcher today, we already have 500 home offices. We couldn't have remotely imagined that ten years ago. But we don't have to exaggerate. Some seem to believe that there is no longer a future in machine construction. I think that is wrong. No one can live from digitalisation alone. You also have to produce something.
What role will Germany play as an industrial location?
JENNER: The digitalisation concepts that tend to have fewer assets will probably continue to be developed in Silicon Valley. But they don't have a broad foundation in machine construction there. There will continue to be regions of the world that are ahead in this area. Baden-Wuerttemberg and all of Germany will surely be among them. I believe in the potential of German companies. But we mustn't underestimate regions like Asia.
Source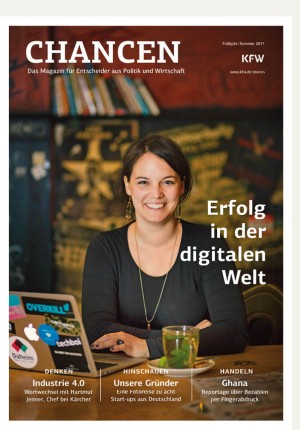 This article appeared in the spring/summer 2017 issue of CHANCEN magazine focusing on "Success in the Digital World".
To German edition
ZEUNER: Germany has identified the challenges of digitalisation and is actively addressing them. Taking that into account, it will assert its strengths, including machine construction, over other regions. Digitalisation will make significant contributions to maintaining Germany's international competitiveness.
Published on KfW Stories: Monday, 19 June 2017
Last updated: Tuesday, 30 April 2019