Access to clean water is a human right. In countries like Somalia or Yemen water is often contaminated, and treated water is expensive. Boreal Light has developed a system that can be connected to existing sources and has the ability to provide the population with an affordable water supply. This Berlin-based company was crowned the national winner of the KfW Entrepreneurs' Award 2019 for this achievement as well as winner of the KfW Entrepreneurs' Award 2019 in the "people's choice".
National winner
Technology for clean drinking water: Boreal Light receives the KfW Entrepreneurs' Award 2019 (KfW Group/n-tv). This video is available in German only.
In an unprepossessing hall in an industrial park in Berlin-Marienfelde, Hamed Beheshti and Ali Al-Hakim check their water treatment system one last time. Soon it will be packed and shipped. The business founders point at the individual parts: "The solar panel generates electricity for the pump. This conveys brackish water or saltwater from available sources, which could be wells, lakes or the sea. It passes through different filters depending on the type of water. In the end, we can extract drinking water that we sell at a very reasonable price."
The company's chemical-free systems are housed on location in a permanent building they call the WaterKiosk. After treatment, the remaining salty water can be supplied free of charge for showers, toilets and for washing laundry. In many places, agriculture and fish farming develop around the kiosk. Together with the residents, large tanks are constructed and an oxygen pump is connected to the WaterKiosk. This is all that needs to be done for setting up productive fish farming. The laid pipes are also suitable for vertical farming, also known as multilevel cultivation, of cucumbers, tomatoes and beans. The rest of the water can also be used for a field supplied with drip irrigation.
The struggle for a cost-effective water supply
Boreal Light systematically focused on the target countries during development. First and foremost, this meant that the solution had to be affordable. "Providing drinking water is big business and the companies dictate the prices. In Somalia people pay one dollar for five litres of drinking water – with monthly incomes of 100 to 150 dollars. Few people can afford that. So they drink contaminated water, which often leads to illness. At our WaterKiosk in Somalia, 1,000 litres of water cost 50 cents," says Ali Al-Hakim.
This meant that the business founders were not welcome everywhere. They were refused licenses; their water quality was called into question and employees were threatened. "Those who develop something good often come up against resistance. The critical factor for change is that local people accept it," said Ali Al-Hakim, who is not easily intimidated. At the same time, he also understands that some local residents in small villages are sceptical. Because organisations often set up systems that improve the quality of life for a time. But as soon as something breaks or a spare part cannot be replaced, they stand around uselessly.
So Boreal Light only uses robust, universally available materials. Every screw can be replaced; every pipe can be repaired with tools and materials that are available all over the world. Nothing is welded, no batteries or inverters are required, and even the motors cost little more than 100 dollars. The price of water is calculated so that employees from the village can be paid, and maintenance, filters, and replacement parts can be financed over the long term.
Read more under the image gallery.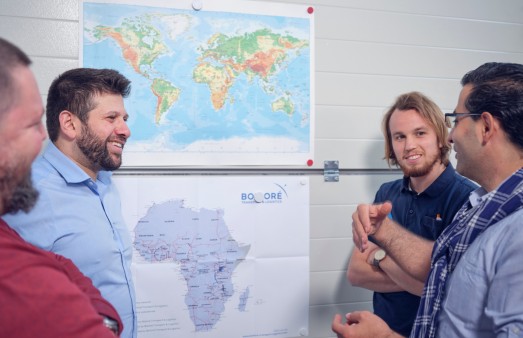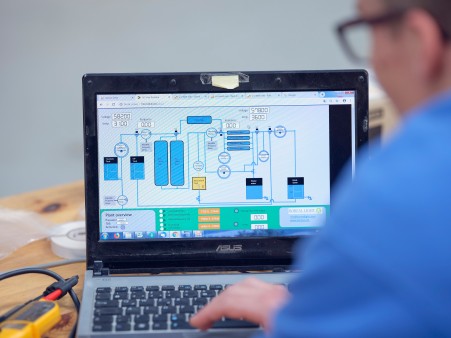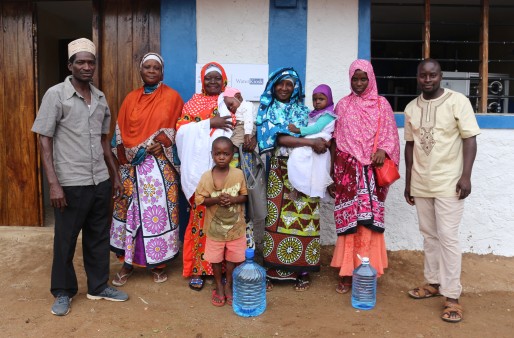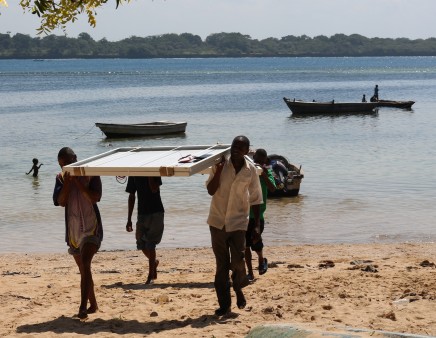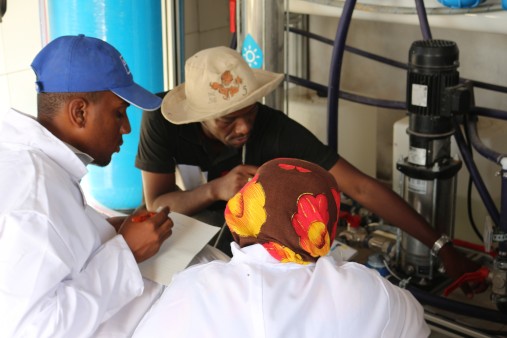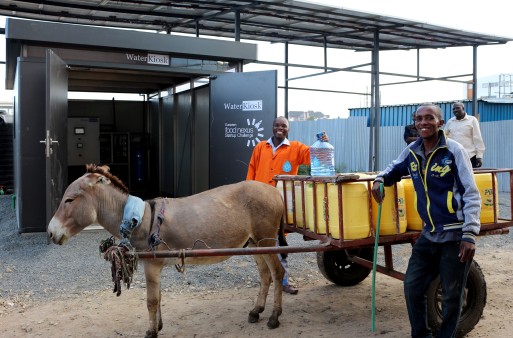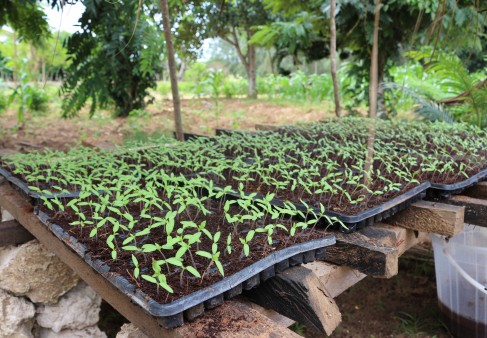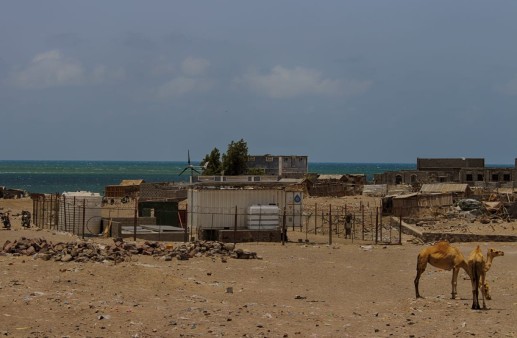 The Boreal Light team would like to provide poor countries with clean drinking water. On the left, light blue shirt: Ali Al-Hakim, wo co-founded the company with Hamed Beheshti (on the right, blue scarf).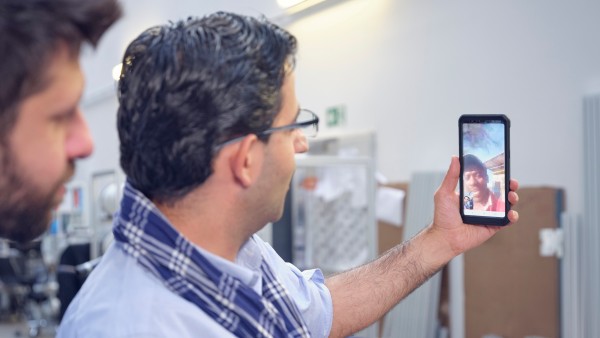 WaterKiosks on course for expansion
The systems are sold to aid organisations in conjunction with training for the personnel. Or Boreal Light itself is the operator. In Kenya, there are so many WaterKiosks that there is now an African subsidiary with 15 employees. Thanks to modems with SIM cards, the plants can also be monitored from Berlin. Consumption and proper payment can be verified at the same time. The business founders have created their own guidelines for remote management and have thus created a standard for other providers.
Ali Al-Hakim and Hamed Beheshti are of course pleased about their concept's success, even if the path was rocky at times. The two met in 2012. At the time, Hamed Beheshti was writing his doctoral thesis, and Ali Al-Hakim worked at a company. His suggestions were often not taken seriously at his place of work. Together they came up with the idea of founding their own company. They developed wind turbines but didn't have any success. They began looking for an alternative and focused on water treatment using solar power.
Boreal Light's financing is secure
After three years of working on the project, they were no longer able to finance a pilot system with private funds. However, without tests, no one was willing to grant them a loan, and the business founders did not want to become dependent on investors. The only thing that could get them through this phase was crowdfunding. Ali Al-Hakim says that he was just about ready to give up. But after they were able to celebrate success with two plants in Kenya, the first orders came in and financing was also on solid footing. Al-Hakim was finally able to resign from his full-time job. Shortly after that, they both paid themselves a small salary for the first time.
The hard work and grit were worth it. In a few days, the business founders will fly to Tanzania to open their 18th WaterKiosk. This will improve quality of life for the 3,500 residents. Many more people will soon benefit from the solution from Berlin – 26 plants will be delivered in the coming months. Boreal Light's objective is to be able to provide over half a million people with clean drinking water by the end of 2020. A growing number of people are experiencing increasing water scarcity due to climate change. Boreal Light has already implemented the technology to deal with these challenges.
Published on KfW Stories on 18 October 2019
The described project contributes to the following United Nations' Sustainable Development Goals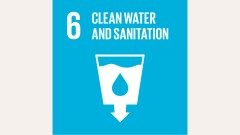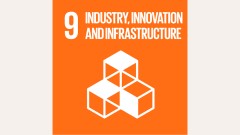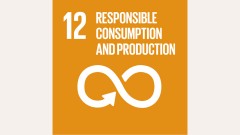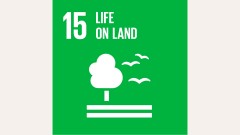 Goal 6: Ensure access to water and sanitation for all
There is no life without water! We need it for drinking, but also for producing food in agriculture. The United Nations thus recognised access to clean drinking water as a human right in 2008. However, 748 million people still live without clean drinking water. According to estimates, this causes the deaths of 5,000 children around the world each day. 2.5 billion people lack access to basic sanitation services.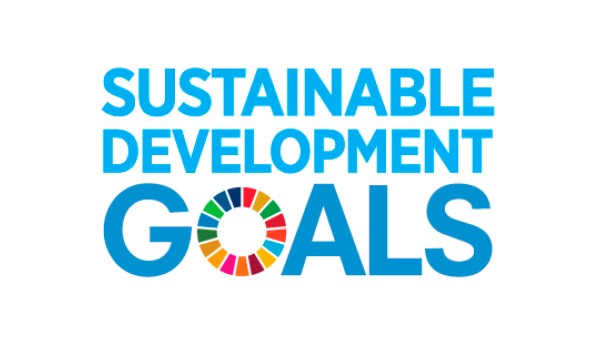 All United Nations member states adopted the 2030 Agenda in 2015. At its heart is a list of 17 goals for sustainable development, known as the Sustainable Development Goals (SDGs). Our world should become a place where people are able to live in peace with each other in ways that are ecologically compatible, socially just, and economically effective.