From a taboo subject to centre stage in the event arena: The Hamburg-based company Goldeimer raises awareness about compost toilets in Germany to give more people around the world access to sanitation. For its work, Goldeimer was honoured with the KfW Entrepreneurs' Award 2018 as the state winner for Hamburg.
FROM THE FESTIVAL TO THE PODIUM
How the company Goldeimer evolved from a project at Kiel University to become the state winner of the KfW Entrepreneurs' Award 2018 (KfW Group/n-tv). This video is only available in German.
More than two billion men, women and children around the world have no access to a toilet when they need one. The unappealing alternative is to use bushes, fields and roadsides which contaminates streams and waters with germs. On a project trip through Ghana and Burkina Faso in 2012, Malte Schremmer, a geography student at the time, learned first hand that the lack of sanitary facilities is not only unpleasant, but also makes people ill: a gastrointestinal illness hit him so hard that he had to be flown back to Germany early in order to get back on his feet. One in three people around the world is at risk from life-threatening diarrhoeal diseases due to insufficient sanitation facilities. 500,000 children a year die from these diseases. They do not have the option of flying somewhere else to get healthy. Malte Schremmer became gripped by the issue of toilets.
When he returned to Germany, he wrote his Bachelor's thesis on alternative sanitation systems and looked for opportunities and collaborators to make the issue more visible to the public. In Germany, toilets are taken for granted. However, we rarely spare a second thought for the faeces that end up in the drinking water system here. We certainly never think much about the disastrous conditions in developing countries. In fact, we often do not want to hear any details because the issue is taboo. And this is exactly where Goldeimer comes in, as Malte Schremmer explains: "No other invention has saved more lives in the past two hundred years than the toilet. Unfortunately, hardly anyone knows this any more. We want to change this and draw attention to the issue."
About the founders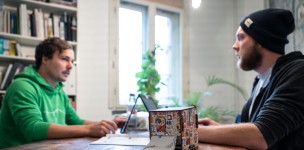 Rolf Schwanderer (r.), Malte Schremmer, Johannes Manthey, Hannes Popken und Jan Lange founded Goldeimer in 2014 as a subsidiary of the non-profit company Viva con Agua. Enno Schröder (l.) joined them later.
In 2013, Malte Schremmer built two compost toilets together with friends and put them to the test at a music festival in Gräfenhainichen in the state of Saxony-Anhalt. Wood chips are used in compost toilets as opposed to water or chemicals. Nutrient-rich humus soil can be produced from the waste. Mission compostable instead of chemical toilets: the idea caught on with the festival-goers! And gave Malte Schremmer the courage to take the next step. In 2014, he founded the Social Business Goldeimer, together with Johannes Manthey, Hannes Popken, Jan Lange and Rolf Schwanderer, as a wholly owned subsidiary of Viva con Agua, a non-profit company that is committed to providing access to clean drinking water worldwide. Goldeimer's corporate goals are firstly to establish sustainable sanitation systems in Germany and to raise awareness of the importance of toilets, and secondly to co-finance sanitation projects with the help of Welthungerhilfe's fundraising projects – for more toilets and fewer diseases worldwide.
Meaning the focus of their work is education. But how do you talk to people about something taboo – whispering shamefacedly behind closed doors? No, it was immediately obvious to the founders: if you want to raise awareness about the importance of sanitation, you have combine a little brashness with fun, information and entertainment. The toilet taboo should be broken with humour, with select jokes about faecal matter at every level. Open-air events and festivals turned out to be the ideal setting for public relations work: the audience is here, the reach is here. And everyone here understands the value of clean toilets! Since 2014, Goldeimer has been touring Germany from May to September with 80 rental compost toilets. From Schleswig-Holstein to Bavaria, from the Hurricane Festival to the Catholics' Day festival. About twenty representatives provide information about the unmentionables. Because "communication is the core of our work," explains Goldeimer co-founder and co-managing director, Enno Schröder. "After all costs have been deducted, our profits flow entirely into financing sanitation projects abroad. The experts from Viva con Agua and Welthungerhilfe decide exactly how the funds are used. Because our goal is not to export compost toilets. It is always better to create solutions on the ground adapted to local conditions."
Read more under the image gallery.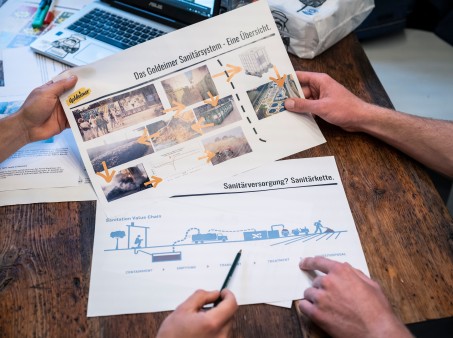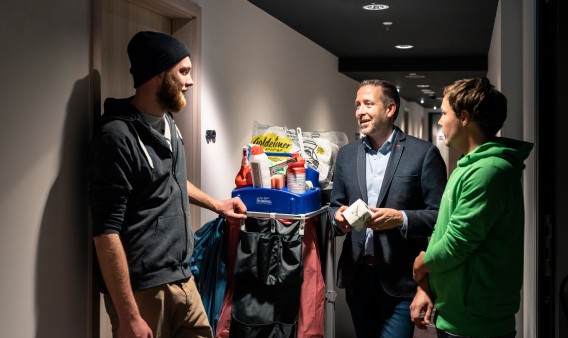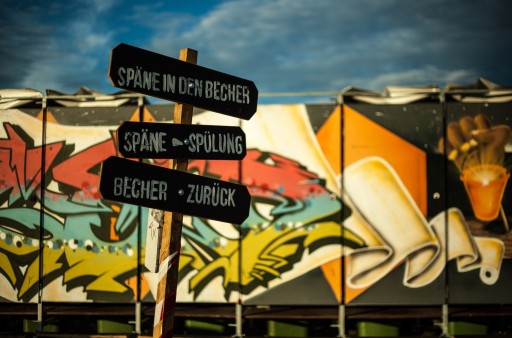 Sustainable
The Goldeimer toilets do not need water or chemicals. The collected biomass can be composted into fertile humus.
In order to strengthen the fundraising sector, Goldeimer started the licensing business as a second pillar in 2016. Firstly, with recycled toilet paper, which is sold in drugstores and online and also communicates with users: sanitation policy messages are conveyed to users through slogans printed on the toilet paper like "This toilet paper builds toilets somewhere else". Within the first two years, 500,000 packages were sold, other licensed products such as a "Klo to go" (toilet to go) for camping enthusiasts and the "Klocker – for a healthy squatting position" have been bringing extra added momentum to the business since summer 2018. And there is more to come according to the company motto "Alles fürs Klo – Klos für alle" (All for toilets – toilets for all).
At present, five other full-time employees work for Goldeimer along with the original founders. In addition to the festival's seasonal staff, a large number of supporters, with up to 250 volunteers, help to raise public awareness of the global toilet emergency through campaigns. One fun campaign is the #kickshit Challenge. Here the idea is to see who can keep a roll of toilet paper in the air with their feet the longest. At "Open Defecation" events, supporters sit for hours with their trousers down on toilet bowls placed outside in busy city centres. The Goldeimer magazine offers "64 fascinating pages only about shit". Nor is anything left out of the blog. Malte Schremmer sums it up: "The bowel movement is a completely normal part of our lives, let's treat it that way – in the interest of dignified ecological sanitation worldwide."
Published on KfW Stories: Tuesday, 30 October 2018
The described project contributes to the following United Nations' Sustainable Development Goals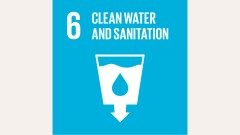 Goal 6: Ensure access to water and sanitation for all
There is no life without water! We need it for drinking, but also for producing food in agriculture. The United Nations thus recognised access to clean drinking water as a human right in 2008. However, 748 million people still live without clean drinking water. According to estimates, this causes the deaths of 5,000 children around the world each day. 2.5 billion people lack access to basic sanitation services.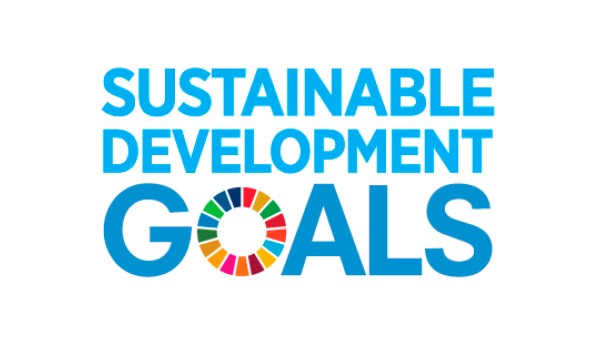 All United Nations member states adopted the 2030 Agenda in 2015. At its heart is a list of 17 goals for sustainable development, known as the Sustainable Development Goals (SDGs). Our world should become a place where people are able to live in peace with each other in ways that are ecologically compatible, socially just, and economically effective.