TUMO, the digital learning centre, opened in Berlin in the middle of the German "soft" lockdown late in the year 2020. From this time 12 to 18-year-olds can now learn online how creative programming works. The unique education project modelled on an Armenian project is a hit with young people. Other TUMO centres shall be opened as soon as it can be arranged.
It's cold and grey Wednesday afternoon in December, one of those days when the sun can't break through the clouds, and a rather dreary one for student Ferdinand. His hockey practice has fallen through because of coronavirus, his guitar lessons are cancelled and school is especially hard-going because there are so many uninspired digital lessons. Ferdinand is 12 years old and a seventh grader at a Berlin secondary school.
But today he's got other plans. Maybe he'll write a song or program a robot to play tic-tac-toe or sculpt a model of a head from a sphere, "all things I can't do at school, and I like to do things on the computer". But these things are available at the TUMO learning centre. Unlike his current school, where digital instruction is basically a foreign concept. Until a year ago, Ferdinand went once a week to his old primary school, where a computer course was offered in the afternoon, but he is too old now. Two months ago, his mother showed him the TUMO website. A friend of hers had seen the advert on Instagram, "and thought it looked cool".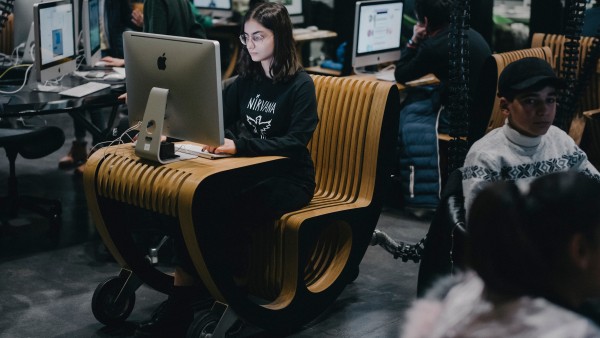 Education made in Armenia
If you ask Ferdinand what TUMO is, his answer is: "Free computer classes with lots of fun stuff. An amazing centre with tons of computers and the best technology. So far, we have only been able to participate online, but it also works from home." In more formal terms, TUMO is a unique educational project, an idea of the Armenian-American entrepreneurial couple Sam an Silvia Simonian, who originally wanted to promote digital education in Armenia. To this end, they have developed a completely individual learning concept for 12 to 18-year-olds, with ten core areas, from graphic design, photography, animation and music production to programming and robotics. Some of the well-suited furnishings were specially designed, e.g. the mobile desk TUMObile which resembles a bumper car. TUMO World software is at the core of the concept. Students have to develop the content themselves. This is based on the belief that having fun sparks students' ambition, makes them eager to learn and promotes personal responsibility.
Coaches are available to answer questions. Once students have gone through the orientation phase and become familiar with all ten core areas, they can specialise in three areas. and are then taught in workshops by experts who have undergone additional TUMO training.
There are now four TUMO centres in Armenia – incidentally, the centre in the capital Yerevan is located in a park that bears the name of the Armenian national poet Hovhannes Tumanjan, nicknamed Tumo, the name adopted by the local students for the learning centre as well – and two more are under construction. TUMO is also expanding internationally. Centres in Paris and Beirut opened their doors in 2018, followed by Moscow and Tirana this year and Berlin in mid-November Only digital instruction is offered for the time being due to the coronavirus.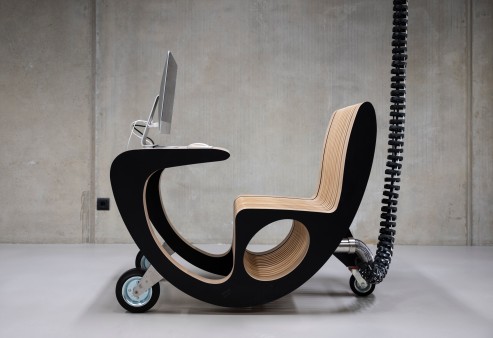 Malik Bourja works as a coach at the Berlin TUMO Center. Teaching is currently still online...
Classrooms look antiquated in comparison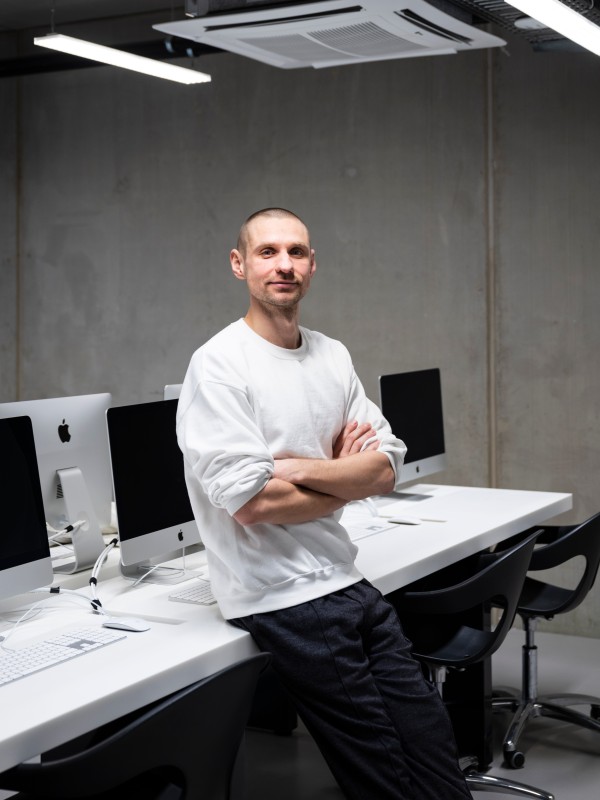 Anyone who has already seen the centre is blown away by how cool it is. It is located in Wilmersdorfer Straße, a popular shopping street in the middle of the city and extends across four floors. There are floor-to-ceiling windows, also facing inside towards the open atrium, sealed concrete floors and walls, bleacher seating and beanbags, the TUMObiles and a music studio, a projector, 100 iMacs, 50 MacBooks. A typical German school seems prehistoric in comparison. "Crazily cyber-esque," said one employee on her first visit.
There are currently 150 students registered, nearly as many girls as boys. They are trained in groups by six coaches, four hours per group per week. Every two months the plan is to add another 150 students, the maximum number is 1,050. They register as if they were joining a football club and, just like football practice, attendance is expected. Anyone who misses classes over a longer period is kicked out. "But that's logical given the costs," says Ferdinand.
When the lockdown ends, students and coaches will also be able to meet on-site and finally have the chance to see the centre up close. Robin Hertz is particularly looking forward to this moment. As the KfW project manager, he is responsible for TUMO. KfW is financing the project for an initial period of five years. "For us, too, this is an innovative project," says Hertz, "normally KfW helps out with loans and grants. This also applies to education financing in Germany and in Financial Cooperation countries." In this case, KfW and TUMO are bringing a partner country's project to Germany.
This happened after German Chancellor Angela Merkel was given a guided tour of the centre by Marie Lou Papazian, its managing director, during a visit to Yerevan in 2018 and was impressed. Papazian, on the other hand, was initially surprised by the German interest in TUMO. If you ask Robin Hertz how he explains the German interest to Papazian, he replies: "A comparable non-school programme of this size and with this diversity of subjects in the area of digital and creative education simply does not exist in Germany at present. TUMO is not a MINT centre, but a centre for creative technologies. This means that children who may want to make films or music sign up, but then discover robotics or programming in the process at the TUMO centre."
Not afraid of programming
London Lee, 20, studies economics, "mainly gets around by skateboard" and works as a coach at TUMO. He confirms this need. "I know from my own experience that there are only a few study programmes today where you can avoid data processing systems. I think it's great that they help kids overcome their fear of maths and programming. That's good for studying and creates more opportunities for the professional future". Lee also has a lot of girls in his courses, which he finds particularly important because they are usually more easily discouraged from programming. "But I have one who has been programming for seven years. For her, it is great that she can now get to know other girls with the same interest."
One of these girls is Kea, 18, from Aachen. She graduated from high school this year and is now doing her gap year. She found out about TUMO through her friend Tabea, who in turn had seen an advertising poster in the underground while visiting Berlin. They are both interested in art and think it is exciting "that at TUMO you can be exposed to many of these areas". Because the classes started in digital form, they were also able to participate from North Rhine-Westphalia. In January they will move to Berlin for several months because of TUMO.
There was no digital education at her school. There were some computers and a couple of laptops, explains Tabea, but they were only used by the younger teachers. "Most teachers still use overhead projectors that you have to bang on eight times to make them work, even in secondary school," says Kea. It was no different for friends at other schools. At the Federal Government's Digital Summit in early December, Angela Merkel pushed for faster digitalisation. Listening to Kea's and Tabea's experiences, German schools still seem to have a long way to go.
TUMO is intended to set an example
Although TUMO is an extracurricular learning project, the aim is for it to be integrated into the German educational landscape. "We have already held very constructive talks at district level in Berlin," says Robin Hertz. We also want to attract schools to the centre in the mornings so that they can organise workshops there, for example as part of a project week. Germany still has a long way to go in digital education. It is important to us as KfW to help pave the way and help where we can as a promotional bank of the federal and state governments.
Friends of Ferdinand who have heard of TUMO are amazed that the classes are free. "I can learn ten subjects in a way that will enable me to use them later in my career, I hope." If you start learning something at the age of 12, then at 18, when you've finished school, you're really good at it. Ferdinand's prospects are therefore excellent.
Published on KfW Stories on 14 December 2020, updated on 9 August 2023..
The described project contributes to the following United Nations' Sustainable Development Goals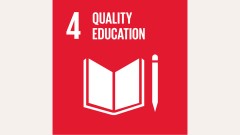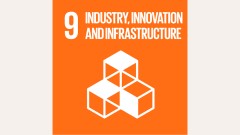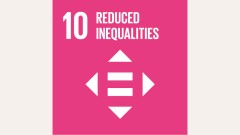 Goal 4: Quality education
Refusing people access to education means depriving them of a basic human right – and of important development prospects for individuals and society. Education enables people to improve their political, social, cultural, and economic situations. Worldwide, 58 million children and 63 million young people still do not have access to primary and secondary schools. 90 per cent of all children with a disability never go to school. 781 million people are illiterate. 7.5 million people with functional illiteracy live in Germany alone.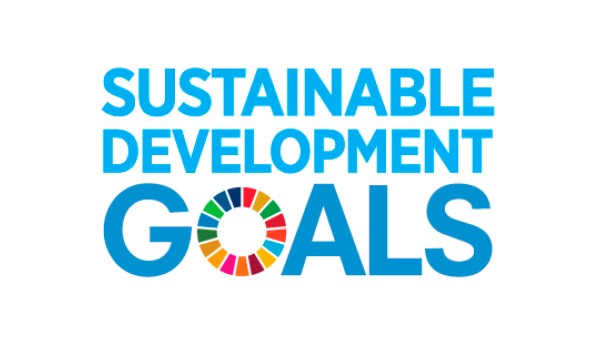 All United Nations member states adopted the 2030 Agenda in 2015. At its heart is a list of 17 goals for sustainable development, known as the Sustainable Development Goals (SDGs). Our world should become a place where people are able to live in peace with each other in ways that are ecologically compatible, socially just, and economically effective.