Traffic emissions are a major contributor to global warming. KfW therefore supports sustainable mobility around the world. We show how people are already changing course in six examples from four continents.
The two start-up entrepreneurs didn't experience a stereotypical epiphany in a garage, but during a conversation about the energy transition. "Electricity meters have to be mobile so that we can turn every street lamp into a charging station," said Knut Hechtfischer out of nowhere. His partner Dr Frank Pawlitschek immediately realised just how much potential lies behind this statement. The reason is that one of the biggest obstacles to e-mobility is the limited number of charging options for electric cars. There are currently only 4,730 charging stations in Germany, each with two charging points – a shockingly small number according to many experts.
The solution devised by the entrepreneurs Hechtfischer and Pawlitschek with their company Ubitricity is as simple as it is effective: the electricity meter is integrated into the cable and is kept in the e-car's boot as a mobile charging station. The charging point can thus be scaled down to a system socket which can be installed almost anywhere electricity is available: at home, at work or on street lamps. The intriguing idea also won over a venture capital fund co-financed by KfW at the time.
This would solve an important issue related to future mobility: how can renewable energy and e-mobility be combined cost-effectively and with reasonable technical effort? Because one thing seems certain: in the future, everything will come down to electric motors. Hurricanes, floods, droughts, melting glaciers, rising sea levels – the global impacts of fossil-fuelled engines in transport, industry and households are too catastrophic to continue burning oil and coal.
Read more under the picture gallery.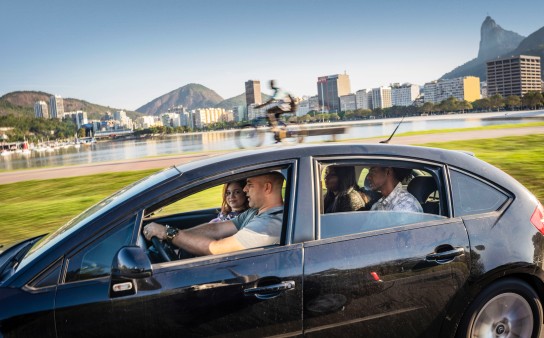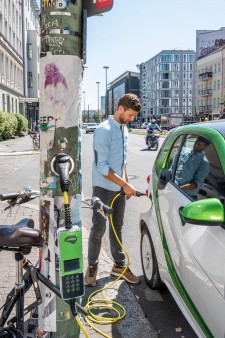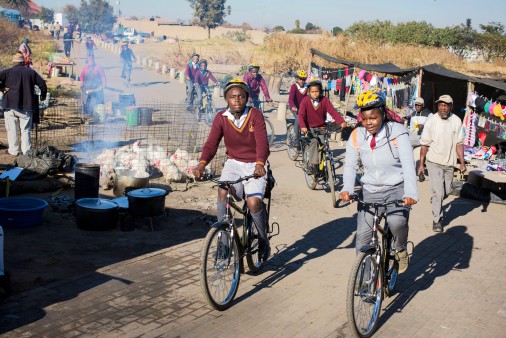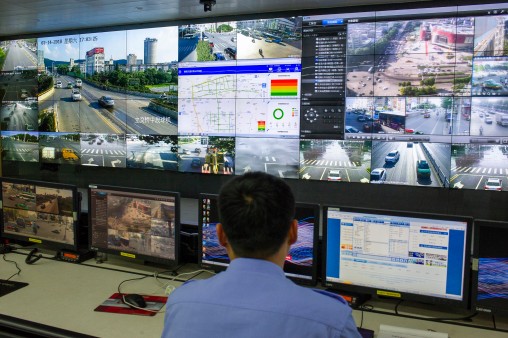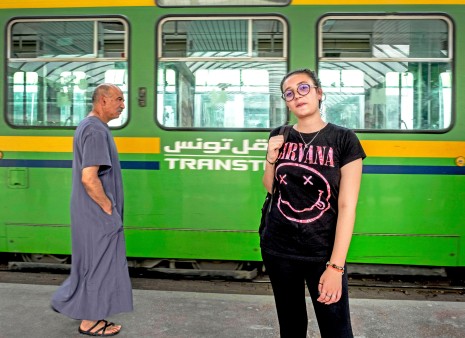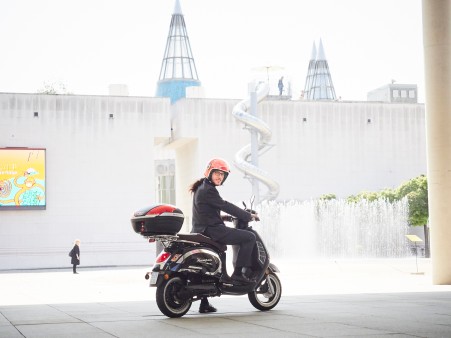 Rio de Janeiro, Brazil
With its ridesharing app, the Hamburg start-up Wunder is thinning out traffic in megacities. Joice Lauria Silva (left on the passenger seat) lives in Niterói on Guanabara Bay opposite Rio. For her, Wunder's invention is a blessing, allowing her to become extremely mobile and flexible. The Hamburg-based technology supplier develops intelligent software for forward-looking mobility. Among other things, it provides ridesharing services in major cities and promotes the concept of sharing. Joice Lauria Silva has downloaded the Wunder app and only needs to enter her location and destination – she knows after a few minutes who will be picking her up. "I know most of the other users I ride with because they all live in the same neighbourhood. And you always meet nice, new people." And it also reduces traffic on the roads.
Road traffic currently accounts for 17 per cent of greenhouse gases. But it won't stay this way. A study conducted by the International Transport Forum in 2017 found that global demand for mobility is rising dramatically, and predicts a 70 per cent increase in CO2 emissions by 2050 in the worst-case scenario for all land, sea and air transport. According to the study, even a more optimistic scenario with a more ambitious transport policy would be unlikely to achieve the climate targets agreed in Paris in 2015 of keeping global warming well below two degrees Celsius.
KfW has long been aware of the pressing need to reorganise the transport sector. "This is why we support investments around the world that optimise mobility and reduce environmental damage," says Karl Ludwig Brockmann, Group Officer for Sustainability at KfW. According to Daniel Römer, Senior Economist at KfW Research, the vehicles of the future will increasingly be networked, self-driving, electric and shared – which has implications for value creation processes in vehicle production. "Far-reaching changes in the area of mobility seem inevitable," he says. But these changes also represent an opportunity – including for Germany. The researcher is optimistic that the fossil fuel energy industry will be successfully phased out: "Future generations might be surprised that we were sitting in cars with flammable fuel tanks and noisy combustion engines, emitting harmful exhaust fumes."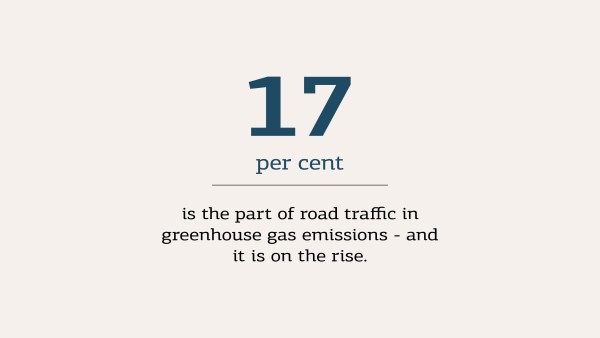 As part of this change in transport, no less than a change in culture is required. Mobility habits that have been prevalent for decades need to be changed – especially in industrialised countries. Younger people, however, have already begun to change the way they think. Car experts and trend researchers are seeing a growing rejection of the car as a status symbol among this population group. They no longer associate the feeling of freedom and adventure with owning a car. In addition, services like car sharing make it possible to use a vehicle without owning one.
This is where the megatrend of digitalisation comes in. It creates the opportunity to make sustainable mobility practical. Which is exactly the focus of the development work of the Hamburg-based technology supplier Wunder Mobility in which KfW has invested through the Cherry Ventures fund. The Wunder app can be used on a smartphone to find or offer ride shares to prevent people from driving alone and avoid traffic congestion. "We are active, for example, in Manila, a city that was conceived for five million people, but whose metropolitan area now has 20 million inhabitants," says Lukas Loers, Chief Financial Officer at Wunder. The expanding Hamburg-based company now also has a presence in Bangalore and Rio de Janeiro.
The streets in the world's densely populated urban areas are already overcrowded, and the number of new vehicle registrations is expected to rise from 80 to 120 million over the next 20 years worldwide. In Germany alone, the number of kilometres of traffic jams more than tripled between 2011 and 2017 – and the trend is rising. One figure makes it especially clear how much potential still needs to be tapped: each car in Germany only has an average of 1.4 passengers. If it were possible to double the rate to 2.8, only half as many cars would still be on the road.
To make mobility communal, local public transport also needs to be expanded. In Tunis, for example, KfW engages in financing urban railways and trams that take thousands of people off the roads and reduce emissions. The Chinese city of Huainan has tackled the aspect of digital networking, serving as a pioneer for other Chinese metropolises seeking to better manage their traffic flows. The expansion of cycle paths in South Africa is also reducing road traffic and making the local population mobile.
Incidentally, the people from Ubitricity still have one trick up their sleeve with their smart charging cables. The only thing missing to date is the proper network environment. If tens of thousands of cars go unused around 90 per cent of the time, it would be possible to temporarily store excess energy in their batteries – for example from wind farms – and retrieve it when needed. Because if the smart cable can measure the electricity that flows in, it can also measure what flows out.
Published on KfW Stories: Tuesday, 20 November 2018
The described project contributes to the following United Nations' Sustainable Development Goals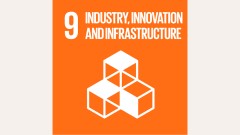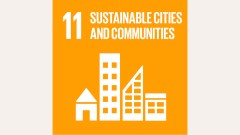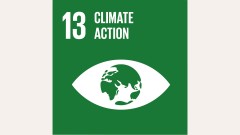 Goal 9: Build resilient infrastructure, promote sustainable industrialization and foster innovation
Non-existent or dilapidated infrastructure hinders economic efficiency and thus engenders poverty. When building infrastructure, the focus should be on sustainability, for example, by promoting environmentally-friendly means of transport. Factories and industrial facilities should also ensure that production is in line with ecological aspects to avoid unnecessary environmental pollution.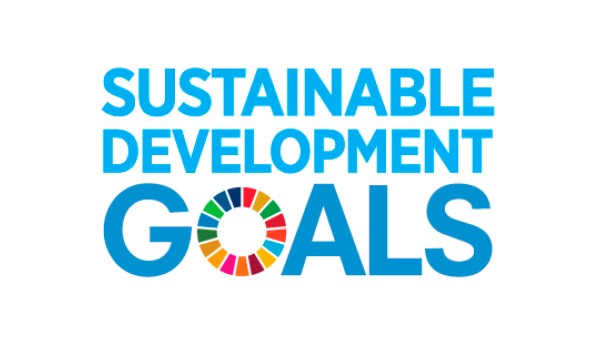 All United Nations member states adopted the 2030 Agenda in 2015. At its heart is a list of 17 goals for sustainable development, known as the Sustainable Development Goals (SDGs). Our world should become a place where people are able to live in peace with each other in ways that are ecologically compatible, socially just, and economically effective.