Retro on the outside, high-tech on the inside – the e-scooters made by the start-up e-bility use portable lithium-ion batteries that can be charged from a conventional socket. Customers love the stylish design and help protect the environment at the same time.
Video: The electric scooters of e-bility combine retro design with sustainability. This video is only available in German.
In 2009, three brothers, Philipp, Daniel and Patrik Tykesson from Remagen, Germany, decided to form a company. They had long been intrigued by e-mobility and spotted a market niche: the e-scooters that existed up to that point were not marketable. They either fell short in quality or performance or left a lot to be desired in terms of looks.
The brothers started tinkering in their garage – where all innovative start-ups should begin. They developed the Kumpan, an e-scooter that combines the classic design of the 1950s and an emissions-free drive.The retro design is striking on the outside, while a unique piece of technology impresses on the inside. The company developed portable lithium-ion batteries that can be charged from a conventional socket at home and used in the electric scooter.
To meet their significant financing needs, the Tykesson brothers made use of various KfW programmes, but also got financial support from friends and family. Success was not long in coming: The Kumpan made it to the International Motor Show (Internationale Automobilausstellung – IAA) in Frankfurt as early as 2015. And the company e-bility has won many awards, including the KfW Entrepreneurs' Award. EIT InnoEnergy has held a stake in the company since 2020. They want to boost sustainable mobility in Europe working together with the company. One of the first milestones along this path has already been reached: in summer 2020, e-bility added a new model series to its debut scooter, including a less expensive entry-level model with a top speed of 45 kilometres per hour. In autumn, two more scooters were added, which also enable ambitious driving at a top speed of 70 and 100 kilometres per hour.
Read more under the image gallery.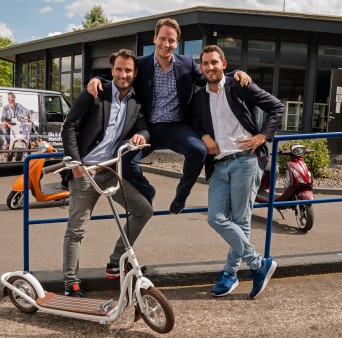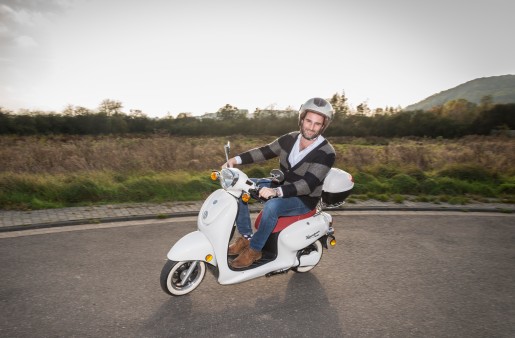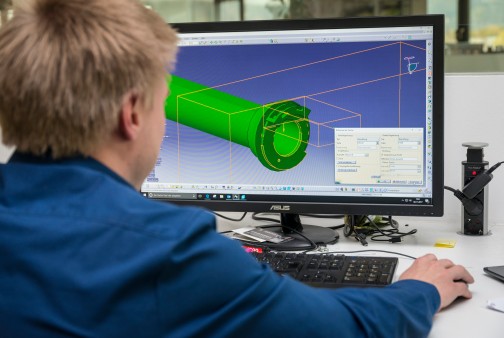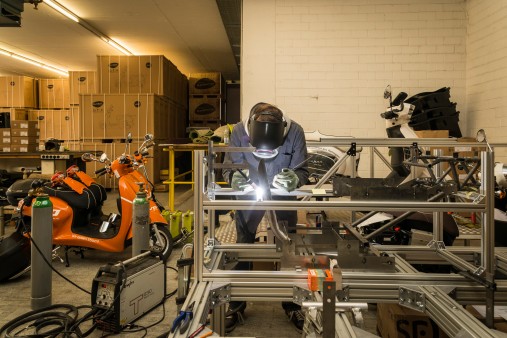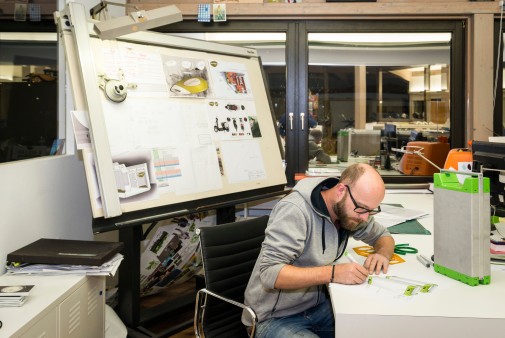 Founders
In 2009, the three brothers Philipp, Daniel and Patrik Tykesson in their parents' living-room developed the idea of an electric scooter.
"Our goal is to be the world's leading provider of e-mobility in the two-wheel segment and thus ensure clean, rattle-proof and fast mobility," said Patrik Tykesson.
The next step is to continue to focus on the potential of the portable battery system. Thanks to the plug-and-play solution, the batteries can not only be used as a flexible solution in the electric scooter, but can also be deployed for various applications ranging from lawnmowers to camping equipment.
The described project contributes to the following United Nations' Sustainable Development Goals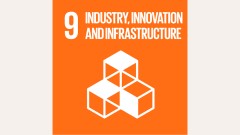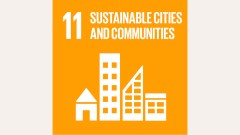 Goal 9: Build resilient infrastructure, promote sustainable industrialization and foster innovation
Non-existent or dilapidated infrastructure hinders economic efficiency and thus engenders poverty. When building infrastructure, the focus should be on sustainability, for example, by promoting environmentally-friendly means of transport. Factories and industrial facilities should also ensure that production is in line with ecological aspects to avoid unnecessary environmental pollution.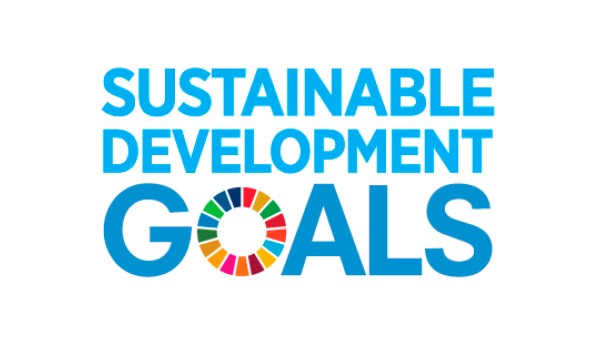 All United Nations member states adopted the 2030 Agenda in 2015. At its heart is a list of 17 goals for sustainable development, known as the Sustainable Development Goals (SDGs). Our world should become a place where people are able to live in peace with each other in ways that are ecologically compatible, socially just, and economically effective.
Published on KfW Stories: Monday, 11 September 2017, last updated: 2 December 2020.