Two start-up founders in Munich have developed software for electronic fitness equipment, which recognises every member of the gym via a chip and saves all the data from the work-out machine to a cloud system. People can then view their progress on the app or train competitively with friends. The eGym founders are hoping that this can revolutionise the fitness market around the world.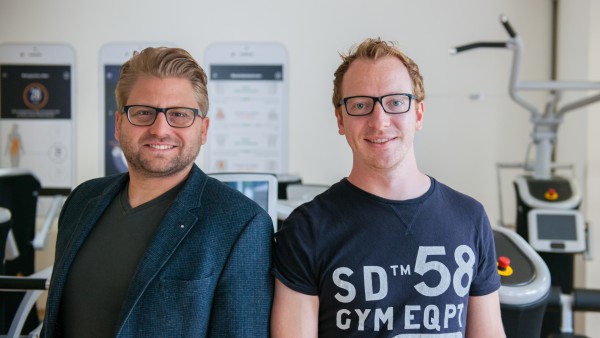 Florian Sauter holds the chip on his black wristband up against the side of a fitness device. His profile lights up on the display and the machine moves its parts to the height suitable for his arms, legs and back. In front of an installation by a local artist, the co-founder and head of technology at eGym sits astride one of 18 fitness machines on the wooden floorboards of a magnificent building, replete with sand-coloured stone walls and stuccoed ceilings. It stands in the middle of Munich's Old Town and was formerly the main office of HypoVereinsbank, one of Germany's largest banks. The start-up eGym has moved into this building for two years before the latter is to be slated for demolition. Fitness machines are now on display in what used to be the bank's grand hall.
"Instead of having to add kilograms of weight, an electric motor creates resistance," says Florian Sauter, sitting on the rowing machine and moving the handlebars back and forwards with both arms. Every gym member initially needs to configure all the basic settings on each machine type, which they do together with their trainer. These numbers are saved to a cloud system via a chip. Then the next time the gym-goer trains, all their equipment adjusts to them automatically. The mind can take a break while the muscles are at work. The machine specifies how quickly the person exercising should move and when it is time to stop. Florian Sauter tracks the training curve on the display, noting that "if I manage to collect the points on the curve, I am executing the movement perfectly." Elements of play like these are integrated into the software as part of a process called gamification. "Training needs to be fun and motivate the gym members to keep going," the 34-year-old says.
There are seven different training programmes available to choose from, for instance, for muscle build-up and weight loss. "We generate data with every movement," Florian Sauter explains. All the devices are constantly connected to the Internet and the individual's personal progress is summarised on an app. This way, people can train competitively with friends. "In the meantime, trainers can concentrate on the essentials in their gym," Sauter adds. This includes training plans, for instance, which they can create and tailor on an individual basis on the eGym Trainer App (which is also connected via the cloud).
The idea of digitally connecting fitness equipment comes from Philipp Roesch-Schlanderer, the start-up's second founder. When he was in New York in 2008 for a semester abroad as part of his business administration degree, he felt somewhat at a loss standing in front of the old machines in Columbia University's dark, unpleasant-smelling weights room. "I couldn't remember how much weight I was supposed to put on which piece of equipment or what was the proper seat height," the 35-year-old recalls: "The first iPhone had just come onto the market and I thought about the large number of digital opportunities in the gym." And so the company's founding idea was born.
Read more under the gallery.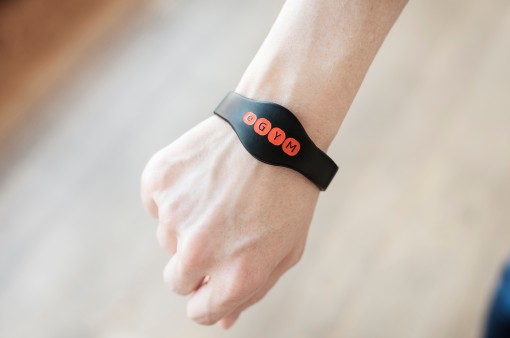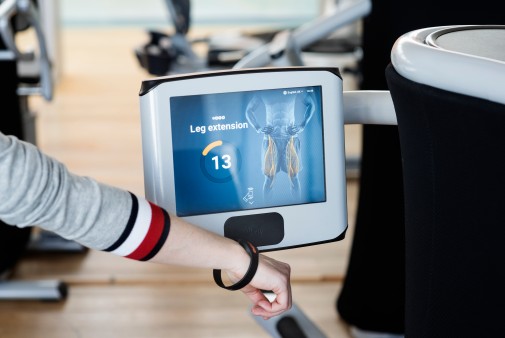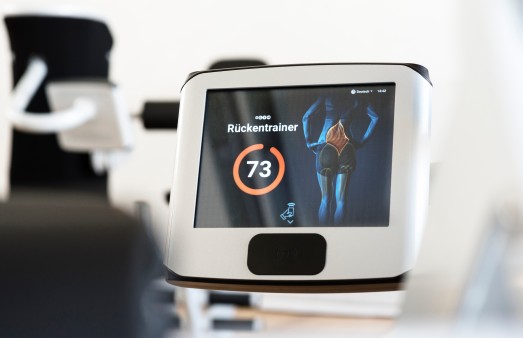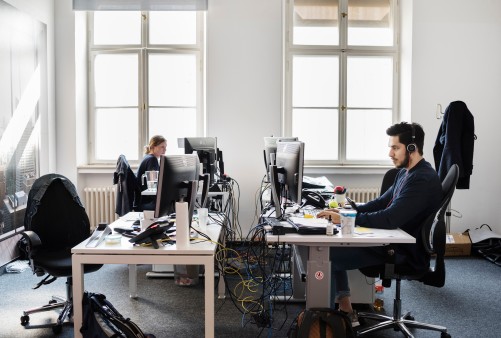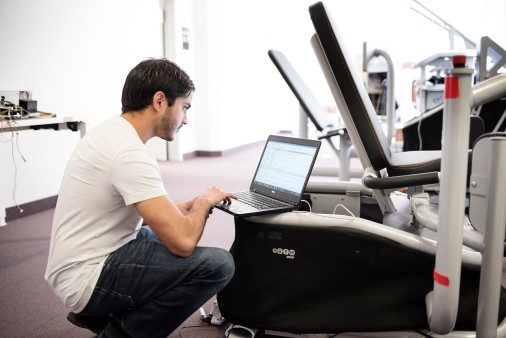 User-friendly
The eGym software is intended to replace personal trainers and sports manuals.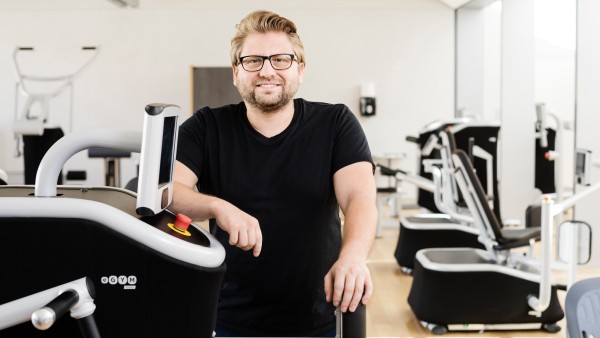 Back in Munich, he shared this with Florian Sauter, his old schoolmate from the town of Sindelfingen near Stuttgart. The two of them had been considering setting up a company together for quite some time. But until then, Sauter had found something to criticise in each one of the ideas. This time, however, Philipp Roesch-Schlanderer recalls: "There's nothing to fault with this – that was Flo's response. For him, that was an expression of complete elation!" The division of labour remains the same to this day, with Roesch-Schlanderer acting as the creative mind and visionary who attracts investors and clients to eGym. Sauter is the critical thinker who reviews and technically implements the ideas.
In 2010, the friends founded eGym and shortly afterwards drove across Germany with a prototype they had built themselves, in search of investors. "Philipp then succeeded in selling eight different devices to a gym, although we had only developed one," Florian Sauter recounts of his partner. The company grew at a similar pace over the following years. Around 350 employees now work here, with most based in Munich and a few developers at a second location in Berlin. There are 70 sales representatives operating throughout Germany, in other European countries and now in the USA, too. In addition to gyms, physiotherapists and companies with in-house sports activities are part of their target group. Today, there are eGym devices installed in 1,100 gyms, while another 1,500 use the software on partner devices.
Previously, only bodybuilders or fitness experts knew how to use weight machines properly. If ordinary punters wanted to toughen up their bodies, they had to be able to afford a personal trainer or risk making serious mistakes. "We have developed software for people like us, who have no desire to read work-out manuals but still want to train safely and successfully," says Philipp Roesch-Schlanderer. He is fond of calling eGym's software solution the "sat nav for the gym, on which you can easily set your target destination and get training towards it." The two entrepreneurs do not see themselves as typical fitness freaks, although both do still regularly work out. They develop the products together with sports scientists. For instance, the company partnered with a number of universities (including the University of Giessen) for the new Metabolic Fit training programme, which is specifically for type 2 diabetes patients.
Several rounds of financing have helped the young company on its path to growth. The largest came in 2016 with USD 45 million from HPE Growth Capital funds (to which KfW contributes), as well as from previous investors. "When we invest in a company, we take an extremely close look at the management team – especially the founders," explains Manfred Krikke, a partner at HPE Growth Capital. "With Philipp and his team, we found exactly what is important to us. A true partnership filled with trust grew from this, allowing us to make fast and highly valuable decisions as an efficient team," he adds.
At the moment, eGym is attempting to produce more innovations and expand worldwide. In addition, it acquired fle-xx in 2016, a company that makes muscle-stretching devices, whose co-founder is a well-known name in the fitness industry and until recently worked as the head of sales at eGym. "We consciously fill our management levels with experienced staff," Philipp Roesch-Schlanderer points out. He is currently only present in Munich on the rare occasion. He is primarily based in the USA to find new partners and clients. He recently bought up the American firm Netpulse. Thousands of fitness clubs stateside use its digital services to organise and motivate their members. Its former CEO now heads up eGym in the States. More takeovers are already planned.
Philipp Roesch-Schlanderer clearly signals the company's intent: "We want to continue penetrating the fitness and health market, and become the world market leader!" In this respect, their interim use of the space in the stylish old Munich building can almost be seen as a symbol of where the company stands today. From hoodies to business suits, eGym is reinventing itself.
Published on KfW Stories 4 September 2018