Plenty of people are eager to learn how to play the piano. However, a lack of time and money means that only very few of them are able to realise their dream. This led to two developers from Berlin spotting a gap in the market. Their online platform Skoove offers interactive piano lessons .
About Mr Plenge
Florian Plenge was applying his PhD in physics to research chaos theory at the Max-Plank Institute before he began working in computer-based music production. He founded Skoove with Stephan Schulz.
"Work Is Play" stands out in large letters on the orange wall in the loft that Skoove shares with an ad agency. The start-up is based in the Kreuzberg neighbourhood of Berlin, right next to the famous red-brick Oberbaum Bridge. If you look out of the windows in the meeting room, you can watch as a U1 underground train rattles past over the raised track, while the River Spree stretches out behind it against a skyline dotted with cranes. In the evening, you'll often meet clubbers on your way out the door. In short: Skoove is located in the heart of Berlin's music scene. And that's pretty fitting considering Skoove plays with music itself. In fact, it teaches music.
"Skoove" is a made-up word, coined from the words "skill" and "groove", which Florian Plenge thinks is "the best way to describe music." Plenge and his business partner Stephan Schulz worked together to create an interactive online learning platform for piano lessons. This pair of music lovers thus became a pair of promising start-up entrepreneurs.
The two Berliners met at Native Instruments, a company that develops and sells software instruments for electronic music. Together, they built up the company's DJ division from 2004 onwards, with Schulz in charge and Plenge as his employee. Prior to this, the two colleagues came from completely different fields. Schulz was a graduate in communications engineering and had previously worked as a manager and consultant at companies like Pricewaterhouse Coopers and MCI WorldCom. Plenge held a PhD in physics and had been researching the chaos theory using computer experiments at the Max-Plank Institute. He gave this up when his work began to feel stale and too far removed from real life. And yet the pair had one thing in common: their love of music and modern technology.
About Mr Schulz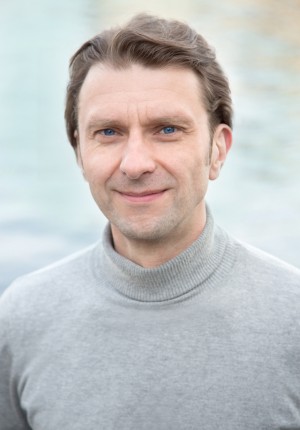 Stephan Schulz has a degree in communications engineering and is the second co-founder of Skoove. Before transferring to the world of digital music, he worked as a manager and consultant.
At Native Instruments, the pair were involved in "disruption" – a term used by academics to describe major upheavals where old technology is replaced by new discoveries. In this case, the disruption was the transition from CD and vinyl-based DJ kits to MP3-based mixing desks. As part of this change, Native Instruments developed the world's leading DJ software "Traktor". "That was a huge success story at the time," explains Stephan Schulz. He stayed with the company until 2007, when he left to set up his own business.
Florian Plenge took over the DJ department, oversaw its expansion, increased its sales, and went on to manage an 80-strong marketing team on three continents – in Tokyo, Los Angeles and Berlin. As a result, he got the chance to experience how a company that started out with just four people went on to grow to 400 employees. At some point, Plenge thought "I want to get back to my roots: designing products, talking to customers and building something that isn't already on the market but is relevant to lots of people."
So he sat down with Stephan Schulz, with whom he had managed to keep in contact over all those years. During that time, Schulz had created "Raumfeld", a multi-room, wireless HiFi system, which enables users to control music devices in different rooms from their smartphones. Schulz successfully sold the company in 2011. Now it was high time to brave a new venture. But what exactly? The pair bounced a few ideas around.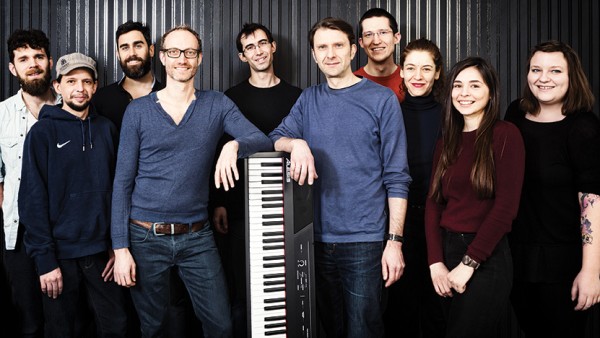 At the time, Plenge was keen to learn how to play the piano. What's more, both Plenge and Schulz had noticed – inspired by the success of the language-learning app Babbel– that there was no good online solution for teaching users how to play musical instruments. So off they went to research their idea. And what they discovered was a market with a lot of potential. "According to studies, over 60 percent of people would like to play an instrument but only 15 percent actually achieve this goal," says Florian Plenge. There was a huge gap between wanting to do something and actually doing it. "And the main reasons were that lessons were either too expensive or people simply had no time," explains Stephan Schulz. So an online solution was the ideal answer to both of these problems – resolving the issue of cost and flexibility in terms of time.
Read more under the image gallery.
How Skoove works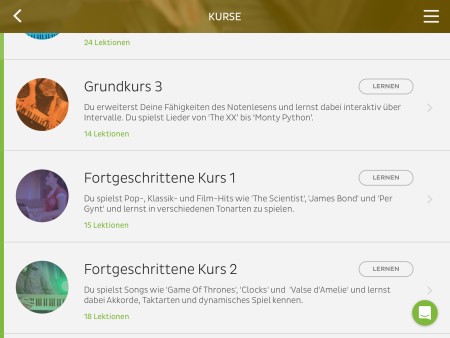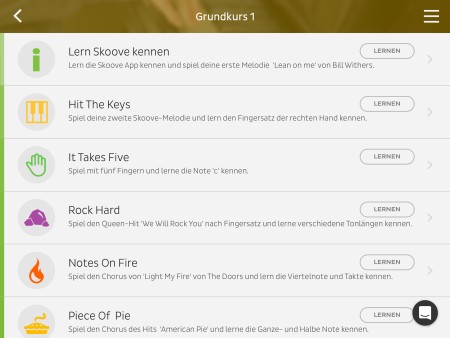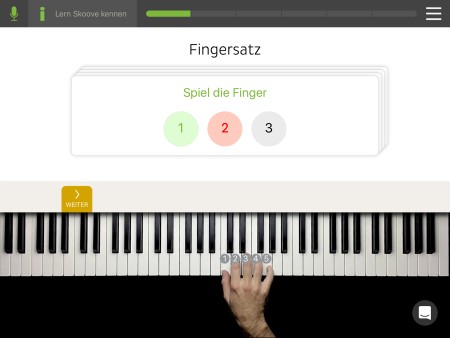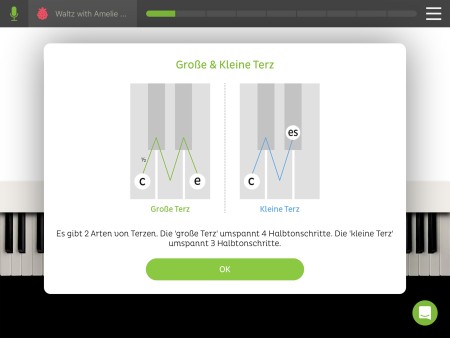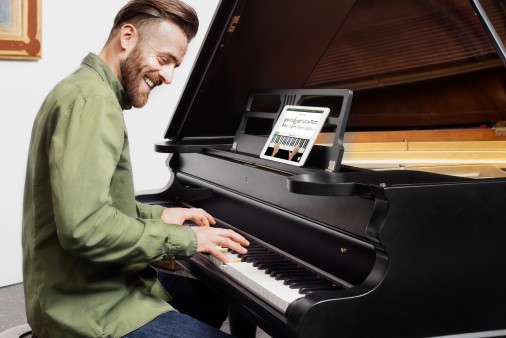 Courses
Skoove users browse the online courses and pick the one that best fits their skill level.
Company history
- Founded: 2014
- Based in: Berlin
- Team members: 14
- Designed for users anywhere in the world who want to learn how to play the piano or improve their skills
- Courses on offer: Ten courses, over 250 piano lessons
- Goals: To make the software compatible with other devices and other musical instruments, to become the international market leader in music-teaching platforms
More information
And their idea was born. "We are building a music platform that enables people to take part in high-quality but entertaining music lessons", in an interactive way. After all, if you're learning to play an instrument, you need a teacher who can react to the student – and provide feedback. "Any other format is ineffective and doesn't motivate the student, two aspects that were important to us," explains Florian Plenge. What they needed was a virtual teacher! And some financing.
In 2015, they submitted their business idea to the Microsoft Ventures Accelerator programme and won one of the highly sought-after spaces. The first large financing injection then came from the High-Tech Start-up Fund (HTGF) – Germany's largest investor in young companies. The fund finances innovative tech start-ups and actively helps them to bring their business ideas to life. The HTGF is a Public Private Partnership, whose investors include the German Federal Ministry for Economic Affairs and Energy, KfW and 18 corporate groups.
The HTGF spotted the huge potential in Skoove's plans. "Skoove was geared towards the international market right from the outset, and we believe that adaptive online teaching for musical instruments can be just as successful as online language teaching," explains Chiara Sommer, senior investment manager at the High-Tech Start-up Fund and the woman behind the six-figure investment in Skoove.
Stephan Schulz and Florian Plenge put a team together and worked with the Fraunhofer Institute for Digital Media Technology to develop a piece of software that was able to recognise notes and chords played by the student and then provide direct feedback. "The software is based on a complicated piece of rocket science," explains Florian Plenge. "The technology can hear polyphonically, in other words it can hear several different tones being played at once."
The student places their computer with internet access (or, thanks to recent developments, their iPad) onto the piano or music stand next to the keyboard, listens to the virtual teacher's instructions, and then plays as the software listens in over the microphone. The teacher then provides feedback. "And the teacher is always very encouraging!" says Stephan Schulz. The software can even adapt the pace of teaching to the student in question.
"We believe that Skoove has developed the best solution on the market, both in technical terms and in terms of teaching," says Chiara Sommer from the High-Tech Start-up Fund. And the programme's first customers are happy to confirm this. "You have changed my life," wrote one user, "I have always wanted to learn how to play the piano. I finally took the step and now I practise with you for half an hour every morning."
Florian Plenge and Stephan Schulz love to get feedback like this. Their service has been online since the end of 2015, with an iPad-friendly version launched in March 2017. Their customers practise for an average of 1.5 hours per week. Over 200,000 online lessons have already been completed. And because the virtual teacher is always listening, Skoove's creators are able to evaluate results and enhance the courses on an ongoing basis.
The team from the Oberbaum Bridge has also started to grow. A total of 14 staff have now joined Florian Plenge, who is in charge of marketing and the product, and Stephan Schulz, who looks after all the other areas. Ten employees make up the development team, including software engineers, piano teachers, interface designers, quality managers and database experts. The team is very international with colleagues from Spain, France, Italy, Greece, the Netherlands and Germany.
What's more, Skoove is already working with some major partners. Anyone from an English- or German-speaking market who purchases a keyboard or electric piano from Amazon will automatically receive a free trial with Skoove. The company is working with the piano maker Roland too, who also offers a Skoove trial with its new entry-level pianos.
The second round of financing has been available since the end of 2016, providing Skoove's creators with some room to breath for the next few years. Their goals? To make the software compatible with other devices, like Android, iPhones or the Xbox. To become more international. And of course, they also want to offer other musical instruments. You could almost say that the newest conductors of a huge online orchestra are located by the Oberbaum Bridge in Berlin.
Published on KfW Stories: Friday, April 7 2017
The described project contributes to the following United Nations' Sustainable Development Goals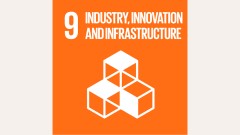 Goal 9: Build resilient infrastructure, promote sustainable industrialization and foster innovation
Non-existent or dilapidated infrastructure hinders economic efficiency and thus engenders poverty. When building infrastructure, the focus should be on sustainability, for example, by promoting environmentally-friendly means of transport. Factories and industrial facilities should also ensure that production is in line with ecological aspects to avoid unnecessary environmental pollution.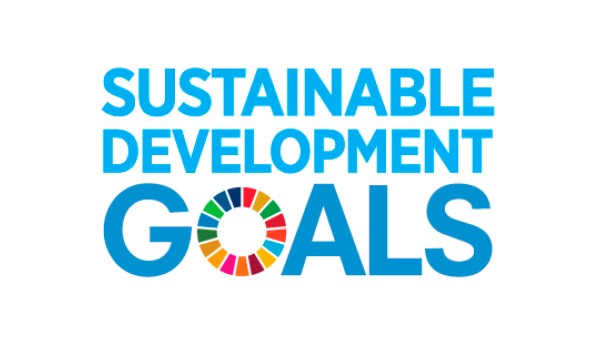 All United Nations member states adopted the 2030 Agenda in 2015. At its heart is a list of 17 goals for sustainable development, known as the Sustainable Development Goals (SDGs). Our world should become a place where people are able to live in peace with each other in ways that are ecologically compatible, socially just, and economically effective.