In Tunisia, 85 per cent of the labour force works in small and medium-sized enterprises. Since these companies rarely receive loans from Tunisian banks, AfricInvest, an investment company from Tunis, provides help. The example of Radhia Kamoun Megdiche shows how important this support is. Thanks to the financing, she was able to make her mother's dream come true.
Video: The Gourmandise bakery is specialized on Tunisian pastry (KfW Group/Christian Chua and Thomas Schuch).
Behind the white walls, women and men in white aprons and white hoods work in white rooms. White is also the colour of the boss's favourite sweet: a small smooth ball decorated with a gold leaf.
Gourmandise is the name of Radhia Kamoun Megdiche's business. The production facility, located on the outskirts of the Tunisian capital Tunis, makes thousands of cakes and croissants and tonnes of sweets every day.
The company's success is based on oriental pastries. Gourmandise has become a household name in Tunisia thanks to its shops in most major cities on the country's Mediterranean coast.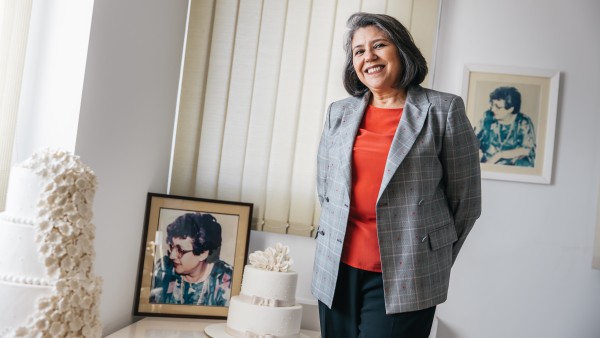 Successful with oriental delicacies
"I have made my mother's dream a reality," says Radhia Kamoun. Her mother, Souad Kamoun, was an avid baker and opened a pastry shop in 1976 in order to, as her daughter says, "give us five children a better life". The family lived in Sfax, the second largest city in Tunisia, on the coast south of the capital. Souad Kamoun could no longer meet her goal of opening a shop in the capital. She died in 1987 at the age of 50. Her daughter Radhia and her brother took over the business with three employees.
Today the fine food company employs 660 people, 60 of them in management positions. A total of 42 per cent of the employees are women. The company pays more than the collective wage tariffs and meets international standards of quality management and food processing. There are now 25 Gourmandise shops throughout Tunisia, 13 run by the company itself and twelve that were opened as franchises. They are supplied daily with fresh products that leave the Tunis and Sfax production facilities in refrigerated trucks.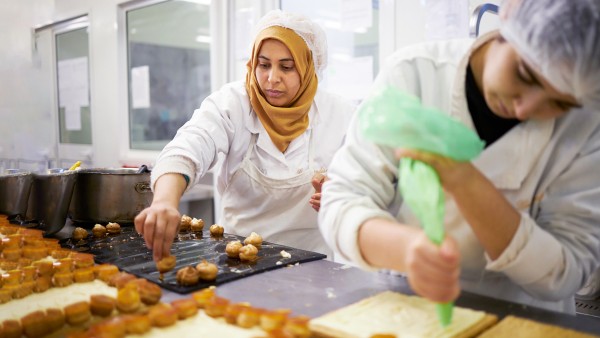 Gourmandise meets international standards
A visit to the large bakery and patisserie near Tunis airport shows that all products are actually made by hand, in a number of smaller, enclosed rooms, one for each production step. There is one work station for each step: beating eggs, cutting tomatoes, cutting the dough. Butter is weighed in one spot, dark chocolate is chopped with a knife in another. At one table a woman rolls pastry balls in nut crumbs, at another a colleague folds thin avocado slices for cocktail canapés. And then there are the cardboard models for the wedding cakes "Maryne" or "Orchidia" or "Anemone" waiting to be made from batter.
Stirring, melting, cooking and baking. "With household appliances," says Radhia Kamoun, "only slightly bigger." The finished batches are stacked in front of loading doors with names like "Marseille", "Mana" or "Marza", designating the shops that ordered the macaroons and canapés and millefeuilles and petits fours.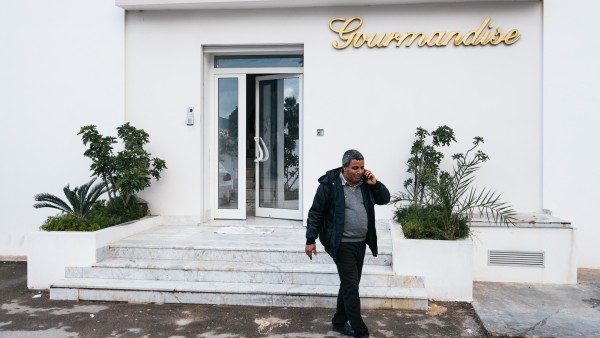 A pastry chain is created thanks to AfricInvest
From the very outset, Gourmandise has been a world of indulgence, with high-quality biscuits and cakes created by the ambitious founder Souad Kamoun. The fact that many years later it became the most important pastry chain in Tunisia has a lot to do with AfricInvest, an investment company from Tunis. KfW holds a participation in their fund.
Ninety-seven per cent of Tunisian companies are micro, small and medium-sized enterprises (MSMEs). They employ 85 per cent of the entire labour force. It invested there for the first time in 2012; the investment today is just over 34 million euros. This also includes the 2.5 million euros invested in the TunInvest Croissance fund, which, in addition to Gourmandise, also supports companies in the furniture, waste and marketing sectors.
Another success story for MSME financing is the tuna canner BK Foods in the coastal town of Sousse. Founded in 2006, the factory now employs 550 men and women. More than 25 different tuna fish products are produced there. The company is certified for kosher and halal products and distributes its products in North African countries and the Middle East. Deutsche Investitions- und Entwicklungsgesellschaft (DEG), a wholly owned subsidiary of KfW, has invested 15 million euros in the leasing financier Tunisie Leasing & Factoring, which has been providing financial support for the expansion of BK Foods since 2012.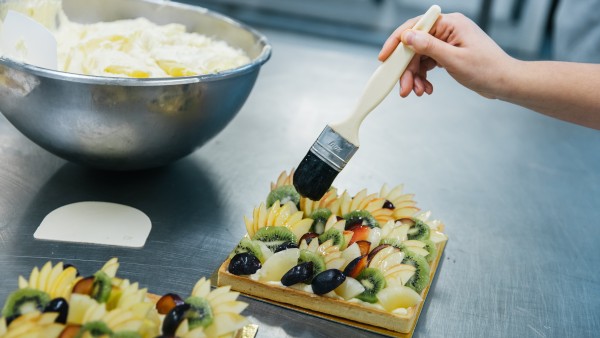 New products enhance the range of delicacies
AfricInvest, which financed Gourmandise and was founded in the 1990s, now manages capital of 1.3 billion euros and has offices in eight African countries and France. AfricInvest invested in Gourmandise in 2015.
"We had an earnings problem," says Radhia Kamoun. Their company had expanded until 2010, when it had 200 employees. After the Tunisian revolution in 2011, however, business dropped off. Customer habits also changed. "Tunisians used to invite people to their homes, now they go out more," says Radhia Kamoun.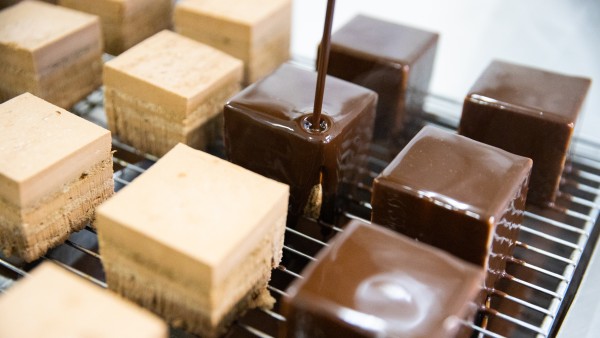 Taking Gourmandise all the way to Europe
The AfricInvest managers suggested better marketing and more intensive distribution. Salty snacks were added to the range of sweets, the franchise system was introduced and the shops were equipped with higher quality products. Gourmandise offers a "high quality product", says Karim Trad, one of the founders of AfricInvest. This is what sets Kamoun's company apart from its competitors. However, the price competition is noticeable, because according to Trad, many competitors don't pay taxes or social security contributions.
Radhia Kamoun has taken the step to the capital that her mother dreamed of. Now, with the help of AfricInvest, she wants to cross national borders. She is considering expanding into the other Maghreb states, she wants to establish her brand in the Gulf States and she can even imagine Gourmandise shops in Europe. A small example shows the pitfalls that can arise with an international focus: it took Algerian authorities a whole four years to register the name of the Tunisian gourmet producer as a trademark.
Video: KfW is supporting Tunisia in various projects on behalf of the German Federal Government. (KfW Group/Christian Chua and Thomas Schuch)
The basic challenge: for the first time, Gourmandise specialities would not be produced in Gourmandise production facilities. Instead, a manual would explain the recipes in detail to franchise patissiers abroad. For example, how the small white ball is created with the gold leaf. It is called Mlabess, is made of almond powder, orange peel, egg and icing and is a traditional pastry from Sfax, the hometown of Rhadia Kamoun Megdiche.
Published on KfW Stories: 2 March 2020.
The described project contributes to the following United Nations' Sustainable Development Goals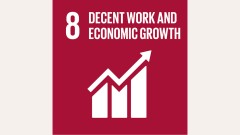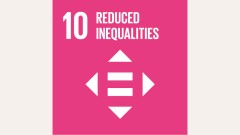 Goal 8: Promote inclusive and sustainable economic growth, employment and decent work for all
The economic growth of the past decades has come at the expense of natural resources and the global climate, and has long since reached ecological limits. If all people were to be given access to the quality of life that people accept as a matter of course in Germany, several planet Earths would be required to sustain it. Sustainable economic development reconciles social, ecological and economic development goals.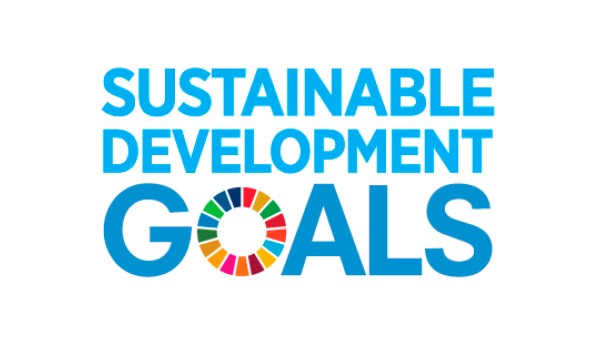 All United Nations member states adopted the 2030 Agenda in 2015. At its heart is a list of 17 goals for sustainable development, known as the Sustainable Development Goals (SDGs). Our world should become a place where people are able to live in peace with each other in ways that are ecologically compatible, socially just, and economically effective.