Tip: Activate javascript to be able to use all functions of our website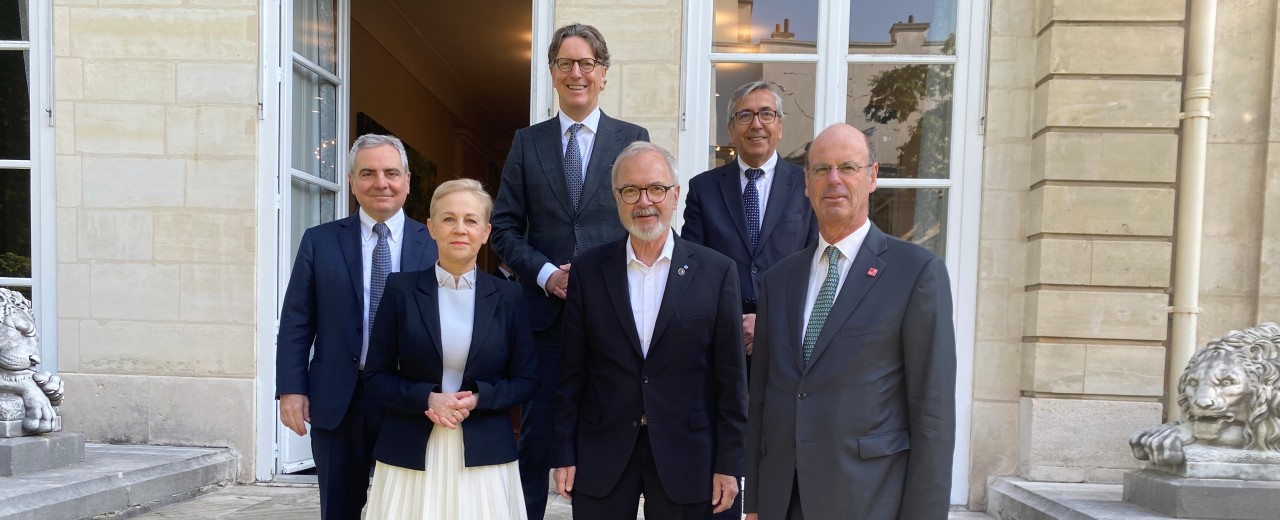 Cooperation between European promotional banks
KfW cooperates with all national and European promotional banks in the EU. In addition to bilateral cooperation and financing, KfW is also involved in the European associations:
In addition, KfW has a joint office in the EU Representative Office in Brussels with Agence française de développement (France), BGK (Poland), Bpifrance (France), CDC (France), CDP (Italy) and NIA (Netherlands).
The EU's largest National Promotional Banks and Institutions and the European Investment Bank met in Berlin to discuss recent initiatives and common challenges in Europe.
On 30 September 2022, the five European national promotional banks & institutions BGK, CDC, CDP, ICO, KfW and the European Investment Bank (EIB) in Berlin discussed the progress of existing joint initiatives like the Joint Initiative on Circular Economy (JICE), Quick Response - Care for Ukrainian Refugees in Europe, and Fund Marguerite and exchanged on the various national and European initiatives to support the energy sovereignty in Europe.
EUR 2.9 billion has already been raised for the Quick Response — Care for Ukrainian Refugees in Europe programme launched in Paris this spring. This far exceeds the target of EUR 2 billion. The Joint Initiative on Circular Economy (JICE) partners reported a total volume of financed projects and programmes of EUR 6.3 billion until the end of 2021. The initiative - launched in Luxembourg in 2019 - supports circular economy projects and programmes in the European Union and targets a total volume of EUR10 billion until 2023.
The executives attending the meeting were:
Werner Hoyer,

President European Investmentbank

(EIB) - EU
Beata Daszynska-Muzyczka, CEO Bank Gospodarstwa Krajowego, BGK - Poland
Jose Carlos Garcia de Quevedo, CEO,

Istituto de Credito Oficial

, ICO – Spain
Dario Scannapieco, CEO CDP Cassa Depositi e Prestiti, CDP - Italy
Laurent Zylberberg,

Executive VP

Groupe Caisse des Dépôts

, CDC – France
Stefan Wintels, CEO KfW Group - Germany
CDP and KfW sign Memorandum of Understanding on expanded cooperation
KfW and Italy's national promotional bank CDP concluded a Memorandum of Understanding on 30 September 2022 on expanded cooperation and institutional exchange in strategic areas such as venture capital, international cooperation, digitalisation and sustainability. The two CEOs Stefan Wintels and Dario Scannapieco signed the agreement at the Italian Embassy in Berlin in the presence of the Italian Ambassador Armando Varricchio.
Terms of Use
You may use the texts of KfW Special Topics free of charge for editorial purposes, except pdf-files created by third parties. Please note that the photographs are subject to copyright. More photos for free use you can find in the KfW Photo Archive.