Tip: Activate javascript to be able to use all functions of our website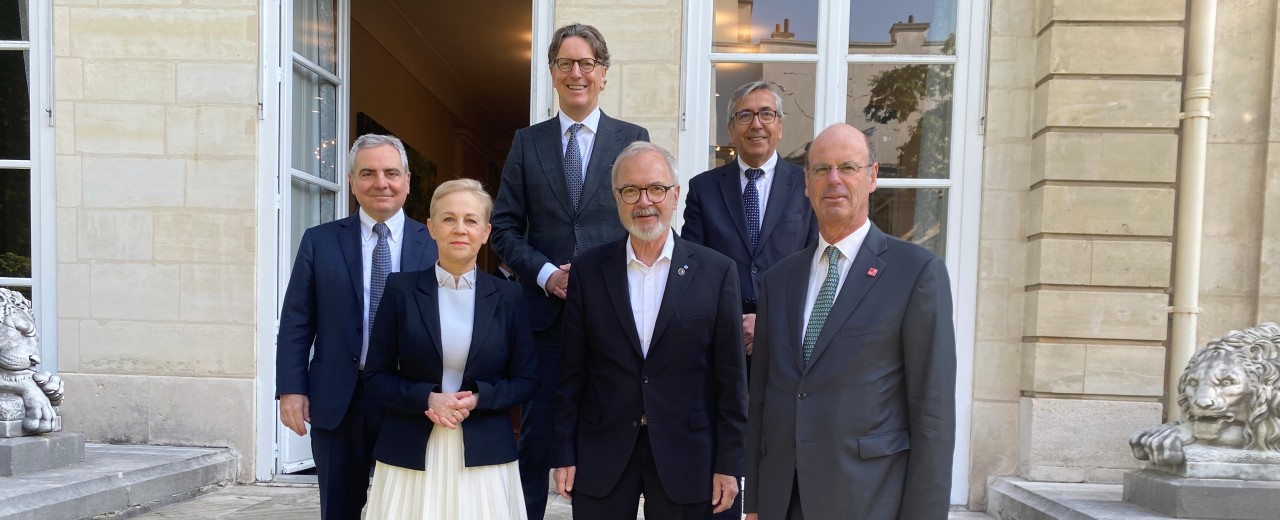 Cooperation between European promotional banks
Already after the fall of the Berlin Wall, the approach of the German promotional bank KfW became a role model for similar institutions in Southern and Eastern Europe. In Hungary, Croatia and the Baltic States for example KfW advised the respective governments on setting up a promotional bank or developing SME programmes. KfW still today is cooperating with European funding institutions to promote growth in Europe.
Two-billion-euro urgent financial support for Ukrainian refugees in Europe
On 5 May 2022 the EU's national promotional banks and institutions (CDC, CDP, ICO, BGK and KfW) and the European Investment Bank have launched the two-billion-Euro Quick Response - Care for Ukrainian Refugees in Europe initiative. The joint initiative aims to provide immediate relief this year for refugees fleeing the war in Ukraine and promote a rapid and humane integration of Ukrainian refugees in EU members states.
The Quick Reponse initiative was launched as a quick response to support EU member states hosting Ukrainian refugees. The participants in the initiative will contribute directly or indirectly through their respective general programmes along with regional and local communities to provide housing for refugees and support refugees' integration into local communities. The initiative could also finance education, health care and infrastructure needs and targets at least two billion euros of financial support this year.
The urgent support initiative in Europe is a first step while we are considering further measures to help member states deal with the impact of the Russian invasion of Ukraine.
Joint statement of the five leading NPBI and the EIB
On 17 April 2020, the CEOs and presidents of the five leading National Promotional Banks and Institutions (NPBI) from France (CDC), Italy (CDP), Spain (ICO), Poland (BGK) and Germany (KfW) as well as the EU (EIB) exchanged views on the corona-related challenges for Europe and the national economies. In their joint statement, they emphasise that the development banks have each set up extensive national development programmes and also agree that they will continue to cooperate throughout Europe to combat the consequences of COVID-19.
Joint Initiative on Circular Economy
Five European national promotional banks & institutions and the European Investment Bank (EIB) launched today in Luxembourg the Joint Initiative on Circular Economy to support the development and implementation of circular economy projects and programmes in the European Union (EU). This flagship partnership will target at least EUR 10 billion of investments over the next five years (2019 – 2023). The aim is to prevent and eliminate waste, increase resource efficiency and foster innovation by promoting circularity in all sectors of the economy.
Europe's leading National Promotional Banks and European Investment Bank launch Marguerite II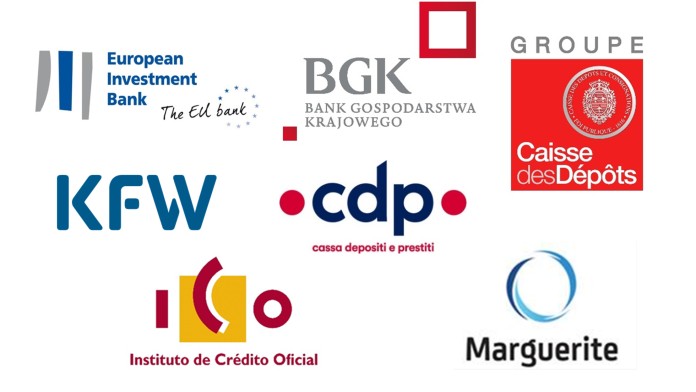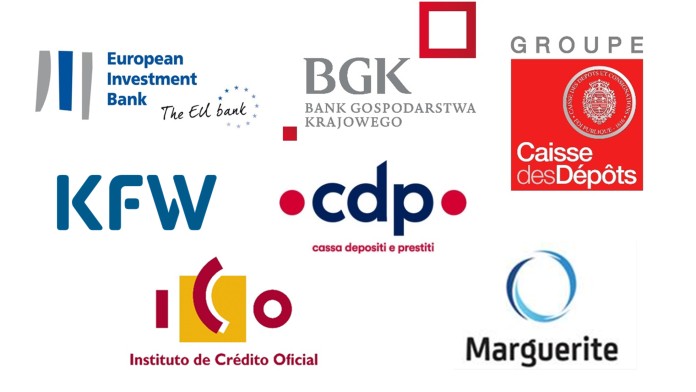 The launch of Marguerite II will continue the important work of the 2020 European Fund for Energy, Climate Change and Infrastructure (also known as the Marguerite Fund). Like its predecessor, Marguerite II is as a pan-European equity fund which aims to act as a catalyst for new ("greenfield") and expansion to existing ("brownfield") infrastructure investments in renewables, energy, transport and digital infrastructure. These investments serve to implement key EU policies in the areas of climate change, energy security, digital agenda and trans-European networks. It will have a capacity to invest over EUR 700m in infrastructure-intensive projects across the EU and pre-accession countries. Marguerite II has a 10-year fund life (with 2 possible 1-year extensions) and is intended to be fully invested in 5 years.
Further cooperation between KfW and EIF as part of a securitisation transaction for German SME lease receivables at abcfinance GmbH
In an effort to promote the small and medium-sized enterprises (SME) sector, KfW and the European Investment Fund (EIF) have invested in a new securitisation transaction through the acquisition of senior tranches with a collective total of EUR 100 million and mezzanine tranches with a total of EUR 48 million. The transaction, which was structured by Raiffeisen Bank International AG, securitises a portfolio of German SME lease receivables at abcfinance GmbH.
The transaction was completed under ENSI (EIF-NPIs Securitisation Initiative), a joint initia-tive between the EIF and national promotional institutes (NPI) to promote the securitisation market.
6 April 2017: French-German Initiative
Bpifrance and KfW aim at joint investments for ambitious European growth funds
Building Momentum in Venture Capital across Europe
On 7 December 2016 the national promotional institutions of the five largest European economies (Bpifrance in France, British Business Bank in the UK, Cassa depositi e prestiti in Italy, Instituto de Credito Oficial in Spain and KfW in Germany) presented their joint study on the European venture capital market, making recommendations for boosting EU venture capital to the next level.
Access to venture capital is a key success factor for innovative, growth-oriented start-ups. This is why the study "Building Momentum in Venture Capital across Europe" was conducted jointly by the five national promotional institutions. It is based on available statistics and their expert knowledge of the single national markets.
National Promotional Institutions present proposals to foster EU venture capital, KfW Press Release of 7 Dezember 2016
New initiative supports European Securitisation Market
In July 2016 the European Investment Fund (EIF) and several National Promotional Institutions (NPIs) have launched the "EIF-NPI Securitisation Initiative" (ENSI) aiming at providing more funding to small and medium-sized enterprises (SMEs) via the capital markets.
The objective of this cooperation is joint participation in SME securitisation transactions in order to stimulate the availability of finance to SMEs in Europe by revitalizing the SME securitisation market and to catalyse resources from the private sector in the spirit of the European Fund for Strategic Investments in order to achieve a much wider outreach in support of SMEs. The working group defines standard procedures and minimum criteria under which the respective promotional institutions are generally willing to participate in securitisation transactions and beyond that, it also discusses with the European Commission the option to deploy funds out of the European Fund for Strategic Investments for this purpose.
The ENSI partner institutions are EIF, EIB, KfW, EBRD, bpifrance, Cassa Depositi e Prestiti (Italy), Malta Development Bank Working Group, Instituição Financeira de Desenvolvimento (Portugal), Instituto de Crédito Oficial (Spain) and British Business Bank.
Further informations
Flyer ENSI (PDF, 288 KB, non-accessible)
Indicative Term Sheet (PDF, 990 KB, non-accessible)
Agreements with single European promotional banks
European development banks have been working together for many years in various organisations, for example in the Network of European Financial Institutions for Small and Medium-Sized Enterprises "NEFI".
Furthermore, KfW founded the Long Term Investors Club (LTIC) with, amongst others, Caisse des Dépôts in France, Cassa Depositi e Prestiti in Italy and the EIB. The LTIC now has 19 members worldwide. One of the first joint initiatives of the LTIC was establishing the "Marguerite" fund which provides equity capital for European infrastructure projects.
KfW maintains close bilateral relations with other promotional banks in Europe, which are reflected for example in a personnel exchange programme, the sharing of know-how, regular meetings of executive boards or joint financings.
Terms of Use
You may use the texts of KfW Special Topics free of charge for editorial purposes, except pdf-files created by third parties. Please note that the photographs are subject to copyright. More photos for free use you can find in the KfW Photo Archive.