A solar power plant in the size of 33 football fields is securing the electricity supply of a refugee camp in the Jordan desert. This not only gives the Syrian families a feeling of normality, but also creates busy city life.
Green source of energy
Solar power plant for a refugee camp (KfW Group/Thomas Schuch).
One of the biggest cities in Jordan is called Zaatari. It has grown extremely fast. Seven years ago, it did not even exist; seven years ago, there were only sand and boulders here. Then a few families came and lived in tents. Today, around 80,000 people live in Zaatari, Syrians, not Jordanians. Zaatari, a few kilometres south of the Syrian border, has only appeared on the map because the civil war forced millions of Syrians to leave their country.
Zaatari is still a refugee camp, but also a city. It has a main street, called the "Champs-Elysées" by its residents, lined with shops, restaurants and businesses, 3,000 in all. The people live in containers and tents. Zaatari has about as many inhabitants as the German city of Constance, for example, but they live together on only one tenth of the area of Constance.
In November 2017, living conditions in Zaatari, one of the world's largest refugee camps, improved significantly. A photovoltaic system was put into operation, the largest one in a refugee camp run by UNHCR, the United Nations refugee aid organisation, and it is the second such system ever used in a UNHCR camp. The first one, which is smaller, has been running since spring 2017 in the Azraq refugee camp, also in Jordan.
In just six months, Jordanian and Syrian workers built the solar power plant on the outskirts of Zaatari. The plant was mainly financed by KfW Development Bank with funds from the German Federal Government, which provided EUR 15 million for the project. According to Cornelia Dinter, who is responsible for the Palestinian Territories and Jordan at KfW Development Bank, this is the first time KfW has financed a solar power plant in a refugee camp in this region.
On behalf of the German Federal Government, KfW supports other projects in Zaatari that improve living conditions in the camp. For example, it is involved in supporting the drinking water supply and wastewater disposal, but also in education. According to UNHCR, more than 21,000 girls and boys attend school in the camp city.
One Syrian woman, Ilham, mother of three children, is happy about the improved power supply in the camp: "Now I can wash clothes during the day, they don't dry well at night". And: "My children don't have to play outside after dark but can watch television or do their homework."
UNHCR Deputy High Commissioner Kelly T. Clements explains why electricity is so important for the refugees in the camp: "Lighting means more safety on the street, and children are able to do their homework in the evening." It is also extremely important for refugees to be able to continuously recharge their mobile phones, as the devices are the only connection to their relatives and friends who still live in embattled areas in Syria or who have fled to another country. Above all, she said, electricity allows the camp's inhabitants to "lead more dignified lives".
The photovoltaic system in Zaatari consists of 30,000 solar modules. They are set up in rows on the edge of the refugee city on an area the size of 33 football fields. The 12.9 MW power plant delivers electricity for up to 14 hours a day - not yet sufficient to provide total coverage, says Ms. Dinter, but almost twice as long as before.
The power plant has other advantages. Electricity is expensive in Jordan. It is mainly produced from fossil-based raw materials, which have to be imported. Until the end of last year, the electricity purchased for Zaatari had cost the warehouse operator UNHCR as much as USD 800,000 per month. With the use of renewable energy, the refugee relief organisation now saves around USD 5.5 million per year in electricity expenditures and can use these funds for other aid.
And ultimately, Jordanian society also benefits from the solar power plant in the refugee camp The Kingdom of Jordan's Ministry of Energy contributed financially to the construction and operates the plant. Electricity that is produced when the sun is shining but not used in the camp is fed into the Jordanian grid. Because Zaatari now needs less electricity from fossil fuels, Jordan's carbon emissions are reduced by 15,000 tonnes per year. This "gain" brings the country closer to its environmental goals. Jordan intends to meet ten per cent of its electricity consumption from renewable sources by 2020 and 20 per cent by 2025.
A good example sets a precedent. In another project in Jordan, KfW Development Bank is combining refugee aid and sustainable power generation. On behalf of the German Federal Government, it is financing a photovoltaic system which is intended to benefit communities in northern Jordan. A particularly high number of refugees live there. However, the supported measures benefit the local population in the same way.
Published on KfW Stories: Thursday, 12 April 2018
The described project contributes to the following United Nations' Sustainable Development Goals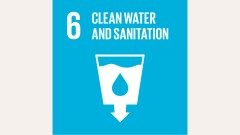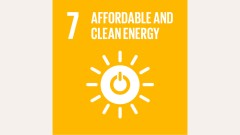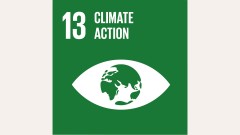 Goal 6: Ensure access to water and sanitation for all
There is no life without water! We need it for drinking, but also for producing food in agriculture. The United Nations thus recognised access to clean drinking water as a human right in 2008. However, 748 million people still live without clean drinking water. According to estimates, this causes the deaths of 5,000 children around the world each day. 2.5 billion people lack access to basic sanitation services.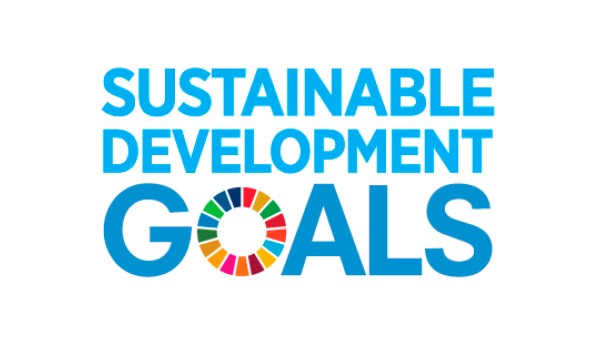 All United Nations member states adopted the 2030 Agenda in 2015. At its heart is a list of 17 goals for sustainable development, known as the Sustainable Development Goals (SDGs). Our world should become a place where people are able to live in peace with each other in ways that are ecologically compatible, socially just, and economically effective.