The Social Cash Transfer Programme (SCTP) exists to help ensure that the basic needs of the poorest families in Malawi are met. KfW has now been investing in the programme for ten years. Three striking examples show how people's lives have changed as a result.
Emergency aid for the poorest
How the Social Cash Transfer Programme in Malawi works and what it does (KfW Bankengruppe/Bauer/Dähne/Schuch).
Lonny Mtuwa and her large family have been living in extreme poverty in Malawi since Lonny's husband died in early 2000. The mother of five was the sole provider for the family, which also includes her parents who require care in their old age. She did not have the time to pursue paid work. Her situation seemed hopeless. Then, eight years after her husband's death, she received a visit. "The director of the Social Cash Transfer Programme visited us at home to notify me that I'd been selected as a beneficiary. I was overjoyed when I heard that because I knew it would put an end to my great hardship," Lonny Mtuwa recalls.
A fifth of the population in the landlocked south-eastern African country is classified as living in extreme poverty. Moreover, ten per cent of Malawi's indigent population is labour-constrained – these individuals may need to care for relatives as Lonny Mtuwa does, have disabilities or chronic illnesses, or be too old or too young to work. It is exactly for this group that the Malawian government developed the SCTP.
The programme was launched as a pilot project in one district of the country in 2006. The support from Germany (including from KfW Development Bank) began three years later, enabling the Malawian government to expand the programme.
Elaborate process to determine recipients
The SCTP provides unconditional cash transfer payments to the ten per cent of households classified as ultra-poor. When it comes to determining the recipient group, "there's a process based on individual data collection surveys and a formula-based, point-by-point assessment," KfW department director Bettina Tewinkel explains. "The SCPT staff go door to door to collect the information." This involves taking a huge range of criteria into account, including household possessions, family size and earnings. The decisions are backed up by the local authorities.
The government sets the transfer amounts, which are based on requirements for items such as food or clothing. "The more members of a given household, the more money is paid out. Bonus payments are also made based on how many of the family's children are required to attend school," says Claudia Hirtbach, who also supervises the project at KfW. If one of these basic conditions changes – for instance, because of childbirth or a death in the family – this is entered into the database and factored into the transfer sum.
Repairing the house, ensuring a livelihood
Mother of five Lonny Mtuwa currently receives 14,000 Malawian kwacha every two months for herself and her family, which is equivalent to around 17 euros. "This sort of payment does not cover all the household's expenses, but it does make a truly vital contribution to supporting the family financially," Tewinkel explains.
Mtuwa, 55, has used the money, among other things, to hire workmen to repair her simple house and manage her garden, saving the rest until she had enough to build a small goat farm. Now she is able to care for herself, as she has a long-term means of subsistence. And Mtuwa has further plans. She wants to build a small house to rent out. And to buy a bicycle so she can get from A to B more easily. "I really appreciate the programme, as it has helped me to start up a business – that has completely changed my life," a happy Mtuwa sums up.
Long-term support to escape poverty
The transfer payments are time-limited: "As a rule, the selected target group is supported for four years. Then there is a new assessment to find out whether the target group has changed," Tewinkel states. Experience shows that the target group does not undergo a complete transformation and a large part of the households continue to receive the support. "A transitional solution has also been agreed for individuals or families exiting the programme. As well as two regular payment cycles, they receive a year's worth of transfer payments as a final sum. In particular, this supports productive investments to ensure that the family can also survive self-sufficiently," Hirtbach says. In the transition phase, disenrolling households are also introduced to other programmes and initiatives to assist them with making their own business ideas a reality.
The story of Mose Steven
Mose Steven had never even dared to dream of such an opportunity to secure his and his family's long-term future. The money that the 20-year-old earned from doing odd jobs on building sites was not nearly enough to sustain him and his five siblings. Steven is epileptic and his seizures mean that he is only partially fit for work.
Like Lonny Mtuwa, Mose Steven has also been receiving SCTP payments since 2008. As well as allowing him to buy food and clothing, the money has made it possible for Steven to raise a growing number of chickens. But he is putting first things first:
"I'll be using the cash transfer to build my first house. I think my siblings and I will have a good life once I start selling corn. I'll buy corn and sell it on at the market. Those are the humble beginnings for larger business plans," Steven explains with great enthusiasm. His dream is to one day own a large grocer's store.
How the money reaches the recipient
Many poor families in Malawi do not have a bank account. It was therefore necessary to find other methods to disburse the transfer payments to the claimants. "The transfers are paid out every two months at coordinated pay points. These are set locations such as a village square or in front of a school where the recipients and employees from the district authorities come together," Hirtbach explains. The process is coordinated via a management information system – a computerised database that stores all the data.
The beneficiaries have an "ID card" that proves their status as authorised claimants. This contains a barcode, which the representatives from the district authorities scan on site. This allows for direct access to the relevant household's data set. The district officials then know how much the person is due to receive and the sum is handed over in cash.
"All things considered, it's a highly elaborate administrative system – for both parties. The district authorities come to the pay point, setting up a folding table and their IT equipment, complete with mobile power unit – a necessity given the severe lack of electrification in Malawi. They then go through the process with each recipient, from identification to payment," Tewinkel says of the challenges involved. Most beneficiaries make their way to the pay point – a walk intended to be no longer than five kilometres, for which reason there are several different pay points in each district. Those unable to make the journey can add a proxy recipient to their ID card, who is then permitted to take delivery of the cash.
School uniforms for the children
The claimant is free to decide how they use the money – a rule that Tewinkel is pleased with: "People mostly make very sensible and rational decisions about how to use the money." Agness Kilowe is a prime example. As a single mother with seven children, she lived in bitter poverty before her enrolment in the Social Cash Transfer Programme. Her children used to go hungry and were unable to go to school as there was not enough money for the clothing and footwear they would need.
Since Kilowe was accepted into the government programme, like Lonny Mtuwa, she has been receiving around 17 euros every two months. Initially, she used the money to buy everything her children needed to attend school: a uniform, shoes, stationery. Since then, there has also been enough food for everyone. Then Kilowe built a simple hut – her pride and joy – and bought some goats. Her plans for the future are to build another small hut to rent out. Now the 43-year-old feels much more positive about the future than she has for around a decade. "Even if I were not to receive any money today, I know that I can survive as the programme has given me enough capital to start a business that allows me to provide for myself and my family," Kilowe says.
A programme with far-reaching effects
External evaluations have demonstrated that the programme has made an effective contribution to alleviating poverty in Malawi. The recipient families eat more regularly, while more children go to school and stay in school longer overall. The improved living conditions also have a knock-on effect on their social lives. Young girls in recipient households are under less pressure to go into sex work to improve the household income or help to sustain themselves. In addition, there are fewer early pregnancies and health in general has improved, with the under-five mortality rate falling. The number of households with assets such as livestock or land has grown, and their overall financial situation has improved.
KfW Development Bank is implementing the SCTP on behalf of the German Federal Ministry for Economic Cooperation and Development (BMZ) and the European Union (EU) in 14 of Malawi's 28 districts, covering around 130,000 households occupied by more than 580,000 individuals. As well as financing the transfers, KfW also supports the continual monitoring and improvement of the SCTP's set-up, administration and execution. This includes technical equipment, consulting services, capacity building, and the introduction of software and a comprehensive management information system. "There is a high level of motivation as we are able to significantly improve many people's lives through these efforts and, in turn, boost their prospects for the future. In the context of alleviating poverty, the programme is a great success," Tewinkel says of KfW's incentive to play a part in the project.
Published on KfW Stories: Tuesday, 23 July 2019
The described project contributes to the following United Nations' Sustainable Development Goals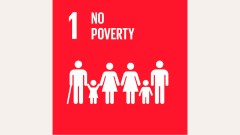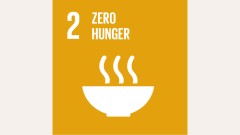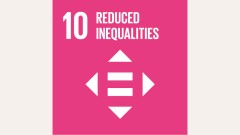 Goal 1: End poverty in all its forms everywhere
Around eleven per cent of the world's population lives in extreme poverty. In 2015 that figure was around 836 million people. They had to live on less than USD 1.25 a day. The global community has set out to end extreme poverty completely by 2030.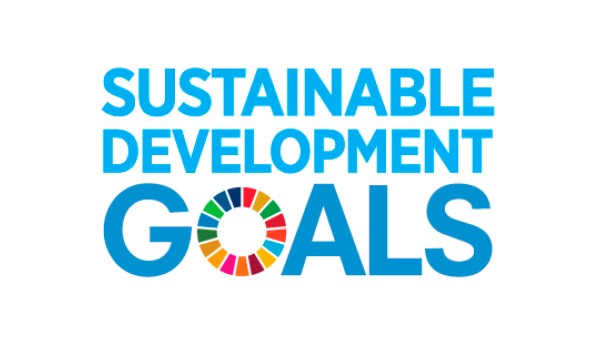 All United Nations member states adopted the 2030 Agenda in 2015. At its heart is a list of 17 goals for sustainable development, known as the Sustainable Development Goals (SDGs). Our world should become a place where people are able to live in peace with each other in ways that are ecologically compatible, socially just, and economically effective.