After the Arab Spring 2011 Tunisia was plunged into an economic crisis. Dr Joachim Nagel, Member of KfW's Executive Board, explains in an interview how the reform partnership with Germany and a wide range of development projects are helping the country to overcome the crisis.
About Joachim Nagel
Professor Dr Joachim Nagel is a member of the Executive Board of KfW and Chairman of the Board of Supervisory Directors of KfW IPEX-Bank and the KfW subsidiary DEG.
Learn more
Mr Nagel, KfW is considerably expanding its involvement in Tunisia. A total of EUR 2 billion is due to be invested in projects over the next four years. That is almost as much as the past 50 years combined. What is it that makes Tunisia such an important country?
JOACHIM NAGEL: Tunisia has been an important partner for many years but its significance has increased even further since the Arab Spring. Tunisia is an anchor of stability in a region in crisis; it is the only North African country with a democratic constitution. This is why the German Federal Ministry for Economic Cooperation and Development (BMZ) entered a reform partnership with Tunisia in 2017. The country is very arid and feels the effects of climate change. The economy was thrown into crisis following the revolution in 2011. We want to help them master this crisis in order to improve people's living conditions.
What do you mean by reform partnership?
The German federal government has entered into a special cooperative agreement with six African countries, Tunisia, Ethiopia, Morocco, Ghana, Senegal and the Ivory Coast. These countries offer good underlying political conditions on the one hand and have also indicated that they are interested in development cooperation on the other.
Which measures stand out in the bank's cooperation with Tunisia?
One pioneering measure is the project to establish a promotional bank, Banque des Régions. Working with the EU, we will finance a project to transport water from the rainy north of the country to its arid central region. Other important measures include reform financing in the field of good governance and improvements to the investment environment for the private sector, work which will see us liasing and working with other partners like the World Bank.
Does a reform partnership mean that loans are linked to reforms being carried out?
We apply the so-called "policy-based loans", which involves us talking to the countries about which reforms should be implemented. For instance: which instruments and institutions can be used to stabilise the financial sector. If our shared prerequisites are met, then budget support is made available under the terms agreed upon. We are asking for something on the one hand, but we then deliver something, too.
Who decides how a reform financed by KfW should look?
Development cooperation takes place in close dialogue with the countries in question. Negotiations are held on a level playing field. We would never impose anything on our partners. Unfortunately, we are repeatedly confronted with this suspicion.
Video: On behalf of the German federal government KfW is supporting Tunisia in various projects (KfW Group/Christian Chua and Thomas Schuch).
Why is the financial sector a focus of cooperation with Tunisia?
A strong financial sector is one of the prerequisites for economic growth. It is important for people's welfare. When the financial sector is weak, micro-, small- and medium-sized enterprises – known as MSMEs – have a great deal of difficulty accessing credit. Furthermore, the financial sector is one of KfW's core areas of expertise.
You recently joined a KfW delegation in Tunisia. How did you find the problems encountered by MSMEs there?
It is true; MSMEs have very little access to credit. This can be partially explained by the fact that there are more attractive forms of investment for local banks than loans. For instance, they invest their capital in government bonds, which have relatively high interest. This risk aversion also stems from the fact that the Arab Spring was followed by credit defaults. Being a promotional bank, KfW is able to use its instruments to at least help to mitigate dysfunctionality on the market.
Are these difficulties typical for MSMEs in developing countries?
The financial markets there are still unable to sustainably support and stabilise an economic upswing. Traditional banks in these countries often use different business models. They also have a lower volume of deposits and their structures are not as robust on the whole.
What can a Tunisian promotional bank do that Tunisian banks cannot?
Banque des Régions is not designed to compete with private banks but to complement them. This is an area where – and our trip also demonstrated this – we have to provide better clarification and cultivate trust. Following the KfW model, the Tunisian promotional bank is due to issue state loans via Tunisian commercial banks. This approach will also enable these banks to tap into new client segments. KfW has been successful in this approach for decades.
Is there a timeframe for establishing Banque des Régions?
We are still in the early stages but should see results in two or three years.
Read more under the image gallery.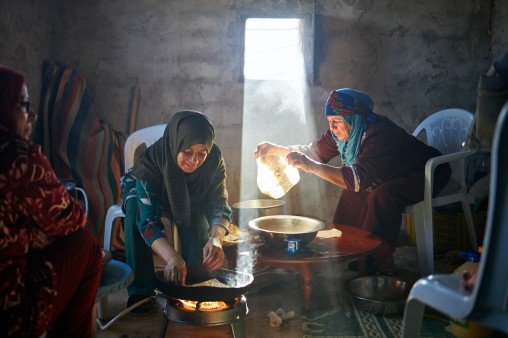 The modernisation of the Sidi Saad dam is designed to protect the surrounding population from flooding and to ensure their water supply.
What are the specific challenges encountered when establishing a promotional bank?
We can learn from past mistakes. In the past, a similar institute suffered high credit defaults. Under the old Tunisian regime, loans desired for political reasons were issued without conducting suitable creditworthiness checks. In contrast, Banque des Régions is intended to implement promotional programmes on behalf of the Tunisian government while still acting autonomously. The message is clear: a promotional bank works around banking criteria and must not be exploited to finance things that are not bankable.
As part of the reform partnership, KfW will also invest in start-up funds. This area is even riskier than MSMEs, isn't it?
For this purpose, KfW will invest in the fund ANAVA on behalf of the BMZ. The AfricaGrow fund, which KfW set up with Allianz Global Investors on behalf the BMZ, will also invest primarily in the reform partner countries. Yes, the start-up sector is even more challenging than the MSME sector. It is important not to expect too much too early; it is more of a marathon.
"Democracies always become stable when people start to see economic progress."
Can the relationship between Germany and Tunisia act as a benchmark for the G20 countries' Compact with Africa initiative?
We hope that the reform partnership with Tunisia will become a role model. It is all about creating living standards that enable people to find opportunities in their own country. That is of course in our interest as well. Democracies always become stable when people start to see economic progress. They measure their political circumstances by whether things have improved for them.
What particularly impressed you during your visit to Tunisia?
The thing that always inspires me is my encounters with local people. When you're there, you get a different image of the country and what drives people. And how they want to progress. Our projects help with this. In Tunisia, we had the chance to see the whole range of projects starting from agriculture and employment, water supply and coastal protection to sea water desalination and renewable energy sources.
Published on KfW Stories: 30 March 2020.