The climate targets of the EU and UN have moved sustainable financing to the top of the agenda of the finance industry. This means banks and investors are called upon to provide green incentives and become more involved in saving the planet.
About Dr Brockmann
Dr Karl Ludwig Brockmann is the KfW Group Officer for Sustainability. In June 2018 he was appointed by the EU Commission to the newly created Technical Expert Group on Sustainable Finance.
Transitioning to a sustainable society is the key challenge of our time. The role of the finance industry in supporting the necessary transformations is being discussed at national and international level under the banner of 'Sustainable Finance'.
Two main impulses have been driving the topic for the past three years: the 'Sustainable Development Goals' to eradicate poverty and protect our planet that were adopted in the UN framework in September 2015, and the Agreement on Climate Change that was signed in Paris in December 2015. Both require great efforts from the whole of society and significant financial resources to be mobilised. The EU, for example, estimates that EUR 180 billion has to be made available in additional investment funds each year to achieve its energy and climate-policy goals in transport and energy by 2030 (see infograph).
For banks it is about much more than providing financial resources for sustainable investments in energy efficiency, education or poverty eradication. It is also about determining what projects should no longer be financed (such as coal-fired power plants), in what way sustainability aspects can be integrated when investing own funds (for example in liquidity management), and what impulses can be set on the funding side (e.g. with green bond issues). But it must also be noted that all combined efforts of the finance industry cannot create a sustainable world. What matters is providing the right political stimuli and incentives in the real economy.
Read more under the infographic.
Every bank must ask itself – in its own best interests alone – whether its risk management is properly configured to meet the challenges of climate change. These could be physical risks such as extreme weather events that pose additional burdens on our customers. They can also be transitory risks as soon as it becomes evident that customers' business models are no longer viable, for example because tightening climate policies significantly reduce the prospects for companies from the coal, oil or natural gas industry. On the other hand, the necessary transition towards a more climate-adapted and sustainable society also opens up many opportunities for commercial banks and promotional banks to attract new customers and develop new products such as sustainable retail funds.
Source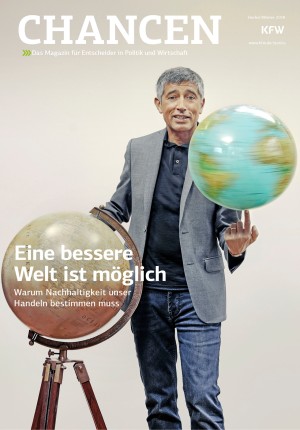 The article appeared in the autumn/winter 2018 issue of CHANCEN magazine focusing on sustainability.
To German edition
A particularly active, key driver of the theme of sustainable finance is the EU, which published a far-reaching action plan and launched several legislative packages in May 2018. KfW is also a member of the Technical Expert Group that advises the Commission on implementing the legislative proposals. The planned EU-wide classification system for 'sustainable economic activities' is a core element. This system is particularly important because it establishes a unified classification system and creates a common understanding among all stakeholders of what activities can be credibly classified as 'green' or 'sustainable'. This, for its part, is the most important lever for developing scalable financial market products and thereby enabling large volumes of private funds to be incorporated in the first place.
As a bank committed to responsibility, KfW sees itself as contributing to sustainability as a responsible employer, through climate-friendly and resource-efficient bank operation, and through its promotional schemes – all accompanied by comprehensive reporting on sustainability themes. The 'Roadmap Sustainable Finance' working group was created in 2017 to strengthen KfW's involvement on the financing side. Its task is to examine, on behalf of the Executive Board and with the involvement of all business areas, how sustainability can be anchored more firmly into the bank's strategy and management. Themes include a new sustainability mission statement, a steering concept for sustainable financings, the management of climate and other sustainability risks, a corresponding communication strategy and any necessary modifications to bank processes.
Published on KfW Stories: Monday, 3 December 2018