The battle against climate change will be impossible to win without private funds. Doris Kramer, a sustainability expert at KfW, explains why the bank is investing huge sums in green bonds.
Doris Kramer
Doris Kramer has been working at KfW since 1992. She has been the team leader for investment strategy and sustainability in the Asset Management department since 2014. She helped to shape KfW's concepts for issuing and investing in green bonds and, as a member of the Executive Committee for the Green Bond Principles, she contributes to the development of the green bond market on an international scale.
Delegates celebrating, minutes of applause, hugs for everyone. Politicians let their tears of joy flow freely. There are goosebumps and grand statements all round during this historic moment, celebrated as a revolution in climate change and a turning point on the journey to a better world. The pictures from the unanticipated successful end to the 21st UN Climate Change Conference in December 2015 have lost nothing of their magic – and are still able to motivate viewers to boldly pursue the path to low-carbon living despite all its obstacles.
Planting trees, building wind turbines, promoting future-proof resource-conserving technology: to keep global warming significantly below the agreed two-degree rise, net greenhouse gas emissions have to be reduced to zero by 2060. According to the calculations drawn up by the International Energy Agency, a formidable sum of around USD 53 trillion must be invested in the global energy sector by 2035 – this would cover the current German federal budget for the next 135 years. This just goes to show that the ambitious climate protection goals would be impossible to achieve without the involvement of institutional and private investors.
Green bonds could play an important role in this process. Green bonds collect international private capital to finance sustainable environmental and climate protection projects. The issuers undertake to invest the revenues for example in renewable energy, energy efficiency projects, environmentally-friendly transport concepts and sustainable waste management. The earmarking of the funds creates a direct link between the investment and a financing project.
Read more under the infographic.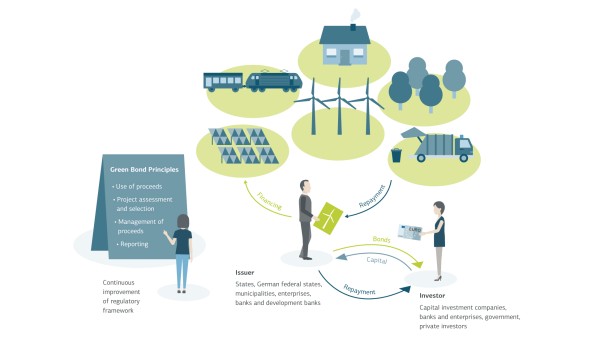 There is very little difference in price between green bonds and more traditional bonds. Within the space of one year, the global issuing volume of green bonds has doubled to EUR 90 billion. Financially strong investors around the world are showing an increasing level of interest while rating agencies, like Moody's and S&P, and stock markets are also jumping on the bandwagon. Private investors can also already invest in green funds on the market.
Yet what exactly are "green" investments? The concept is not governed by law. However, private initiatives have established quality standards to ensure a high level of market transparency and increase faith in green bonds. Anyone unable to present a clear environmental benefit is at risk of suffering heavy damage to their reputation. The Green Bond Principles (GBP), which underwent their most recent revision in June 2017, have the biggest impact in this field. This voluntary code of conduct more or less defines the playing field for the use of funds, the project assessment and selection process, revenue management and regular reporting.
KfW plays an important role in the continuance of these voluntary rules, and not just as a member of the GBP's Executive Committee. Using its particular status as an investor and issuer, it works hard to embed the issue of sustainability on the capital market, speaking to all those involved in the process. Just a few months ago, the bank doubled its portfolio for green bond investments, which was set up in 2015, increasing its volume from EUR 1 billion to EUR 2 billion.
At the same time, KfW is one of the world's largest issuers of green bonds: since it was set up in 2014, the volume of "Green Bonds – Made by KfW" has risen to EUR 12.7 billion. Needless to say, regular reporting plays an important role. In 2014, for example, investments in the amount of EUR 1 million in KfW Green Bonds led to greenhouse gases being reduced by a good 1,270 tonnes – this is the equivalent to the carbon sequestration capacity of around 100,000 trees.
A new way of thinking has established itself on the capital market. There is a strong chance that green bonds will making a growing contribution against global warming – and ultimately help to ensure the success of the much-celebrated Paris Agreement and its subsequent global climate change conferences.
Published on KfW Stories on 1 November 2017