The coronavirus crisis poses a financial challenge for students, too: many of them have lost their jobs and have no money left to pay their rents and meet their costs of living. The German Federal Government and KfW are offering support: from now on students will not have to pay interest on the KfW Student Loan. Foreign students can also apply for the KfW Student Loan under the new conditions, which are valid until 1 April 2021. Detlev M. Kalischer, head of the responsible division, explains in an interview how the loan is designed.
About Mr Kalischer
Detlev W. Kalischer is head of the SME and private clients division at KfW. Since 2006, the lawyer has also been Managing Director of FuB Finanzierungs- und Beratungsgesellschaft mbH (a subsidiary of KfW Group).
KfW is the namesake for the efficiency house standard and is the largest climate financier worldwide. Is it worthwhile to finance students with 500 euros per month?
Absolutely! This is a promotional programme. Every student we help to finance their studies is another reason that the KfW Student Loan is a good idea. We are thus promoting Germany's future and also making a contribution to securing skilled labour.
Still, the KfW Student Loan is a small-scale loan ...
... which constantly creates challenges for us, especially in terms of processing costs. However, thanks to a high degree of standardisation and our favourable refinancing options, we can also offer attractive terms and conditions in this area.
Who is your target group?
Our main goal is to reduce social inequality and make German universities more accessible to young people from low-income families. However, the KfW Student Loan is granted independently of the parents' income or other collateral – because we want to reduce dependence on part-time jobs.
And is it working?
Since the student loan was introduced in 2006, we have supported more than 280,000 students. A high percentage of them are from low-income families. The average number of loans concluded is more than 23,000 per year. In addition to well-established sources of financing – parents, Federal Education and Training Assistance (BAföG) or a part-time job – the KfW Student Loan can hold its own.
Did you have to make adjustments to your programme over time?
The needs of students are our priority and therefore we adapt when they change. In 2013, for example, we extended the programme to include postgraduate degree programmes in keeping with the idea of lifelong learning. Students can also apply for a student loan for a second degree programme – even if they have worked in the meantime.
Normally, KfW does not grant its loans directly, but through the customer's bank. It is a different story with student loans...
The student loan is one of the few exceptions. That is why our employees sometimes talk on the phone with mothers, fathers, grandmothers and grandfathers. I personally have very little contact with the students, but a lot of funny anecdotes from our info centre reach me. The other day a colleague told me about a phone call with a student who asked indignantly: "What right do you have to move in with me?" Of course we did not want to become the student's new roommate, but rather to withdraw the repayment instalment from her account (Note: The German word "einziehen" can mean both)
And do you think that the students handle money responsibly?
Our experiences have been positive. There are two things we can base responsible behaviour on: first, students are eligible to get up to 650 euros a month from us. However, the average is a little more than 500 euros. This shows that students are only asking for the amount they lack to cover their living expenses. Second, we grant students up to 14 subsidised semesters depending on their age. Here, too, many students do not take full advantage of everything. On average, they only take the loan for four to five semesters.
How do you deal with customers who default?
After the disbursement phase there is a grace period during which the graduate can look for a job. If the student is then unable to repay the student loan, the usual mechanisms such as reminders kick in. However, we try to respond to the circumstances of the student borrowers and conclude repayment agreements, among other things. But the KfW Student Loan is still a loan and it is important to us that students use it wisely. They should always check whether there are other sources of funding. A student loan is certainly a good alternative to a part-time job that has nothing to do with the course of study.
How could the programme be improved?
We must respond to customer needs even faster. We have a lot of ideas about how the KfW Student Loan can be further developed, including the possibility to submit and process the applications completely digitally and also offering funding for semesters abroad. This also fits with the young target group of applicants, who have an affinity for digital processes and are mobile. Due to regulatory and legal requirements and the existing IT systems, these ideas can often only be put into practice over a longer period of time.
Published on KfW Stories: 11 May 2020.
The described project contributes to the following United Nations' Sustainable Development Goals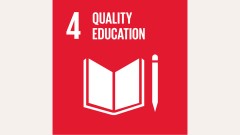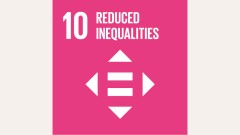 Goal 4: Quality education
Refusing people access to education means depriving them of a basic human right – and of important development prospects for individuals and society. Education enables people to improve their political, social, cultural, and economic situations. Worldwide, 58 million children and 63 million young people still do not have access to primary and secondary schools. 90 per cent of all children with a disability never go to school. 781 million people are illiterate. 7.5 million people with functional illiteracy live in Germany alone.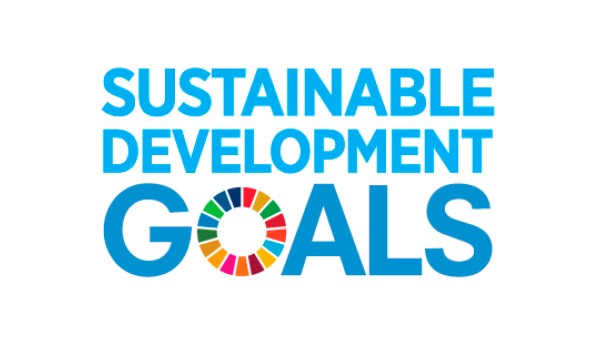 All United Nations member states adopted the 2030 Agenda in 2015. At its heart is a list of 17 goals for sustainable development, known as the Sustainable Development Goals (SDGs). Our world should become a place where people are able to live in peace with each other in ways that are ecologically compatible, socially just, and economically effective.