The Annamite Mountains in the border region of Laos and Central Vietnam are a treasure trove for biologists: the evergreen rainforests are home to rare species of flora and fauna. But species diversity and the rainforests are endangered by logging and poaching. Together with the nature conservation organisation WWF, KfW is committed to forest preservation and biodiversity conservation in the region.
There is only a narrow path leading to the rainforest from a small Laotian village: to the left and right of the path giant green trees reach up to the sky, a stream gurgles down the mountains into the valley. Dressed in jeans and a WWF shirt, a young ranger walks ahead with his colleagues, all wearing overalls.
Their stomping ground is here in the Annamite Mountain Range, which stretches into the border area between Laos and Vietnam. They move quickly, putting one foot in front of the other on the stony trails. The young Laotians patrol here on a regular basis — and often find what they are looking for. Suddenly one of them stops and points to a thin, almost invisible wire lying in the grass next to the path.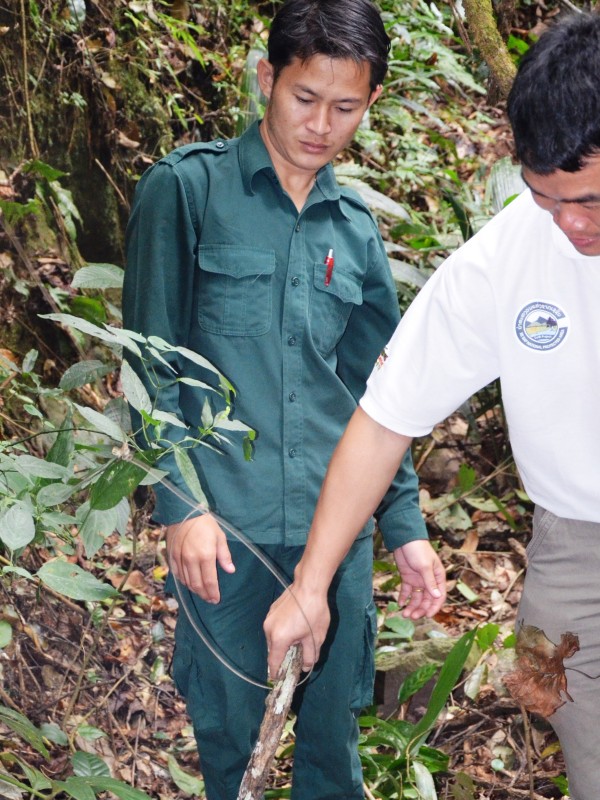 "Snares like these are used to catch animals," explains the young ranger. Their legs get caught in the spring snare that lifts the animal into the air, and they die an agonising death. People who set traps of this kind threaten biodiversity as many rare animal species are found in the region. However, according to a recent study, many inhabitants of the neighbouring villages eat "bushmeat" and hunt illegally in the nature reserves. Catching poachers and destroying traps and illegal camps is therefore one of the rangers' main activities.
They camp in a simple hut at an outpost, sleep on thin mattresses in sleeping bags on the ground there, usually under mosquito nets. They go on their patrols from here. The rangers here and in other regions of the mountains have destroyed more than 110,000 animal traps and around 1,800 illegal camps and have apprehended more than 3,400 poachers in the past six years.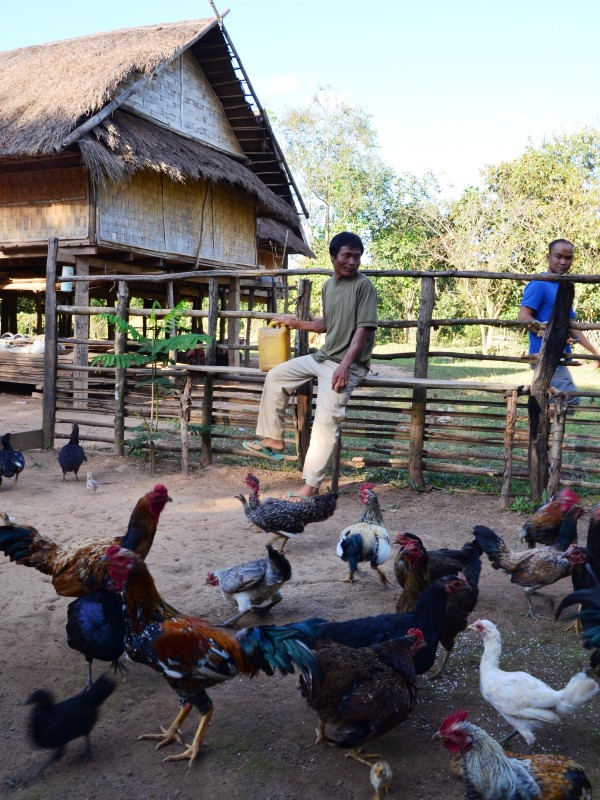 To prevent people in the region from poaching and illegal logging, support is provided to residents so that they can secure their food and income in other ways. A small village is located right next to a protected area. Huts are built on stilts, children in shorts and T-shirts walk barefoot across the naked earth. Some women carry babies in their arms, laundry hangs in windows to dry. A farmer is feeding his chickens. The chickens run wild in the evening sun and eagerly peck for food. "The chicken farm brings me extra money to support my family," the man says.
The farmer received a small amount of start-up financing for the development of the chicken farm as part of an income-generating programme. In addition, voluntary initiatives and youth groups are supported that promote nature conservation in the villages with music, theatre and dance performances. And in fact, the programme is effective: villagers report that they now grow bananas and rice and raise chickens — and no longer go into the forest to collect wood or hunt.
Read more under the picture gallery.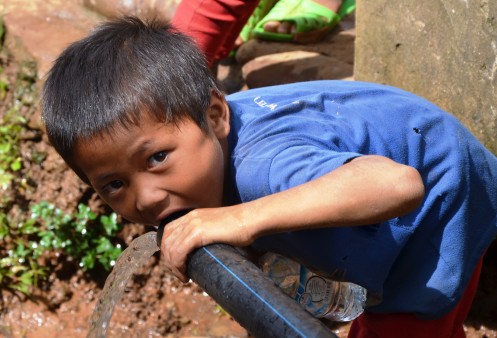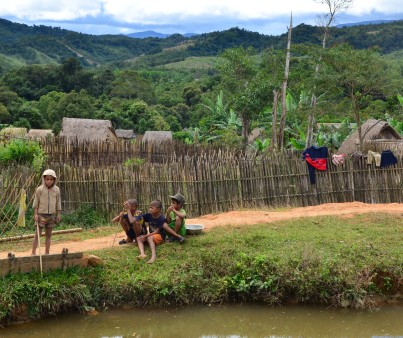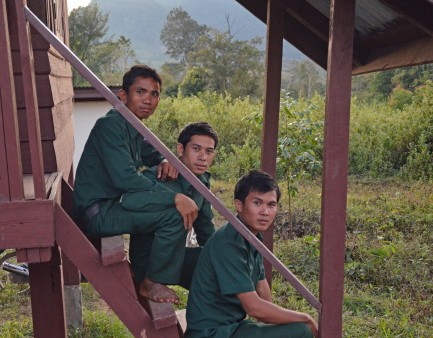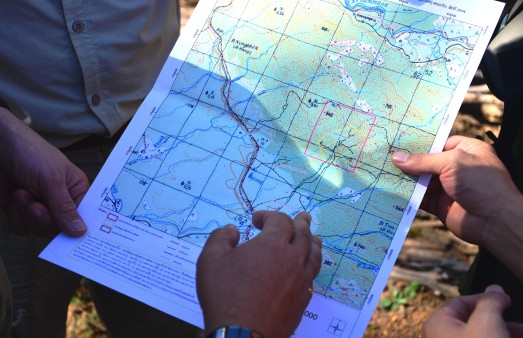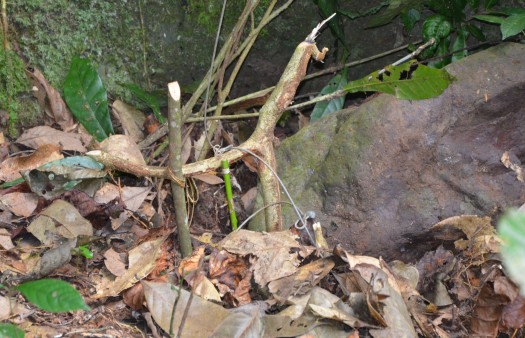 Youth work
Nature conservation begins in the mind. Voluntary initiatives and youth groups that promote nature conservation in the villages with music, theatre and dance performances therefore receive financial support.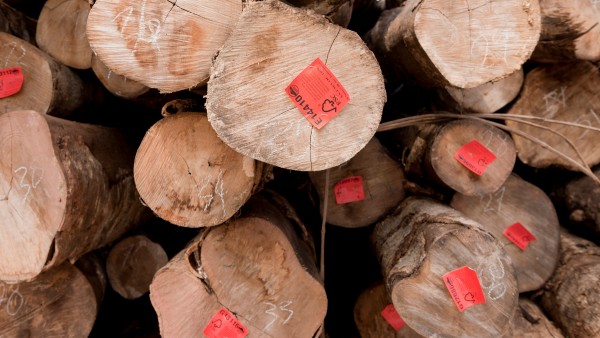 "Our primary aim is to combat illegal logging," says KfW project manager Adrian Klocke. To this end, data on the type and extent of deforestation and trade are collected, also using satellites. This enabled the WWF to prove in a scientifically based report that the official timber quotas from Laos to Vietnam were repeatedly exceeded three times over.
In the meantime, logging is better monitored, states an article in the WWF magazine. The result was an 84 percent decrease in the export of tree trunks from 2015 to 2016 – an important milestone in protecting the unique natural landscape from resource depletion in the long term.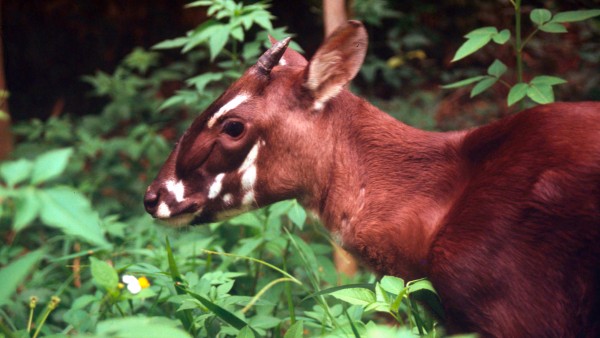 Time and again, we are surprised at the animal species that still live in the expanses of the forests. The young rangers are especially proud of their "camera traps". These are permanently installed on trees and trigger photos when an animal walks by in the immediate vicinity. In 2013 a snapshot was taken of a Saola, an extremely rare wild bovine species, which was almost extinct. "That was a great discovery for us," says Adrian Klocke, KfW project manager.
In addition, the presence of Asian black bears and the endangered striped Annamite rabbit was verified by photos taken by these hidden cameras - another important incentive to protect this unique habitat.
Published on KfW Stories: Monday, 26 March 2018
The described project contributes to the following United Nations' Sustainable Development Goals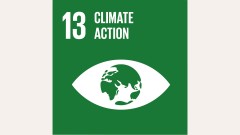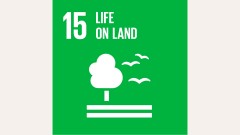 Goal 13: Take urgent action to combat climate change and its impacts
Water shortages, droughts, hurricanes and floods are just a few of the many consequences of global climate change and causes of migration. Around 20 million people are currently being forced to leave their homes as a result of climate-induced events. Climate change does not stop at national borders and its effects are not limited to individual policy areas, economic sectors or social groups. International efforts to contain climate change must also take into account the many interactions between these domains.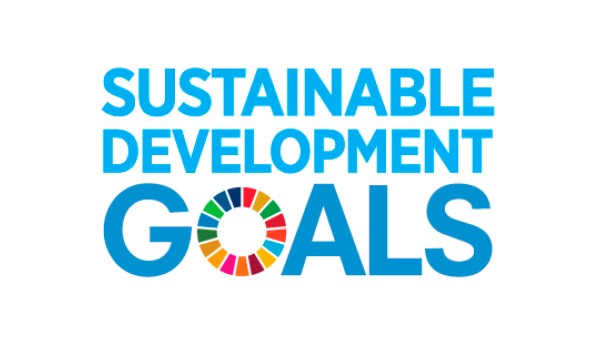 All United Nations member states adopted the 2030 Agenda in 2015. At its heart is a list of 17 goals for sustainable development, known as the Sustainable Development Goals (SDGs). Our world should become a place where people are able to live in peace with each other in ways that are ecologically compatible, socially just, and economically effective.