Conservationists are seeing a steep drop in bee populations around the world. This not only impacts the ecological balance, it also affects the profession of beekeeping. Dieter Schimanski developed a business idea to preserve the profession and protect the bees. Companies can lease bee colonies from him, which are then tended to by professional beekeepers. With his start-up Bee-Rent, Schimanski won the special Social Entrepreneurship prize of the KfW Entrepreneurs' Award 2019.
In our video, entrepreneur Dieter Schimanski explains how he came up with idea to lease bees (KfW Group/n-tv). This video is only available in German.
Bees don't need a lot of space. Thirty bee colonies live on 500 square metres of a field just a few metres behind the headquarters of Bee-Rent in Ganderkesee near Bremen – now the home for up to 1.5 million bees. Bees reproduce quickly. But the more bees there are, the more beekeepers are needed to ensure the bees' survival. Amateur beekeepers would be quickly overwhelmed. "Beekeeping is currently quite trendy, but what happens when this is no longer the case? Fewer than one in 100 beekeepers in Germany is a professional," says Dieter Schimanski, the Managing Director of Bee-Rent. "We are creating stability again with Bee-Rent. Not only for beekeepers, but also for bees."
Companies can rent one or more bee colonies from Dieter Schimanski for a minimum of two years for a monthly fee of 200 euros. The beehives are personally delivered by the Managing Director to a location selected by the company. Bee-Rent beehives can now be found, for example on hospital grounds, in schoolyards and on the flat roofs of Radio Bremen and the headquarters of the KfW subsidiary DEG in Cologne, Germany. Ten to 15 times a year, beekeepers from the region visit the sites and tend to the insects. The first honey is harvested after a year. Every bee colony produces 20 to 30 kilograms.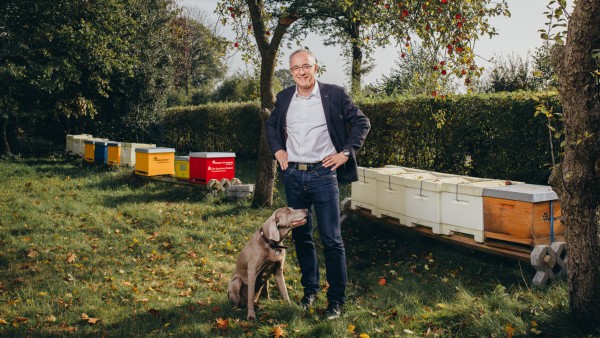 What is special about this concept is that the companies get to keep the honey made by their own bee colony after it has been processed. Customers select their own jars and Bee-Rent labels them with individual designs. Unlike normal beekeepers, the aim is not to produce as much honey as possible. Instead, the goal is to keep the bees in an environment appropriate to their species and to protect them from the Varroa mite, a parasite that weakens the insects' immune system. And even if the mite cannot be completely eradicated, expert beekeepers know at least several methods to control its spread.
As an amateur beekeeper, Dieter Schimanski has been committed to protecting the honey bee since he was very young. But only in July 2015 did he come up with the idea of making a business out of bee leasing: "There are lots of amateur beekeepers. But only a small number of people have managed to turn bees into a livelihood. I thought to myself, if you want to support bees and beekeepers professionally, then you have to rent out honey bees." What began as a small project alongside his regular work showed its first successes after only a short time. "At first I did this for fun and delivered beehives with my Audi coupé. Today I drive a VW bus."
Read more under the image gallery.
How Bee-Rent works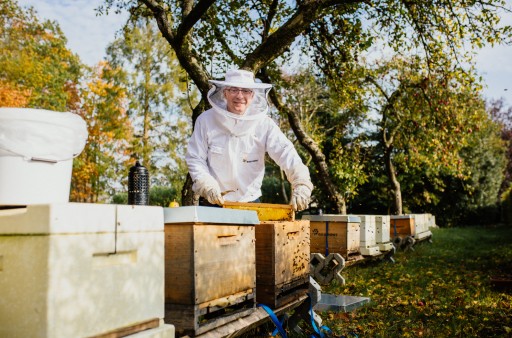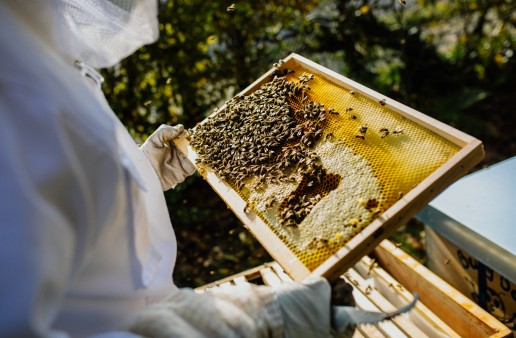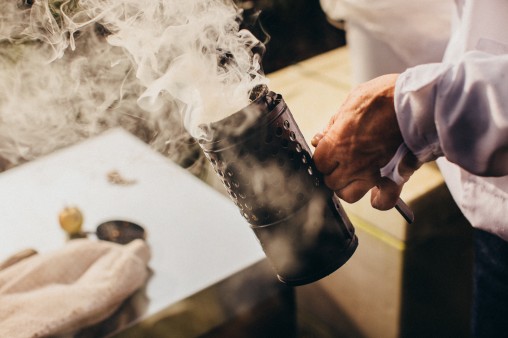 Dieter Schimanski was a real fan of bees, even as a child. He is entirely in his element with his small business in Ganderkesee close to Bremen.
KfW Entrepreneurs' Award
KfW Entrepreneurs' Award (formerly the GründerChampions) selected the 16 state winners and one national winner for their business ideas in October 2019.
But Schimanski is no beginner. He relied on professional planning right from the outset: "I wrote a business plan and drew up a financial plan to see whether the project would pay off financially," explains the experienced entrepreneur. Dieter Schimanski already took the plunge into self-employment in 2004 and formed a purchasing cooperative. His marketing agency followed in 2012. And then Bee-Rent in 2015. Bee rental was widely reported in the media in this first year, which got the ball rolling. A lot of companies contacted him with the desire to rent a bee box.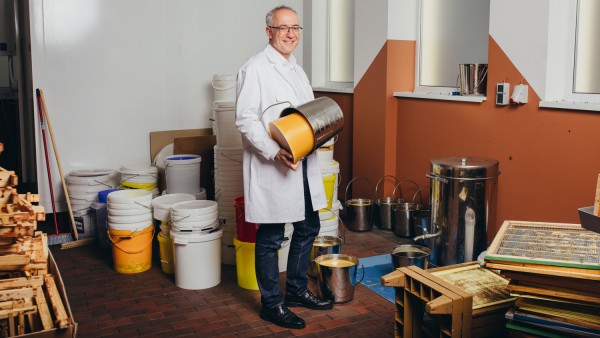 With the capacities at that time, the business became an ever greater challenge – until the franchise concept was added in 2016. Beekeepers from all over Germany came forward and wanted to be part of Bee-Rent as distribution partners. The company now has 25 franchise beekeepers throughout Germany. To be able to concentrate fully on the booming bee business, Schimanski sold his shares in his own marketing agency at the beginning of 2018 and since then has only been involved with Bee-Rent.
We have beekeepers who become part of Bee-Rent because they see a new opportunity in their profession. We create a future for people. And also for bees," says Dieter Schimanski. With production of 100 kilograms of honey, beekeepers earn 350 euros per year per bee colony through wholesalers. At Bee-Rent they are responsible for looking after a colony of bees for three years and deliver whole combs to the company, with which the honey can be produced. Within this period, they receive an amount of almost 1,524 euros, which is significantly more than what they would earn for the sale of the honey. The beekeepers can count on this income as a stable basis. This is why Dieter Schimanski believes that his start-up offers a sound economic basis that can easily persuade beekeepers to adopt the concept.
During the production of honey in what is known as the honey room, the mass is centrifuged, purified, filtered and then cooled. The entire production is handled by two machines. In order to acquire the production machines, Schimanski had to work together with several manufacturers from different countries. "We have been able to order many individual components over the Internet. For example, we bought the labelling machine from Italy and the machine for unscrewing lids from Denmark." Schimanski remembers that what is automated today used to be a time-consuming manual process: "In the first few years, I closed the lids of and labelled 7,000 glasses by hand with my wife. Today, we produce 80,000 jars in one year."
Bees on the rooftop of DEG headquarters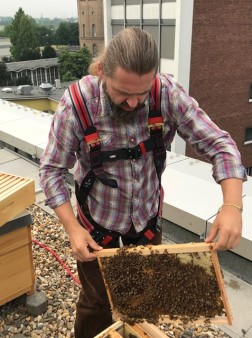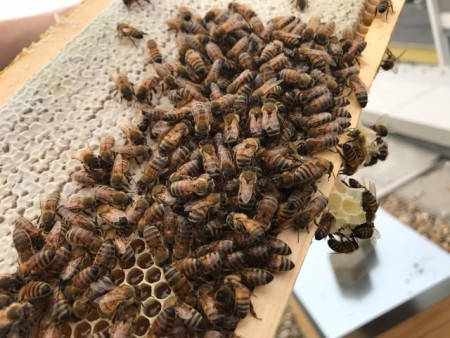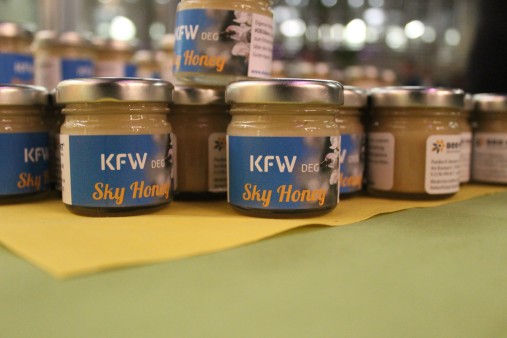 Leasing bees is in line with the trend. DEG – Deutsche Investitions- und Entwicklungsgesellschaft mbH, a subsidiary of KfW – also keeps bees from Bee-Rent. They insect employees live on DEG's rooftop, high above the city of Cologne. Beekeeper Sebastian Klein regularly keeps an eye on things.
To date, Schimanski has largely financed his start-up from his own resources. He only took out a working capital loan to finance one of his machines.
The major milestones still lie ahead for Bee-Rent, as the start-up plans to go international. "We have our first distribution partner in Luxembourg and enquiries from France, Austria and the Netherlands. Defining this kind of conceptual strategy is very important for the future of a company. We are still tinkering around with implementation," says Dieter Schimanski.
We are also planning to offer insect hotels. According to Schimanski, it is also important to protect other insects and offer them a habitat that has otherwise almost disappeared. "I think that we are seeing a great shift in thinking in our society. Of course, everyone has to find their own position when it comes to sustainability. But with Bee-Rent we provide something absolutely unique."
The described project contributes to the following United Nations' Sustainable Development Goals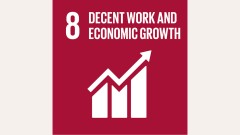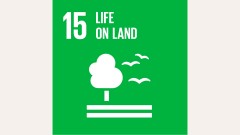 Goal 8: Promote inclusive and sustainable economic growth, employment and decent work for all
The economic growth of the past decades has come at the expense of natural resources and the global climate, and has long since reached ecological limits. If all people were to be given access to the quality of life that people accept as a matter of course in Germany, several planet Earths would be required to sustain it. Sustainable economic development reconciles social, ecological and economic development goals.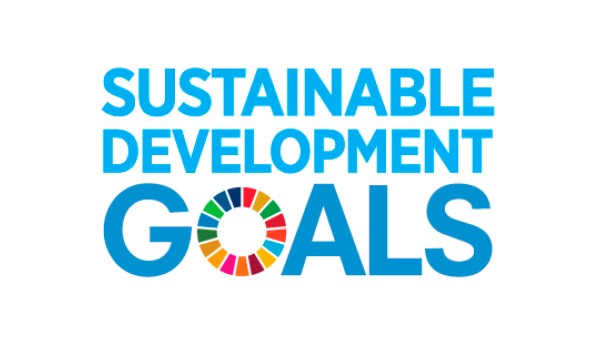 All United Nations member states adopted the 2030 Agenda in 2015. At its heart is a list of 17 goals for sustainable development, known as the Sustainable Development Goals (SDGs). Our world should become a place where people are able to live in peace with each other in ways that are ecologically compatible, socially just, and economically effective.
Published on KfW Stories: 1 November 2019.