Solingen owes its fame to an 800-year history of blade craftsmanship. Now the municipality of North Rhine-Westphalia aims to be a role model in the data world as well.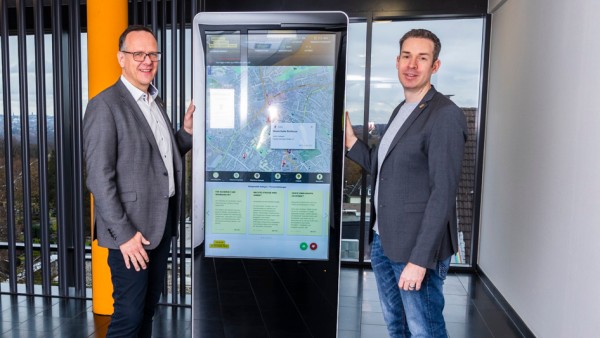 "We are working with prototypes," says Dirk Wagner. The citizens of the city can have a look at these prototypes and tell us what they think. The prototype is reviewed by the public and modified in the process if necessary before it goes into production. This is how Wagner, Head of Administrative Management at Solingen city hall and responsible for the "Smart City" project there, describes how the city in the Bergisches Land region is promoting digitalisation in dialogue with its residents.
The digital info column is one such prototype. The info column, which is as tall as a person, displays data: temperature, wind speed, UV index, even news from city hall. It also serves as a wireless hotspot. A city map with a touchscreen for orientation takes up the most space on the column. IT specialists in the municipality designed the info column in collaboration with a start-up. Three of them will be set up in the city in early 2020. "You can actually touch prototypes," says Nils Gerken, Chief Information Officer (CIO) of the administration who was involved in the development of the info column. "They give people an idea of what's meant." Which in his mind is better than talking purely about strategy.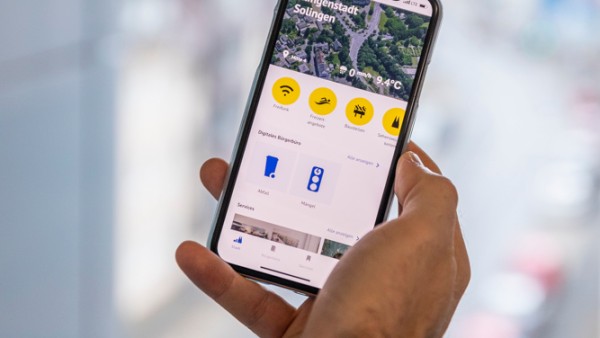 Digital prowess in the "City of Blades"
Solingen already has a basic digitalisation concept. Consequently, the municipality can immediately convert the funding it receives as one of the first 13 winners of the competitive tender "Smart Cities Pilot Projects" of the German Federal Ministry of the Interior, Building and Community (BMI) into concrete projects. KfW is providing nine million euros in grants to the city on behalf of the German Federal Government, and the municipality is required to supplement this amount with one million of its own funds. With 160,000 inhabitants, Solingen is currently the largest of the "smart cities" promoted by BMI and KfW. Until now, it has only been the blade and cutlery industry that made Solingen famous beyond the region and earned it the nickname "City of Blades". The 800-year-old industry still accounts for more than 20 percent of Solingen's manufacturing industry. Now the city wants to also become savvy in the digital world.
"The future belongs to cities that actively leverage digitalisation in all areas of life to create added value for the people who live in them," says Mayor Tim Kurzbach. Since taking office in 2015, he has been driving technological change. At that time, the city had already begun to lay fibre optic cables at its own expense. Today the high-speed network is more than 300 kilometres long. All industrial estates are connected to the data highway, as are all 55 schools.
Read more under the image gallery.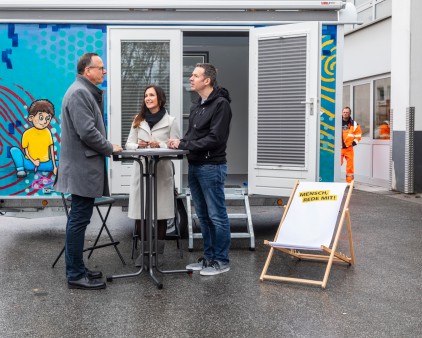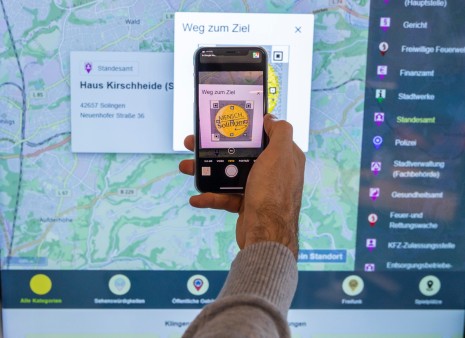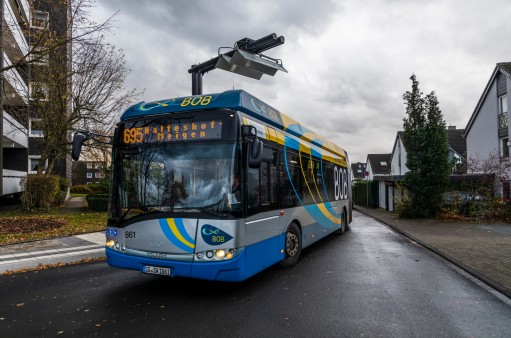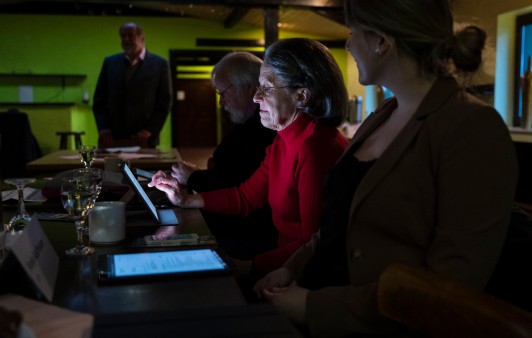 The city has had a construction-site trailer converted into a mobile info centre which also provides information about the digital transformation. Designing it is part of the job of Dirk Wagner (left), IT specialist Simone Nakaten, and Nils Gerken.
Wagner counters concerns that the planned digitalisation of administrative processes and services for citizens could cost many city hall employees their jobs with a surprising fact: "Of the 3,000 people currently employed by the city, about half will retire in the coming years."
Digitalisation has already become part of the daily work of the local parliament: all a Solingen council member needs for meetings is a tablet and a digital pen provided by the city. All relevant reports, applications and templates are available in one easy-to-use app. Indeed, the digitalisation laboratory is not situated in the city hall, but right in the city centre. After a short walk through the centre of Solingen, visitors understand why: it's impossible to miss how many storefronts are empty. "The structure has changed," says Wagner. There are too few apartments, but too many shops. The city also wants to make the area more attractive to people with more buying power.
Prototypes for digital projects
Solingen's city centre will be used as an example of how urban spaces can also be developed using digital means. Civic participation is organised by a community centre, which the municipality will soon set up in the centre. Or with the converted construction-site trailer, which the city administration already uses to hold on-site informational events. "We, too, have learned that digital civic participation alone does not work," says Gerken, "you have to approach the citizens on the ground."
So which prototypes will the people of Solingen be able to see soon? The info columns of course. Rubbish bins that use sensors to communicate how full they are to the refuse collection service. The waste is collected when the container is full. Or intelligent LED street lamps that adjust their light intensity to the traffic volume. Wagner estimates the potential energy savings of these light masts at 80 percent. Just as the municipality is gathering technical expertise from the TU Berlin in this case, it is also cooperating with universities and research institutes in other areas related to digital transformation.
In the area of mobility, Solingen is working on how to organise parking spaces, which is simultaneously part of traffic management. It started with some sensors on a street near the city hall. But the question now arises as to whether so many transmitters need to be installed on the street? Isn't it enough to have a few cameras that use a software application to calculate the number of free spaces in a large parking lot? According to Wagner, a solution like this would be worth looking into.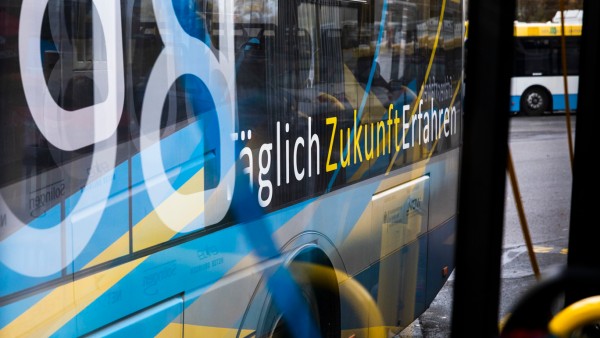 E-buses with green electricity
The support provided by BMI and KfW enables the city to pursue projects like this one, for which it would otherwise only have very restricted funds. Solingen, like other cities that have been awarded the distinction of a smart city, is a city with excessive debts subject to budgetary supervision, which means that the municipality must present a balanced budget and have it approved. According to Wagner, this is another reason why it is important to only initiate projects that the city can afford after the four-year funding period is over.
BMI and KfW already attach importance to the selected municipalities developing transferable models. Wagner already reports a "high level of interest" in Solingen's ideas, especially from cities and municipalities that did not take part in the "Smart Cities Pilot Projects" competition.
Solingen is well acquainted with the role of doing things differently. For decades electric buses connected to overhead wires have been driving through the streets. While abolishing this seemingly anachronistic means of public transport was discussed back in the 1990s, today large cities are buying electric buses to bypass bans on diesel-powered vehicles.
Source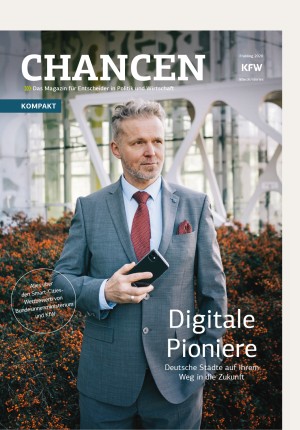 This article was published in CHANCEN Kompakt spring/summer 2020 "Digitale Pioniere".
To German edition
Half of all Solingen city buses are connected to overhead wires and use green electricity Until now, however, the electric buses have been using diesel to reach remote stops where it would be unprofitable to fit them out with overhead wires. Since the end of October 2019, even battery overhead wire buses (BOBs) have been driving through the city in the Bergisches Land region. The coaches of line 695 to Gräfrath charge their batteries at fast charging stations and via the overhead wire and, when it ends, they run on battery power.
The BOB is beyond the pilot phase. According to Wagner, more than a dozen buses of this type have been ordered. The bus schedules and routes will soon be available in the city app "Mensch, Solingen!". Only a beta version of this app has been available to date. Residents are currently testing the prototype.
The described project contributes to the following United Nations' Sustainable Development Goals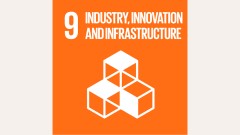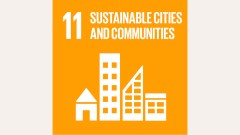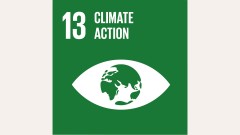 Goal 9: Build resilient infrastructure, promote sustainable industrialization and foster innovation
Non-existent or dilapidated infrastructure hinders economic efficiency and thus engenders poverty. When building infrastructure, the focus should be on sustainability, for example, by promoting environmentally-friendly means of transport. Factories and industrial facilities should also ensure that production is in line with ecological aspects to avoid unnecessary environmental pollution.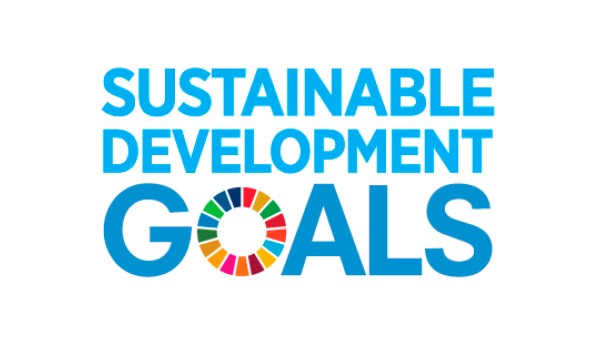 All United Nations member states adopted the 2030 Agenda in 2015. At its heart is a list of 17 goals for sustainable development, known as the Sustainable Development Goals (SDGs). Our world should become a place where people are able to live in peace with each other in ways that are ecologically compatible, socially just, and economically effective.
Published on KfW Stories: 14 January 2020.