Municipalities can use digitalisation to become more efficient, save money and reduce emissions. KfW and the German Federal Ministry of the Interior are running a smart cities competition to create incentives for this to happen.
About Mr Pöhler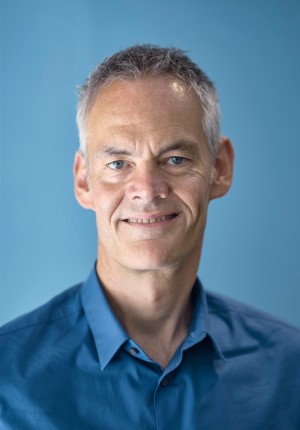 At KfW, Kay Pöhler is responsible for the "Smart Cities" pilot projects. His aim is to enable municipalities to use digitalisation as an opportunity.
I provide initial assistance for…
KAY PÖHLER: … developing smart cities in Germany.
What exactly does that mean?
PÖHLER: KfW's infrastructure team has been working on smart cities for two and a half years. We worked together with the German Federal Ministry of the Interior to create promotional criteria for the competition. Now our job is to distribute the funds committed to the 13 winning cities, local authorities and regions on a project-related basis and to monitor how the grants are used.
What set a smart city apart? Data is the oil of the 21st century.
PÖHLER: In this sense, municipalities are gigantic oil fields. Our project's approach is to help municipalities safeguard the data sovereignty of their citizens. Cities and municipalities must view the digital transformation as their own responsibility and should not leave it solely to the large IT companies.
The digital transformation has the potential to spur a whole host of projects. Could you give us some examples?
PÖHLER: Participation is a key word. A lot of urban development ideas come from members of the public. Municipalities can lay the technical groundwork needed to organise exchanges between administrative bodies and residents in a transparent way. During the process, the public need to be able to keep track of what happens with their input and ideas. Other examples of projects include intelligent, energy-saving street lighting. There are litter bins that transmit their filling level to waste collection services and are only emptied when they are full. Plus, there are apps that can link public transit up with other transport options like electric car sharing or hire bikes.
Does Germany have some catching up to do in this area?
There are examples of cities in Asia where everything is interconnected. That's magnificent on a technological level, but it doesn't meet our objective because we don't want to be a surveillance state. We don't view the public as data suppliers; instead we view them as sovereign players shaping the digitalisation process.
And how far along is Europe?
There are a few cities in Europe that have moved further along using a participatory approach like ours, such as Barcelona. A lot of funds have been invested there. But there are also cities in Germany that are well on their way. The municipalities and districts do need funding, though. This support is now coming from the German Federal Government and KfW.
Source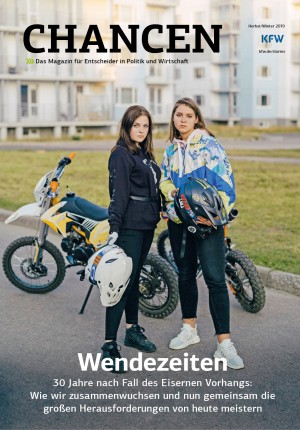 This article was published in the autumn/winter 2019 issue of CHANCEN magazine "Wendezeiten".
To German edition
Is this project different from others within KfW's portfolio?
In this case, funds are exclusively awarded in the form of grants, which is not KfW's primary purpose. This is uncharted territory for us because, although the financial framework has been created, the details about which projects will be funded are not yet clear. The winning municipalities are usually just beginning to formulate their digital strategies. What's more, the financial dimension is huge, with a EUR 750 million injection over ten years. When combined with nationwide knowledge sharing regarding progress, which is being organised on platforms, the funding can greatly influence municipalities' development.
Published on KfW Stories: 11 December 2019.