Kaiserslautern has made more progress in digitalisation than other cities. The planned innovations include what is known as a Third Space, which is a symbol for citizen participation.
If you walk from the Kaiserslautern main train station directly up to the Lämmchesberg district, you can take the Fauthweg footpath. After dark, it is well lit. Since the summer of 2019, the 300-metre-long path has even had smart lighting. Motion detectors control the lights depending on need. Pedestrians can individually adjust the intensity of the lights using a yellow button on the lampposts. At the spot where the path curves, a projector displays the message "Beware of ice" on the pavement when the temperature and humidity measured on site indicate that the ground is likely to be frozen. The Fauthweg is a pilot path for the city of the future.
Not far from here, on the opposite side of the train station, is the workshop of ideas for projects like the smart street lights. It is called KL.digital, Martin Verlage (top picture) heads up the team and is a subsidiary of the city. A half a dozen employees work under the slogan "Unser Lautern – herzlich digital" (Our Kaiserslautern – Digitalisation with a Heart). Established at the end of 2017, the company is now spearheading the project to become a "smart city". Kaiserslautern is one of the 13 cities and municipalities that were selected in the first round of the competition "Smart Cities Pilot Projects" of the German Federal Ministry of the Interior, Building and Community (BMI). The city in the German state of Rhineland-Palatinate, with its approximately 100,000 inhabitants (plus 54,000 members of the Kaiserslautern US military community), will be supported by KfW with a grant of 15 million euros in the next few years and will augment this investment with 1.5 million euros of its own funds.
"Nothing is worse than a deserted city centre."
Competitive advantage
Unlike some other competition winners, Kaiserslautern is spared the two-year theoretical phase because the city already has a digitalisation strategy and has already set up the organisation. The municipal administration and KL.digital make a good team. "We therefore plan to start implementation at the beginning of 2020," says Martin Verlage. "We need to expand the team. The larger increase in temporary positions will take place in the municipal administration in order to develop appropriate structures there."
The enlarged team will focus on eight digital action areas. Using city information modelling, for example, tests can be conducted to determine how the city's data can be consolidated and thus used more effectively. Another area where tests are being carried out is the "Third Space". This is based on the idea that digitally networked citizens organise temporary events in public spaces, such as a tango evening, a game of boules or a wine tasting, thereby infusing the centre with new life. Because "nothing is worse than a deserted city centre", says Verlage. The Third Space was one of the examples of technological change that KL.digital presented to the public at a "market of possibilities" event a few weeks after being designated a "smart city".
Read more under the image gallery.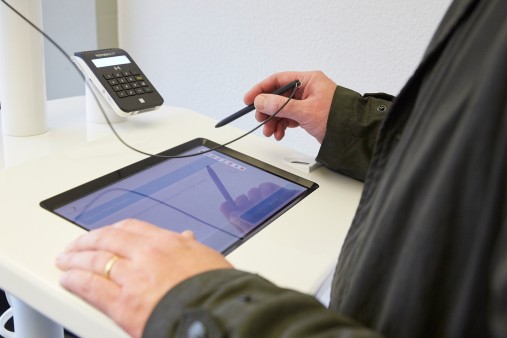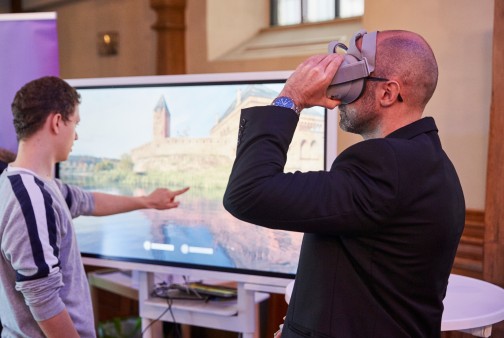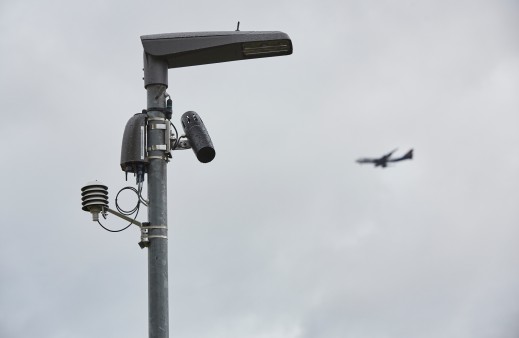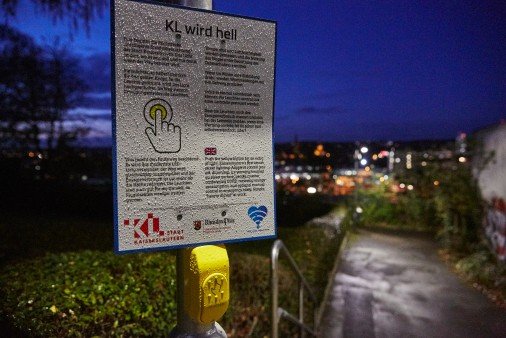 Self-service terminal in city hall: here, for example, a photo can be taken and fingerprints scanned for passports.
Participation and inclusion
"It is very important to us that people join us on the road to a digital future," explains Mayor Klaus Weichel, who is also Chair of the Supervisory Board of KL.digital. "This is why we offer not only working groups in various action areas, but also lectures, workshops, exhibitions and informational events for different generations. Low-threshold access is important to us." Weichel regards digitalisation in the city as just as self-evident as the construction of roads. All projects are aligned with our mission statement "herzlich digital" (Digitalisation with a Heart) and are designed to bring about a better quality of life.
Of course, this also applies to people with disabilities. The KL.digital team is planning a dynamic guidance system for the blind and visually impaired. They could be alerted to current obstacles such as construction sites or nearby events along routes that already have tactile indicators for orientation. At the ideas competition held by Kaiserslautern when it applied for the Bitkom competition "Digital City" 2017, this project received the highest score in the public survey.
Another idea involves dispensers set up in public spaces, similar to the parcel boxes of the post office. Operated by the municipality, customers could have goods delivered there if they do not have time to shop during store opening hours. Another option is that local residents could organise equipment loans among themselves and use the box as a temporary storage facility. These boxes can be opened and locked using a smartphone app.
"It is very important to us that people join us on the road to a digital future."
And last but not least, the issue of mobility – in particular semi-autonomous driving – is on the agenda. According to Verlage, this could provide an answer to the question of what public transport services need to be offered in times of low demand or on less frequented routes. In this context, it is fitting that Kaiserslautern will also be funded as one of only six 5G model regions in Germany for the next few years and that the Technical University, located above the Fauthweg at Lämmchesberg, is already experimenting with a semi-autonomous vehicle on campus.
Meaningful synergies
In any event, "without the university, the city would never have gotten this far in the digitalisation process," emphasises the publisher, who himself hails from the IT sector. Two professors of the TU, Dieter Rombach and Gerhard Steinebach, work for the city administration on a voluntary basis as Chief Digital Officer (Rombach) and Chief Urban Officer (Steinebach). The latter is the only one of his kind in Germany and consults with the municipality on urban development. The Fraunhofer Institute for Experimental Software Engineering, the Max Planck Institute for Software Systems and the German Research Centre for Artificial Intelligence broaden the technical and scientific expertise in the city, which is located on the edge of the Palatinate Forest.
"The issue of safety is a particular priority."
Reproducible character
The following is true for all projects: "They yield new insights and surprises," says Verlage. If it becomes apparent, also in dialogue with the city's residents, that something doesn't make sense, "we'll take it down". One other thing is important to the head of KL.digital: all projects must be sustainable and the city, which is not financially strong, must be able to continue them once the "Smart City" funding has ended. In addition, the projects must be transferable to other municipalities, as all selected "smart cities" are meant to be models for municipalities of similar size throughout Germany. Last but not least, Kaiserslautern serves as a role model for the Digital City intermunicipal network in Rhineland-Palatinate. Discussions at this level with medium-sized municipalities such as Andernach, Speyer, Wörth am Rhein or Zweibrücken are just getting underway.
Source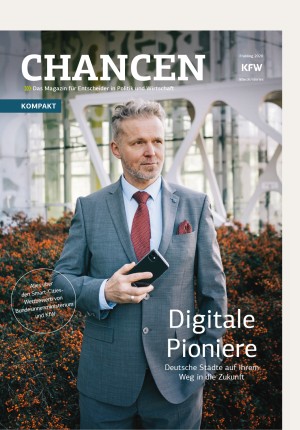 This article was published in CHANCEN Kompakt spring/summer 2020 "Digitale Pioniere".
To German edition
KL.digital is already receiving enquiries from other municipalities about their digitalisation ideas. Many are about Mogli, a mobile fibre-optic infrastructure that fits into a convenient case or into several of them if wi-fi is needed for large areas. Mogli, when connected to a local fibre optic network, provides a fast, reliable and broadband data connection, for example at major events like a fair and for rescue services and police. This facilitates their operations because they work with high-resolution camera images, among other things. If necessary, wi-fi can also be offered to visitors and booth operators. Mayor Weichel stresses that, "The issue of safety is a particular priority." And digital solutions such as Mogli or smart street lights ensure this in the "smart city" of Kaiserslautern.
The described project contributes to the following United Nations' Sustainable Development Goals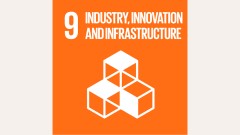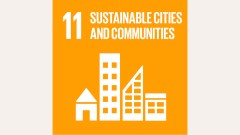 Goal 9: Build resilient infrastructure, promote sustainable industrialization and foster innovation
Non-existent or dilapidated infrastructure hinders economic efficiency and thus engenders poverty. When building infrastructure, the focus should be on sustainability, for example, by promoting environmentally-friendly means of transport. Factories and industrial facilities should also ensure that production is in line with ecological aspects to avoid unnecessary environmental pollution.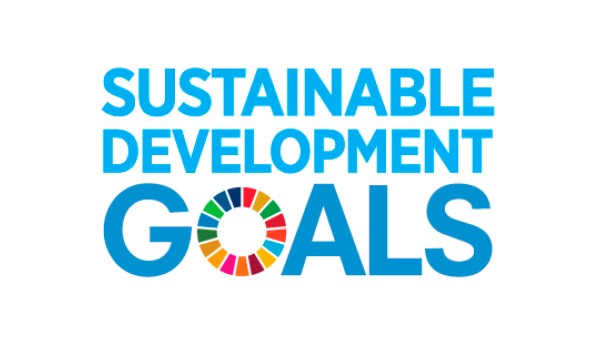 All United Nations member states adopted the 2030 Agenda in 2015. At its heart is a list of 17 goals for sustainable development, known as the Sustainable Development Goals (SDGs). Our world should become a place where people are able to live in peace with each other in ways that are ecologically compatible, socially just, and economically effective.
Published on KfW Stories: 23 January 2020.