In his position as Chief Economist of KfW, Jörg Zeuner talked in 2018 to Dietmar Harhoff from the Max Planck Institute for Innovation and Competition about deficits and opportunities in Germany's SME sector.
About Mr Harhoff
Dietmar Harhoff is a director at the Max Planck Institute for Innovation and Competition in Munich and head of the institute's Economic Research Department. He is chair of the Commission of Experts for Research and Innovation of the German Federal Government and has been in charge of the annual Report on Research, Innovation and Technological Performance in Germany for the past eleven years.
Is success making German SMEs complacent? Along the lines of: Why should we change anything, our products are selling well!
Harhoff: Yes. And in some industries we even see a pattern of arrogance. When we, as a commission of experts, warn that digitalisation in Germany is advancing at a slower pace than in other countries, some associations regularly retort: But just look at the export statistics! My usual answer to that is: Simply looking at export statistics is like driving a car by looking in the rearview mirror.
Zeuner: When a successful business stops developing its product further, its competitors will catch up in quality – and competition is decided mostly by price. Once heavy price competition has begun, many businesses lose innovative strength because they have less money to upgrade products. Our studies demonstrate that it is important for enterprises to focus on quality and maintain the flexibility that enables them to develop further in creative ways.
Harhoff: We need ideas about how things will be in the future. We must look for new ways of creating value that are not yet reflected in export statistics. After all, it takes several years for innovations to manifest their full impact. In other words: We should not just think about how to deepen existing specialisation advantages. We have to support start-ups and SMEs in Germany in developing entirely new competitive advantages.
About Mr Zeuner
Jörg Zeuner was Chief Economist of KfW from September 2012 until April 2019. He regularly contributes to current debates in Germany and Europe with his commentaries on economic policy.
Zeuner: When we think of SMEs, we are simply too quick to think of manufacturing only. At the same time, the services sector in particular is growing very fast. It has created almost all new net jobs growth in Germany in the past. And with the state taking the lead, a lot more can be done here. Consider services such as accountancy, tax consultancy or legal advice, where much of the workflow is prescribed by law. Unless the legislator transitions that workflow to digital processes, those industries can hardly become innovators. And knowledge-intensive business services of that nature are literally predestined for advancing digitalisation. Here the state has an opportunity to provide innovation impetus.
Harhoff: I emphatically support this proposition – and for another reason, too. The state is a large buyer of services and goods. If the state itself does not demand innovative services it becomes an obstacle to innovation. At the same time, the state is also a producer of services in which it could also be a trendsetter, for example for digital services in administration.
So the state itself has to go digital first?
Harhoff: In this area, unfortunately, Germany is blissfully behind the curve. The quality of our E-government performance has often been rated far below average. Several federal governments, together with municipalities, communities and the federal states, have repeatedly pledged to make progress here since 2010. But not a lot has happened. Plans have been laid out, so the main issue is implementation. The fact that a Minister of State for Digitalisation has been appointed to the Federal Chancellery is a good thing. But overall, the responsibilities for digital issues in the new federal government remain quite fragmented.
Some observers and experts demand not just an explicit minister for digital affairs, but also a state fund for massive investment in digitalisation. What is your view on this?
Zeuner: That would be very risky. It would be wrong if we were to select a technology and then diffuse it across the country under a gigantic promotional programme. That would exclude other innovative ideas that might be better in the long term. Infrastructure such as transport networks are a different matter.
Some observers and experts demand not just an explicit minister for digital affairs, but also a state fund for massive investment in digitalisation. What is your view on this?
Zeuner: That would be very risky. It would be wrong if we were to select a technology and then diffuse it across the country under a gigantic promotional programme. That would exclude other innovative ideas that might be better in the long term. Infrastructure such as transport networks are a different matter.
Mr Harhoff, you report to the Chancellor as head of the Commission of Experts for Research and Innovation (EFI). Your 2017 report stated that innovation intensity among small and medium-sized enterprises was on the decline. Is this trend continuing?
Harhoff: Yes, unfortunately. The capacity to innovate is something that small and medium-sized enterprises must build in the long term, it does not grow on trees. A complete trend reversal can therefore not be expected to occur within a year either. The fact is that the rate of innovators and innovation intensity are still falling.
"In Germany we are simply too reluctant to experiment."
What is meant by the rate of innovation?
Harhoff: That is the share of enterprises that have either introduced innovations to the market or innovated processes in their own operations in the past three years. Incidentally, the rate has been declining not just in Germany but also in other countries.
What are the reasons for the decline?
Harhoff: One reason which the EFI investigated in its new annual report is increasing market concentration. That means innovation activity is increasingly concentrated in large enterprises. The OECD distinguishes between pioneers that are highly innovative and other enterprises that have difficulty absorbing new knowledge and innovating. Another explanation involves access to capital. Small and medium-sized enterprises in Germany, in particular, have difficulty financing research and development.
Zeuner: KfW's own innovation report also illustrates that innovation expenditure overall has not decreased but is made by increasingly fewer and larger enterprises. One reason for this is that the number of business start-ups in Germany has been falling for years. Consequently, the replenishment of young, innovative businesses is falling as well. But the cause of this development, which is not good for innovation activity, is actually a welcome one in itself. The good labour market situation means more and more people are finding attractive alternatives to self-employment. But we can also identify another clear correlation: The rate of innovators declines as the age of employees and entrepreneurs rises.
Does that mean inventiveness is also a question of age?
Zeuner: Yes, there is a growing conflict between what people want for themselves and what is best for the business. That has a strong effect on innovative capacity. Entrepreneurs in Germany are older than their employees. On average, they leave the business six to eight years older than their employees.
Do German SMEs need a rejuvenation treatment?
Zeuner: Let's put it this way: The willingness to innovate grows with a well-planned generational transition. Someone who takes over a business will want to put new ideas to work. That makes them more venturesome than their predecessor.
Many SMEs are actively embracing new forms of organisation. There are war rooms, design thinking workshops and courses for agile management everywhere. Doesn't word get around about these things?
Harhoff: Germany has always had SMEs that were ahead of their time. But many SMEs are reluctant to adopt not just technical innovations but new management methods as well. Open innovation as well as implementing digital business models and agile management procedures are examples of new approaches that many small and medium-sized enterprises in Germany have difficulty with.
Do larger enterprises innovate more here?
Harhoff: Large enterprises often experiment with such approaches very early. But it also takes a long time to fully anchor them into the corporate culture.
Zeuner: Innovation must be conceptualised broadly. It is not just about technology but also about organisational structures and marketing methods. That small enterprises are slower to embrace new thinking than larger enterprises also has to do with the fact that the latter have more human and financial resources. That makes it much easier for them to inform themselves and stay up-to-date on current trends.
What was the Commission of Experts' advice to the Chancellor in 2018?
Harhoff: We again suggested introducing tax relief on research and development spending for small and medium-sized enterprises. We borrowed an idea from the Netherlands for tax concessions on research spending that involves research-related personnel costs. Enterprises should be allowed to deduct a percentage of these costs every month from payroll tax payments. That generates liquidity effects very quickly. It would also ease the burden on start-ups that are not yet making a profit.
What else could the state do to optimise conditions?
Harhoff: Artificial intelligence will become a key technology and should be promoted more strongly. We have taken a look at Germany's strengths and weaknesses and have asked the Federal Government to present a national AI strategy for research and promoting start-ups and ecosystems surrounding the topic of AI.
Where are our strengths in the area of artificial intelligence? Harhoff: We are relatively strong in research, as in many other areas as well. As is so often the case, the challenge is how to implement it, how to put it to economic and social use.
The old MP3 problem.
Harhoff: Precisely. The MP3 compression process was developed in Germany but almost all subsequent value creation took place in other countries. Our main strengths are in research. However, German enterprises also have a strong portfolio of patents in the field of autonomous driving. The next step should be about putting these strengths to use. Our weakness in the innovation system is that we come too late when new value creation potentials are distributed. But we are very quick when it comes to regulation. In Germany we are simply too reluctant to experiment. We must systematically create spaces in which new technologies can be safely and swiftly tested and developed further because if we don't, strengths in research will also be of little help. We know how to design innovative technologies in ways that benefit and work for our citizens – we just have to do it.
Specifically in the field of robotics and artificial intelligence, many people are currently afraid of losing their jobs. What is your view on this?
Zeuner: What is certain is that many jobs will change. Some will disappear, but there is still no way of telling what new occupations will emerge. In any case, we could already start thinking about how people will share in the returns that will be achieved by machines. In ten years there may be no more taxidrivers, but what if the driver owned the taxi? The autonomous vehicle renders the service and generates a return. And if they earn this return as income, they have a full day of work at their disposal to do something else. I think it is a fascinating question to ask how we can have people share in the capital or efficiency gains. In my view, the idea that an entire national economy can run without the work of humans and that we have to transform our earned incomes into a universal basic income or something similar is utopian, but still a very fascinating topic.
Source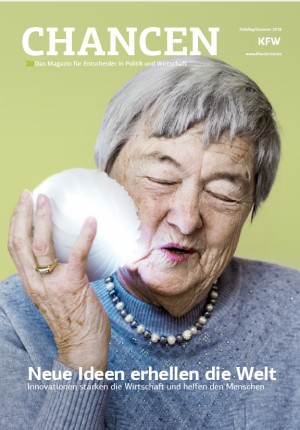 This article appeared in the spring/summer 2018 issue of CHANCEN "Neue Ideen erhellen die Welt".
To German edition
Harhoff: I am more concerned that Germany is currently running a contest in painting horror scenarios. The Commission of Experts recently visited Silicon Valley and discussed this question with experts in the fields of artificial intelligence and autonomous systems. The proposition we often heard there is that many cases will be about complementing human capabilities, not mindless rationalisation. Robotics and artificial intelligence will create new fields of employment for human activities. Furthermore, at present one of the most formidable obstacles to innovation for SMEs in Germany is the skills shortage. The use of robotics and AI can ease pressure on the labour market as well, which is very welcome.
Published on KfW Stories: Tuesday, 19 June 2018
Last updated: Tuesday, 30 April 2019