UniCaps packages organic coffee and tea in compostable and carbon-neutral capsules and thus makes an important contribution to preventing packaging waste. 35 employees make sure that things are running smoothly even during the coronavirus crisis. Early restructuring and the appropriate financing made this possible.
How Unicaps ensures operation during the coronavirus crisis (KfW Group/n-tv). This video is only available in German.
In the production buildings of UniCaps in Frankfurt (Oder), the coffee whizzes through the large silos into the system. After the capsules are filled, they pass onto a conveyor belt. The robot arm of the packaging machine then inserts exactly ten capsules into each sales unit. The employees on the morning shift manage and monitor the processes. Everything seems the same as always – and yet these days many things are different.
Site manager Tobias Franke clearly remembers the first reports about the unstoppable spread of the novel coronavirus. "We were already closely monitoring development in January. As a food engineer, I was able to grasp the situation quite well and I became acutely aware of what was happening. We did not expect a slump in sales at first, because people drink coffee and tea even during crises. But we have to make sure that the supply to retailers is uninterrupted and that all products are still available through Amazon and in our online shop. But what happens if production is put at risk by illness? In our management meetings we devised different scenarios that could come our way. We wanted to be well prepared as early as possible."
In consultation with company founders Dirk N. Tillmann and Max Sandherr, a comprehensive crisis plan was developed. The first measures: no more shaking hands. All employees were informed about what to do if they suspect an infection. Special protection was set up in the production areas. Office employees are only allowed to visit the production areas in exceptional cases, and the external cleaning company is no longer authorised to enter. All meetings are now held as telephone and video conferences, almost the entire office staff is working from home. But in production, every single person is needed on site. Unlike in many other industries, no one had to be sent home under Germany's short-time work scheme.
The company changed the way the shifts were organised. The employees used to spend one hour a day in the production hall between the two shifts to prepare the next production line. Now the teams are strictly separated from one another and no longer meet. People already trained by a temporary employment agency provide additional back-up for possible absences. To ensure that the production times are balanced, work is now also carried out on Sundays.
Read more below the image gallery.
Hygiene rules
Masks, distancing and frequent disinfection are simply a matter of course in production. The detailed concept for minimising risk was implemented at an early stage.
Short-term capital is needed
York Schulze, shareholder of UniCaps, is also following the progress of the virus, which does not stop at borders. Suddenly the usual reliability of supply chains was no longer guaranteed. Fortunately for UniCaps there have not been any problems with the procurement of green coffee or tea so far. By concluding supply contracts early on, the wholesalers were able to guarantee the necessary availability of goods until the end of the year. However, spare parts for machines or packaging material purchased from Italy, which has been particularly hard hit by the pandemic, are limited. But one German manufacturer is interested in long-term cooperation at similar prices.
Many business partners, however, are now shortening payment terms or sending their goods only in return for advance payment. At the same time, a full warehouse is important if there are delays in production. Coffee, tea, capsules and packaging are therefore stocked in much larger quantities than usual. Both mean: UniCaps needs more short-term capital – and not just for day-to-day business, as York Schulze explains: "We are a continuously growing company. Last year we were able to increase sales by a factor of 3.5. The prerequisite for further growth is that we invest on an ongoing basis. In the current situation, this requires above all money available at short notice."
These challenges are discussed in a joint telephone conference with Deutsche Bank which, as the company's bank, is supporting the company in its expansion, and with the investment bank of the federal state of Brandenburg which is supporting UniCaps as a promotional bank. Deutsche Bank suggests what is known as KfW's Special Programme 2020. "For our clients, we are a partner in all financial matters and we are in close contact with each other even during the Corona crisis," says Alexander Krenz, Senior Relationship Manager at Deutsche Bank. "After examining the criteria, it was soon clear that the KfW Start-up Loan would perfectly fit the situation at UniCaps. KfW's electronic approval came very quickly after we had forwarded the application via the KfW application tool. With this money UniCaps is very well prepared for this exceptional situation and beyond."
York Schulze emphasises: "Our collaboration went extremely well. I am very pleased that we were able to secure the working capital required for our further growth with a loan agreement amounting to 1.5 million euros. Everyone involved has also shown they can work quickly. Disbursement was made just two weeks after application." UniCaps is a particularly good example of successful support, because it fulfils two of KfW's promotional objectives at once – supporting SMEs during the coronavirus crisis and strengthening sustainable production. "And last but not least, we are pleased that the support provided will reach the customer quickly, also thanks to the financing partners involved," says Markus Merzbach, Director at KfW.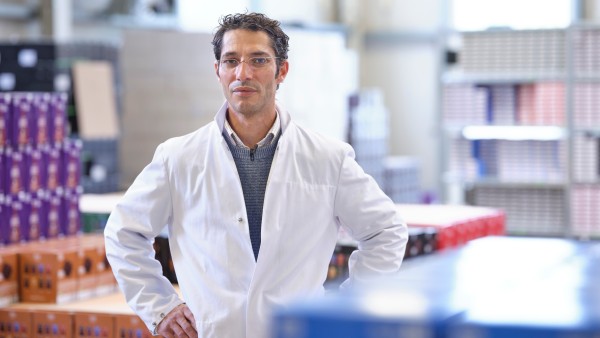 The future seems assured
Newly planned distribution channels such as supplying hotels and cruise ships, which provide the practical capsule machines for their guests, have been postponed for the time being. But with the secure financial basis, this B2B business can also be restarted quickly. This also applies to other projects, such as the development of new foreign markets and in-house coffee roasting, which is set to be established by the end of the year. As soon as the situation in Italy has eased, the manufacturer there will also supply another packaging machine, which will create additional production capacity.
Site manager Tobias Franke is not someone who can be easily rattled. He spent many hours thinking through the next moves like a chess player. His level-headedness during the crisis has also created a lot of trust among the employees. "At the beginning, the measures may have seemed a little excessive to some, as they were introduced before the official recommendations. But we communicated very transparently and openly and explained our reasoning, which is essential to helping everyone accept the changes." Coronavirus has not been able to impair the good working atmosphere at UniCaps.
Published on KfW Stories 28 May 2020.