Family business Stecher manufactures metal components for the automotive industry. It was inevitable, therefore, that the coronavirus crash would affect the Baden-Württemberg-based business. The rescue programme includes new products, a KfW loan and a large dose of pragmatism.
The lights went out on 15 March. That Sunday evening, Günter Stecher (picture above) in Sauldorf-Krumbach decided that he had to do something. With his fellow directors – father Adolf Stecher and brother Michael Stecher – and all the heads of division, he decided to introduce strict measures. Coronavirus had morphed from something vague into a concrete threat.
Stecher GmbH is a mid-sized family enterprise. Turned and milled parts for the automotive industry and for mechanical and plant engineering are manufactured on over 100 computer-controlled machine tools. Technology of the future, such as e-mobility, plays a major role at Stecher.
And now it has gone dark. The company has temporarily entered total lockdown. They are now closed on 30 per cent of what should be production days. Machines worth 500,000 euros are standing there, silent. It creates a strong, somewhat unnerving impression. Where robots would usually be whirring and machines milling, every squeaky rubber-soled step can now be heard. The fully automated forklifts sit around the darkened factory hall, lights flashing. They only start to move when the battery is almost empty. Then they head to the charging station. Batteries like this last a long time. Günter Stecher believes that it makes more sense to close completely on some days than to reduce the three-shift model to two shifts. This way, production only needs to stop once rather than every night.
Read more under the image gallery.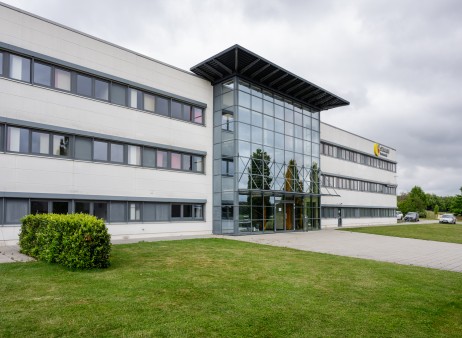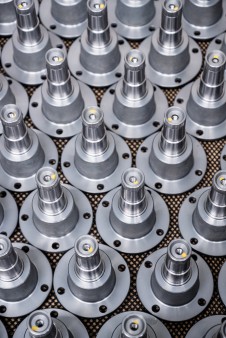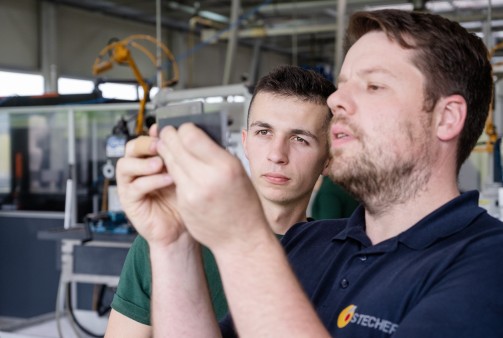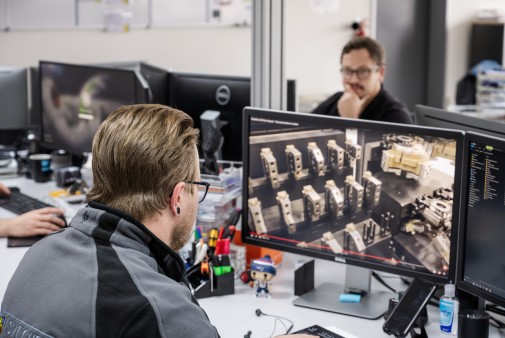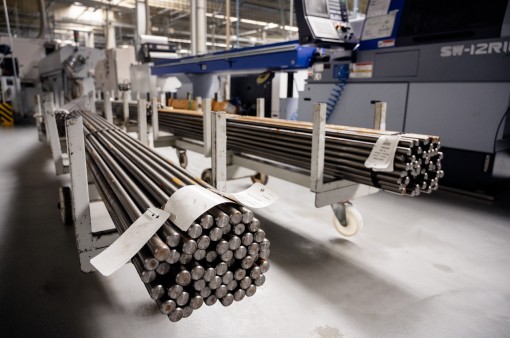 Adolf Stecher founded his company on 29 February 1964. Today, 256 employees work in Sauldorf-Krumbach.
Stecher is cutting costs wherever possible. With energy bills of 100,000 euros per month, there is potential for savings. However, Stecher doesn't recognise the stereotype of the miserly Swabian. "Is that still a thing?" he asks. "Obviously I'm careful with money. I think that's a positive quality." But he explains that there are thrifty people everywhere he does business: in Turkey, in Italy. Stecher does not see himself as a typical Swabian, or even as a typical German, if it comes to that. "I'm a committed European!"
New products compensate for downturns
The lights went out much earlier than the politicians in Berlin intended. In late March and early April, the district of Sigmaringen, with Sauldorf at its edge, was one of the Baden-Württemberg districts most heavily affected by coronavirus, and even ranked among the top ten in Germany. There were 418 cases per 100,000 inhabitants. The "critical threshold" has now been set at 50. At Stecher GmbH – when it comes to employees' health – they got away lightly. A few people were quarantined as a precautionary measure because they had been in contact with people who were ill. However, Stecher does not have, and has not had, any cases.
The company's quick reaction is partly to thank for this. The stringent measures – totally sealing off the various departments and shifts from one another, hygiene rules that would not be out of place in an operating theatre, working from home wherever possible – might have seemed like an overreaction at first glance. Were they necessary? Günter Stecher shrugs. He is sure that they did the right thing. When asked if he is an optimist, he avoids the question. In a way, yes. But not as much as his dad and his brother. Günter Stecher is a realist and he likes numbers. "I'm a doctor, after all", he jokes. The first thing he clicks on in the morning are the statistics from Johns Hopkins University: how is coronavirus developing worldwide? He is now finding the European figures more reassuring. "We'll be through the worst by 1 July", Stecher is sure. So maybe an optimist, too. It is achievable, he firmly believes, especially with the stringent lockdown at Stecher GmbH.
Production continues, of course. The production chains are intact, there are sufficient raw materials. They were able to make up for some of the downturn in the automotive industry with a variety of highly precise stainless steel components for the chemical and pharmaceutical industries and for valve and medical technology. However, Günter Stecher emphasises, "We won't make any money this year." He estimates the reduction in revenue to be around 20 per cent.
The coronavirus crisis is hitting the Stecher business during a period of restructuring. On the one hand, it opened an office in Turkey in October 2019. This was to handle growing demand in a changing market environment. On the other, it had already set the course for the future with the establishment of Stecher Automation GmbH. This enables smart and flexible automation of many manufacturing processes in industry through a modular system for robot cells. The coronavirus pandemic has put a question mark over the plans.
More than just a job
Since father Adolf Stecher completed his master craftsman's certificate on 29 February 1964, the date on which the company was founded, Stecher GmbH has enjoyed rapid growth. Its star has risen even more steeply since the financial crisis of 2009. From around ten million euros back then, the company managed to increase revenue to nearly 34 million euros by 2018. Stecher GmbH is a typical family business. "It isn't just a job", Günter Stecher knows all too well. "You bite, you fight, you get angry." All the time. "But I live for it! My mind is on the company 24/7." The current crisis, he admits, gave him sleepless nights at the start. "I didn't know what would happen." His worries were not for himself, but more for the 256 employees, many of whom he saw playing in the sandpit as children.
"At times like this," comments Günter Stecher, "you need an adviser who cares, not just a banker!" The difference? "Bankers reduce their assessment of a company to just a few indicators. That's like judging how a house is furnished by looking through the keyhole." When Günter Stecher remembers how a banker told him as recently as 2018 that he should concentrate on just a few items in the automotive industry, and even that there wasn't any future in e-mobility, he shakes his head in disbelief. So it was brilliant to hear the words of Commerzbank adviser Leisle early on in the coronavirus crisis: "Mr Stecher, you run a good company. I'll set all the levers in motion to buy you some headroom with help from KfW!" At times like this, Günter Stecher believes, "you need someone who dispels your fears."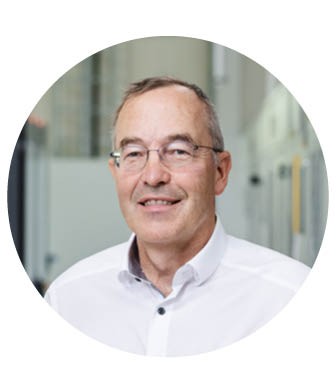 "The KfW loans make it possible for us to hold onto our core workforce."
When it comes to finance, Elmar Leisle is Günter Stecher's confidant. For the Commerzbank corporate account manager from Ebingen in Albstadt, it was clear that he had to find a way to help Stecher GmbH. "Thanks to the many years of good, trustworthy partnership with Stecher GmbH, we know their solid business model, and their good prospects post-coronavirus led to a quick decision. Time was of the essence here. By submitting our electronic application to KfW, we were able to assist Stecher GmbH by providing a loan commitment fast. With funds from the loan, the company can now, despite the reduced operating hours, successfully bridge the liquidity gap caused by coronavirus and concentrate all of its efforts on operational activities once again. In times of crisis, established customer relationships such as that with Stecher GmbH really come into their own."
The example, says Markus Merzbach, Director at KfW Group, memorably demonstrates how financial support is a joint effort during the pandemic. "The on-lending bank's willingness and creativity, in conjunction with the right KfW coronavirus aid, shows the company quickly and pragmatically how it can go forward." KfW is supporting Stecher GmbH with a two million euro entrepreneur loan. "The KfW loans make it possible for us to hold onto our core workforce so we can make up the losses in better times," explains Günter Stecher. And adds: "Naturally, we will pay back every euro." When will that happen? He's already got a plan up his sleeve for that, too.
Published on KfW Stories: 16 July 2020.