The consequences of the coronavirus pandemic have made their mark in the order books of skilled crafts and trades businesses. But the Evers carpentry company in Braunschweig is an example that demonstrates how the lockdown also brought in unexpected business. The drive many homeowners felt to renovate contributed to the phenomenon.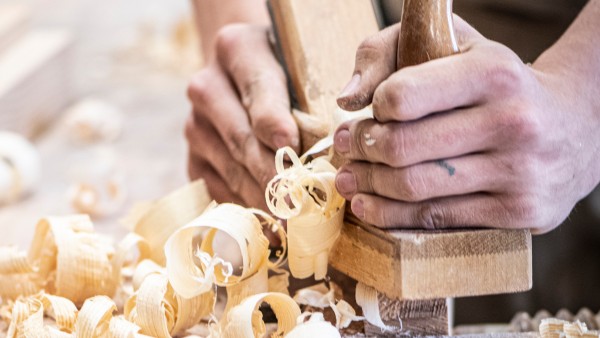 There was never a lack of masks in Dirk Evers's business. Despite coronavirus. After all, every day, his employees in the workshop wear safety equipment that protects them from particle dust from sawn timber. Yet Evers still ordered more. With the small difference that the new masks are now a bit more stylish and display the richly ornamented company emblem. This is typical for Evers: the head of the carpentry workshop founded in 2009 is known in and around Braunschweig for effective advertising and makes sure that his brand ambassadors – his master craftsmen and journeymen – take modern marketing with them wherever they go. Just like at the Lindenapotheke chemist in the heart of the city in Lower Saxony. Two employees needed to install a sneeze guard along the counter, a custom-made glass pane in a premium wood frame. The previously unknown furniture item is now a fast seller in Evers' carpentry portfolio and is naturally in high demand in retail.
Moreover, if the installation team was not wearing masks while they worked, one could almost think these are quite normal times. Because the order books are full. To some extent, even fuller than before the coronavirus pandemic. Customers currently need to wait over two months for an appointment if they would like Evers to build and install a new front door. And the bustling workshop reflects this. Four employees are working on five projects simultaneously: they are gluing a set of stairs, restoring a farmhouse door, sawing wood for the frames of numerous church windows, building the display case for a professional boxer's awards and refurbishing a dismantled wooden facade for the Graff bookshop in Braunschweig. And Dirk Evers, who also represents the interests of many other carpentry businesses in the region as the senior master craftsman of the carpentry guild in Helmstedt, says: "The industry is extremely healthy." Which means everything's OK, doesn't it? Not at all.
Thrown into depression by coronavirus
Because all skilled crafts and trades businesses, including carpentry workshops, were hit hard by the initial impacts of the coronavirus pandemic in March of 2020. So hard that Dirk Evers admits having fallen into "ten days of depression". At first, he believed that everything would somehow turn out alright and they would continue to be able to process upcoming orders. But insecurity in the population rose when the virus spread, and Dirk Evers' telephone would not stop ringing. Order by order, appointment by appointment, customer cancellations kept pouring in and work was postponed indefinitely. Not because there were suddenly no funds, but rather for fear that the workmen installing the new door could bring the virus into their homes. Finished wood products worth EUR 80,000 were now left standing in the carpentry workshop; on the one hand, Evers needed to pay the material and transport costs for them but, on the other hand, they could not be delivered and, as a consequence, customers were not paying for them. Dirk Evers: "Cash flow dried up. I suddenly did not have any liquidity. I realised that I would not be able to keep things going like this for four months."
Three measures rescued the responsible company director and desperate father of five in the near term. Placing some of his 13 employees on short-time work was the first but did not ensure sufficient liquidity. The second literally fell into Evers' lap. The well-connected master carpenter had a phone conversation with a long-time customer, the regional representative of a large housing management company, and they discussed his problems. "He was very sympathetic and noticed that I was not happy", remembers Evers. "He called me back a few days later. He had spoken with the Executive Board and collected together a few orders that would have otherwise been distributed throughout the year. And he announced a small tour. "This trip lasted a whole day and brought Evers to numerous blocks of flats owned by the housing management company in Helmstedt, Magdeburg, and other small towns in the county. Evers and his team were able to take measurements to replace 64 outdated entrance doors. A significant sum considering the fact that Evers' entrance doors cost between EUR 2,000 and 12,000. The orders for the new doors were issued promptly, and he could soon feel the effects of this financial injection. For him it was a form of solidarity and coronavirus aid from the economic sector.
Read more under the image gallery.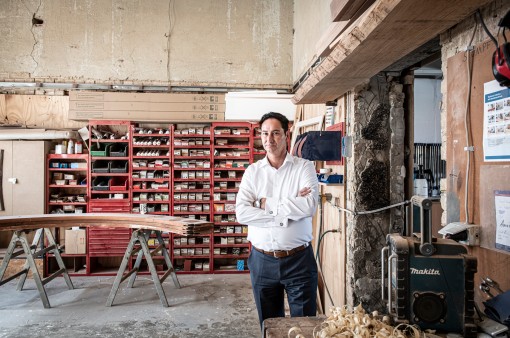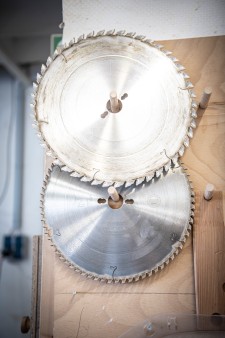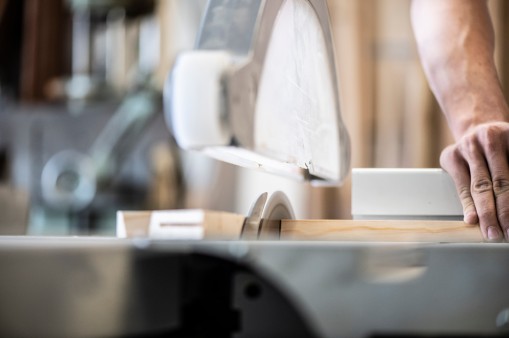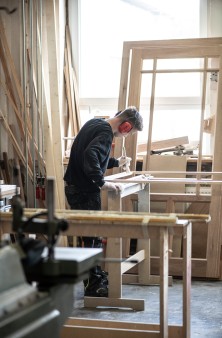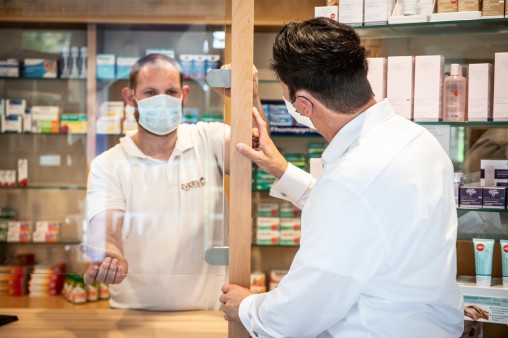 Master craftsman Dirk Evers specialises in custom-made, premium quality products made of wood. In his carpentry in Braunschweig he makes front doors, for example. A new addition to his range of products is a hygiene screen for retail shops.
The third measure that helped the business through the liquidity shortage was a loan from KfW. More precisely: an Entrepreneur Loan for EUR 30,000 with a term of six years, an interest rate of 1.46 per cent and a grace period of one year. The bank advisor from the Sparkasse savings bank in Celle-Gifhorn-Wolfsburg, Max Samkowez, helped with the application. "The liquidity plan was so solid that everything went through very quickly," he says. "We will sit back down together in the autumn and see whether an additional loan is needed or if the current loan can actually be paid back even faster."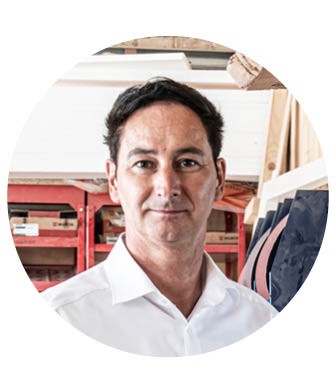 "The loan from KfW was crucial to our survival."
The industry experienced a blessing in disguise
That is what it looks like now. Because the coronavirus crisis had various effects on skilled crafts and trades – and not just negative ones. Germans panic buying in hardware stores shortly before lockdown indicated things might also develop positively. Potting soil, wall paint and tools sold like hot cakes in the second half of March. "After three days of sleeping in during corona-induced confinement, you are filled with the urge to be productive – you feel the need to do something. So why not spruce up the house or flat? The urge to renovate kept getting stronger," remembers Dirk Evers. "First the wife planted flowers, the husband painted the walls. At some point you're finished with that. Then apparently people started wishing they had a new carport, new windows, a new floor, a new ceiling – we suddenly felt this wave. After the dip, business started to pick up incredibly quickly." And even the people who had previously cancelled appointments to install their long-desired front doors reported back after four weeks. The initial fears evaporated; Evers was finally able to resume work. "It sounds like the world is intact again now," he says, "but the loan from KfW was crucial to our survival when we experienced the shortage in the interim."
According to Markus Merzbach, departmental head at KfW, the strength of KfW's special programme was demonstrated when it helped to bridge these types of pandemic-related shortages. "We are particularly pleased in cases like this one, when the shortage is so short-term. It will take longer for other industries to start up again. But KfW and the financing partners are ready to provide support."
The crisis has humbled Evers, the restless master carpenter who used to be a jeweller. He assures us that he has learned "that we should all take a step back and be thankful for how good things are here. We often complain about luxury problems and should try to remember what a wonderful country we live in, which has managed the crisis well so far. I don't know that there is any other country where I would rather live right now."
A new attitude is one thing. New action is another. Dirk Evers believes that the industry and the economic sector as a whole will regionalise more and keep more in stock for a while to minimise the risk of a production chain that spans the whole world. "It is better to have something and not need it than to need something and not have it," says Evers. "For example, there was a type of screw that was simply impossible to find. This would prevent that kind of problem. We were too dependent on others before." But he doubts that regionalisation will be permanent. The money will find its way. And he adds: "We can also replace 'money' with 'greed'."
Either way, Dirk Evers does not think the future of his company is at risk. He is even sure that the company and his large family will survive the coronavirus pandemic without any human losses. Thanks to research by a genealogist, we know the history stretches back to the early Middle Ages. Even the plague of the 14th century is documented. According to Evers, the plague stayed well clear of the village where the family's farm was. He is betting on this luck once again.
Published on KfW Stories: 9 July 2020.