In the Stitch by Stitch workshop in Frankfurt, refugee women produce high-quality fashion. Usually. Right now, creatively designed coronavirus masks are the big hit.
Compulsory masks became an unexpected blessing for Stitch by Stitch. The Frankfurt-based social enterprise designed and sewed various mask models and sold such large quantities that Nicole von Alvensleben can say: "we made it through the crisis successfully from an economic standpoint."
The marketing and communication expert established the tailor workshop in 2016 together with fashion designer and tailor Claudia Frick. As part of its aid for refugees, KfW Stiftung granted a Special Impact Award to both business founders for their "Ankommer" (Newcomers) project and their idea of training migrant women, who already had solid tailoring abilities, to become tailors with apprenticeship diplomas, thereby giving them a professional and financial opportunity. Stitch by Stitch began four years ago with two refugees; today, 15 women work in the company. Of the ten female tailors from Syria, Afghanistan, Iran, Madagascar and Ethiopia, five have since passed their apprenticeship exams.
The workshop initially experienced a similar situation to that of many businesses at the beginning of the COVID-19 pandemic: orders stopped coming in. There was almost nothing left of their actual business, which was producing collections and sample models for fashion companies.
Read more under the image gallery.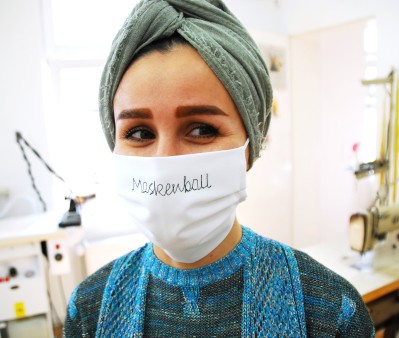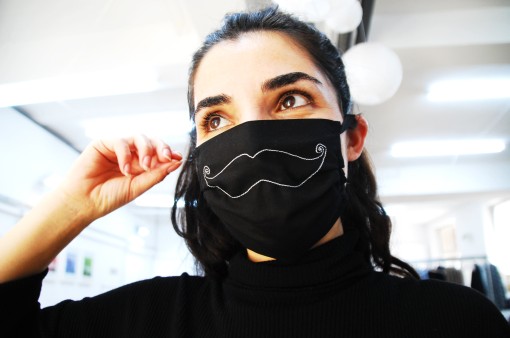 Amira Ibrahim shows off one of the new models. The Syrian has successfully completed her final apprenticeship examination. Now she is a full-time employee.
Exemplary commitment
Business founders Claudia Frick and Nicole von Alvensleben connect the solutions to two problems with their business idea. On the one hand, they give refugees the opportunity to leave their holding pattern, while on the other, they are solving Germany's problem of a lack of tailors. This is because workshops that process the designs of start-up fashion labels for small-scale series are rare.
Learn more
Von Alvensleben began looking into short-time work options when another manufacturer commissioned Stitch by Stitch to make masks. Then things started happening very fast. The tailors designed their own mask collection. "Design is ultimately our area of expertise", says Claudia Frick. And they were also able to deliver larger runs of customised masks with textile tags or screen printing if needed. More and more orders came rolling in. Private customers made orders, but so did clubs, organisations, parties, nursing homes, doctors' offices, banks, management consultants, museums and the city of Frankfurt. In 2017 the company was awarded the Entrepreneurs Award by Frankfurt, and the city provided financial support for it to operate as a training organisation. The fact that Stitch by Stitch made a lot of contacts through a previous crowdfunding effort and is well-connected should pay off. Coupled with the fact it can also market its own products in its own online shop. The mask collection now includes a dozen models, over 40,000 units were sold just in the first four months of the crisis.
Normal business, which had nearly come to a standstill at the height of the crisis, began to pick up again during the summer. "Customers are coming back", reports von Alvensleben. She has been watching as parts of the fashion world rethink things: "Small labels are producing in European countries and using sustainable materials." Stitch by Stitch has also made this a priority and only uses certified organic cotton and a fabric made by a German company from recycled PET bottles for its own label, which was established in 2018. The tailors at Stitch by Stitch continue to wear masks as they sew; after all, this will continue to be a requirement or a recommendation in Germany for a long time to prevent transmission of the virus in certain environments. But the crisis did more than simply give Stitch by Stitch an unexpected temporary business boom. "It also opened up new paths for us", says von Alvensleben. The fact that mandatory masks have turned into fashionably designed accessories has inspired Stitch by Stitch to develop an additional mainstay. "Personalised textile products for customers", who give these products to business partners or employees: that is how Claudia Frick describes the new business unit. The company's new collection of homewear and loungewear for summer 2020 is also an answer to the question: what should I wear when working from home? And what do I want to be seen wearing during a video conference?
One of the strokes of fate this year is that the start-up will be able to present its products to a larger local audience in future: the Berlin Fashion Week is moving to Frankfurt. In any case, Stitch by Stitch wants to be involved in the first "Neonyt" at the new location – the trade fair for sustainable fashion will debut in Frankfurt in summer 2021.
Throughout all the changes, Stitch by Stitch founders Frick and von Alvensleben have never lost sight of their core motivation: paving the way for refugees to create a life here. They are supported as they prepare for exams, and receive tutoring in German and maths from a teacher hired by Stitch by Stitch who spends 12 hours each week teaching in the office of the social enterprise.
"We give the women the tools they need if they want to be equipped to become self-employed", says von Alvensleben. And this perspective goes beyond purely professional motivation: "They should also become independent." And that is more important than ever in times of crisis.
Published on KfW Stories: 4 November 2020.