Two chefs from North Rhine-Westphalia travelled to Manila to teach German cuisine to Filipino apprentices. What they didn't expect: they also learned a lot from the experience. We report from a country that is rich in young people, but poor in training opportunities.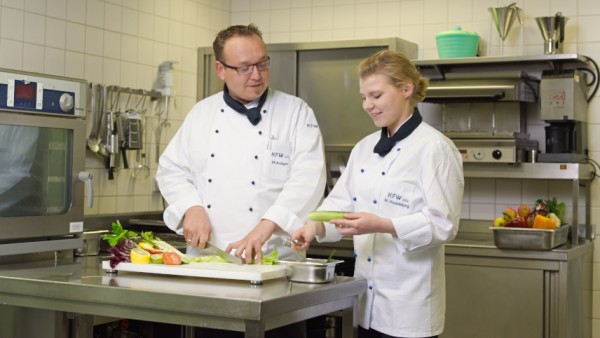 "It's where two worlds meet – the East Asian and the European. And not just in the culinary sense," says Michael Krüger, 38, a master chef employed by KfW subsidiary DEG, Deutsche Investitions- und Entwicklungsgesellschaft mbH. Together with trainee Nina Camphausen, he spent two weeks teaching at the 'Center for Culinary Arts' cookery school in the Philippines, owned by the Cravings Group. The school focuses on training young people from socially disadvantaged backgrounds.
Over 50 percent of Filipinos are less than 24 years of age. The unemployment rate is high, but at the same time there is a lack of skilled workers, so more and more companies are training staff for themselves.
The DEG chefs had one day to acclimatise, then it was time to cook: on the menu were 'Kassler' smoked pork chops with sauerkraut and mashed potato, goulash and dumplings, and haddock with mustard sauce, boiled potatoes and roasted onions. When Michael and Nina entered the school's auditorium-sized teaching kitchen, every seat was taken. All the cooks and trainees from the various Cravings restaurants had come to learn from the German visitors.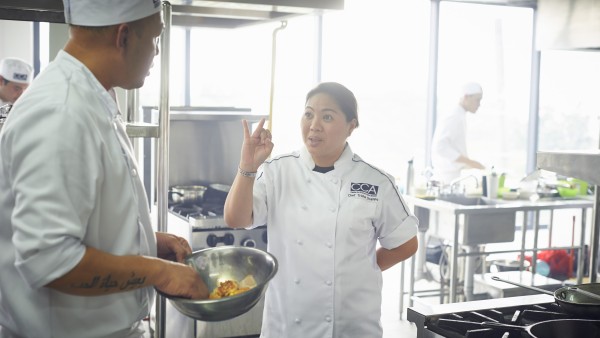 "When I chose the dishes I took extra care to ensure they were based on ingredients that you can get anywhere," says Michael Krüger. But things didn't quite turn out as planned. Instead of haddock, the fish was pangasius, which has a completely different taste and texture to haddock. Moreover, only three small packs of sauerkraut were provided. The DEG chef had to think on his feet. "We felt we were diving in at the deep end! In a German kitchen the whole process is organised from start to finish – it begins with planning the menu and ends when the food is served," says the educator from Cologne. "Here, though, improvisation is part of everyday life."
The kitchen facilities also held a few surprises: "You get the impression that Filipinos use a chopper for everything – even peeling potatoes," says Nina Camphausen. Other cultural differences were evident in the way meals are presented. Meat is the main constituent of the Filipino diet; the rest is more or less decoration. "For four people you allow three dumplings, but plenty of goulash," says Nina, who comes from the town of Bergisch Gladbach.
Continue reading below the picture gallery.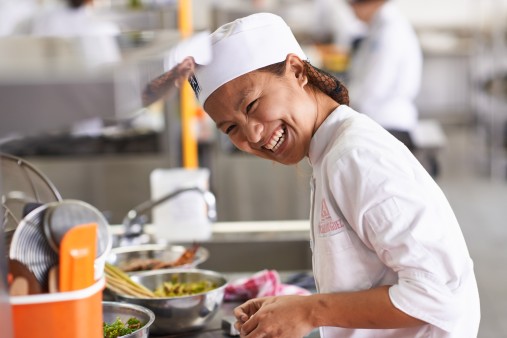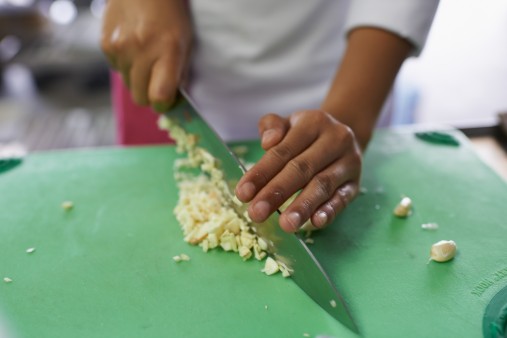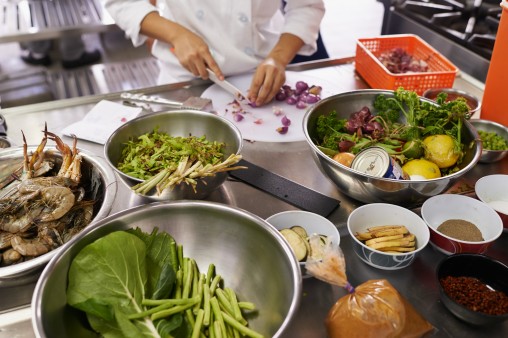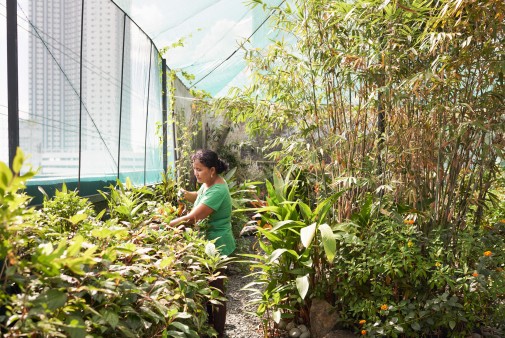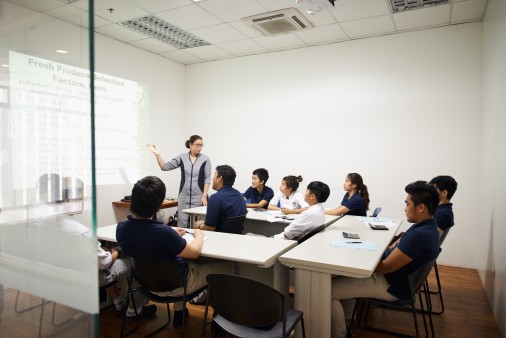 The cookery school in Manila focuses on training young people from socially disadvantaged backgrounds.
Cravings and DEG
Cravings produces food, has its own restaurant chain and offers several academic study programmes in the company's own "Center for Culinary Arts" cookery school (CCA) in Manila. Started as a family business around 25 years ago, Cravings prioritised on-the-job training from the outset and, not least because of that, grew to become the market leader in the Philippines. It is supported by DEG loans worth 20 million US dollars.
A camera team filmed the cookery demonstration to allow chefs in the Philippines to recreate authentic German dishes in their own restaurants. During the two weeks the Rhinelanders spent in the Philippines, they gave further demonstrations and visited Cravings restaurants in the south of the island country. With the help of their 'tour guide' Rainer Josef Ungco – known as RJ – they also learned something about Filipino cuisine. In the first part of the exchange, Cravings chef RJ visited DEG's kitchens in Cologne.
"Food is a tremendously important part of everyday life in the Philippines," says Nina. "But many Filipinos don't even have their own kitchen – just one or two hot plates. People mostly eat outside the home. In some streets there are actually more restaurants than shops. "But refrigeration is in short supply everywhere – even in restaurants. So modern kitchens like the one at the cookery school are rare.
The example of Cravings shows the growing importance of vocational training initiatives. With that in mind, DEG has already provided two loans totalling around 20 million US dollars. The money will also be invested in training activities, to enable more young people to train for a career as a chef or restaurant waiter.
Source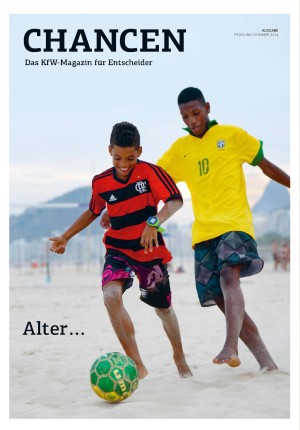 This article appeared in the spring/summer 2014 issue of CHANCEN magazine focusing on "Age".
To German edition
"What I enjoyed most of all was seeing how curious the young people are," says Michael Krüger. "They're highly motivated and watch every step of the cookery process with great interest. It was a wonderful experience. I'm already looking forward to the next exchange."
Published on KfW Stories: Wednesday, 3 May 2017
The described project contributes to the following United Nations' Sustainable Development Goals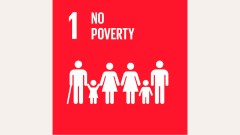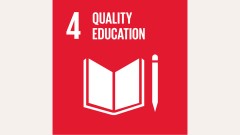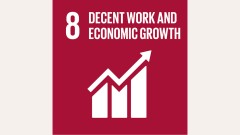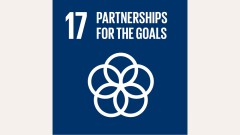 Goal 1: End poverty in all its forms everywhere
Around eleven per cent of the world's population lives in extreme poverty. In 2015 that figure was around 836 million people. They had to live on less than USD 1.25 a day. The global community has set out to end extreme poverty completely by 2030.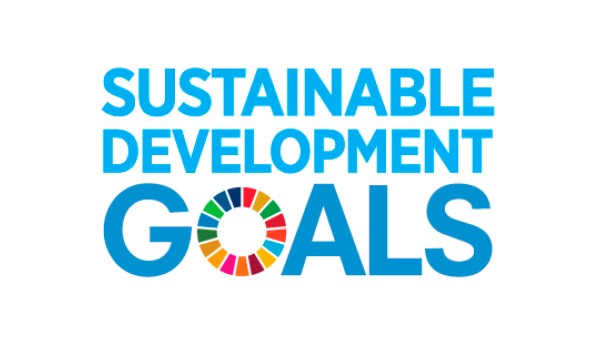 All United Nations member states adopted the 2030 Agenda in 2015. At its heart is a list of 17 goals for sustainable development, known as the Sustainable Development Goals (SDGs). Our world should become a place where people are able to live in peace with each other in ways that are ecologically compatible, socially just, and economically effective.