WP Systems was the first company in the world to develop a mobile maintenance chamber for rotor blades on wind turbines. With this innovative idea, founder Holger Müller and his team won the KfW Entrepreneurs' Award 2017.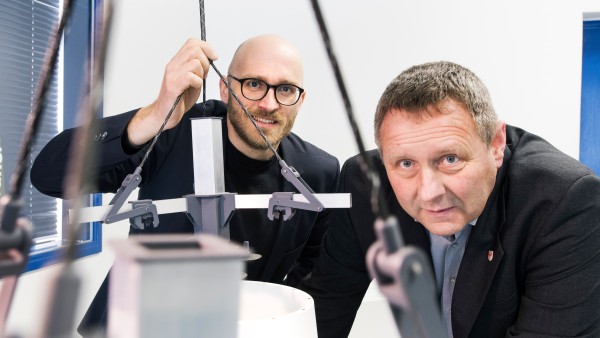 At first, Holger Müller had to struggle against the headwinds. When he told the industry in 2002 that he wanted to build an enclosed maintenance platform for wind turbines, he was met with scornful remarks. "'The Don Quixote of wind power' was one of the most harmless," he recalls. Holger Müller experienced the same fate as many inventors: He was regarded as an eccentric dreamer. But he is not the type to be blown away that easily.
"When I've set my mind on something," he says, "I follow through on it." Today – 16 years later – the 54-year-old sits on the first floor of his company's ( WP Systems) building on the outskirts of the town of Ruhland in the German state of Brandenburg (around 20 miles or 30 kilometres north of Dresden). In May 2017, the prototype of the world's first mobile workshop for wind turbine rotor blades rolled off the production lines on the shop floor beneath his office. He employs 23 staff. He can see a long stretched-out field and the wide expanse of sky from his office window – quite appropriate, since his company's founding is evidence of a far-sighted approach.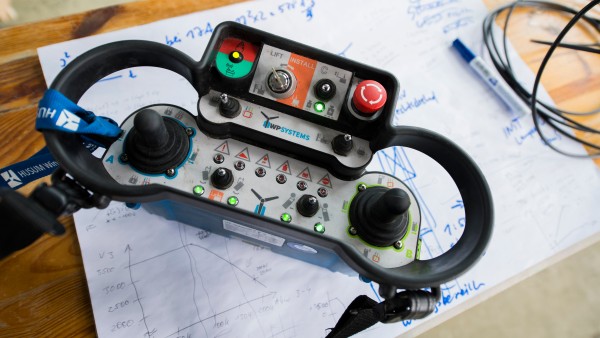 "From an early stage, I was somebody who gave thought to how things work and whether there can be a different way of doing those things," he states. And this, ultimately, was what launched his career. After passing his final exams at secondary school, Müller (who comes from the town of Sebnitz in the region known as the Saxon\ Switzerland) completed an apprenticeship to become a plant technician, before registering to study engineering at university. Two weeks later, he de-registered himself. He was unable to grasp how even unskilled labourers in the East German GDR regime he then lived under earned significantly more than a qualified engineering graduate. So initially he remained a plant technician, expressing his ingenuity by passing on ideas to the "innovators' movement" ( Neuererbewegung), the GDR's state-directed equivalent to a company suggestion scheme. These were, if you like, his first steps as an inventor. Three years later, he started a distance learning course to become a mechanical engineering technician. Straight after, in 1992, he was already running his first company. Then he inherited his grandmother's home. A turning point.
Müller asked himself what an alternative way would be to supply power to the house. The answer he came to was wind energy. At the time, the industry in Saxony was still in its infancy, but those in the know prophesied a significant future for it. And Müller had long since risen to the bait: He found wind power fascinating. He got involved and contacted manufacturers. In early 2000, he left his job and undertook vocational training to become a certified rotor blade maintenance specialist.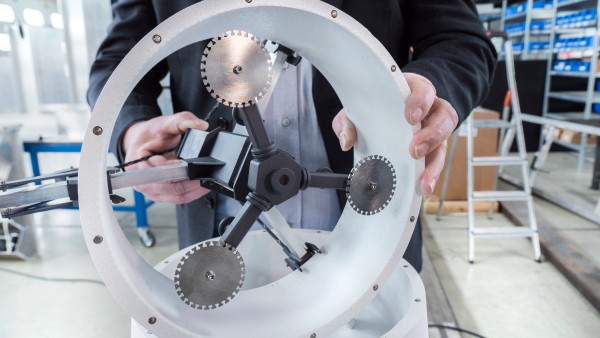 The rotor blades on wind turbines wear quickly. The quicker they turn, the stronger the abrasion from their activities. "Today, the tips of the blades often move more than 300 kilometres per hour, and every drop of water and accumulation of dust in the air acts like a bullet," Müller states. The surfaces made of glass-fibre reinforced plastic must therefore be regularly serviced and have any damage repaired – by nimble technicians of the type that Holger Müller became. After that, he would abseil down from the turbines' nacelles. There was a bucket on the left and one on the right of the climbing harness: patches made of glass fibre matting in one, a binder made of resin for adhesion in the other. At the same time, he experienced first-hand how the wind turbines were increasing in size. While the first turbines in the 1980s were only 30 metres high with rotor blades around seven metres long, the towers of the 2000s already loomed over 100 metres in the air. Today, the towers reach up to 150 metres, and the rotor blades are between 70 and 80 metres long.
From early on, it became apparent that dismounting the gigantic blades to perform larger-scale work would soon be impossible. There were barely any cranes for this purpose, as well as this being too expensive. The industry therefore developed open work platforms, comparable with those used by window-cleaners on high-rise buildings. Müller thought: "That can't be the ideal solution at this point."
For even the platforms did not solve a certain problem: the weather. To perform repairs on a rotor blade, the outside temperature must be between 15 and 25ºC. In addition, it must be dry and as free of dust as possible. "We only have those types of conditions on 80 to 90 days a year in Germany," Müller explains. As a result, he filed for a patent in 2002. His vision: a lightweight housing design with adjustable openings and angles of inclination that can move along immediately next to the curved rotor blade. A space that can be sealed and made watertight, providing workshop-like conditions. In other words, a solution that even functions in the rain, doubling the possible number of work days a year.
"There will never be anything like that," people from the industry said. That only spurred Müller on. He thought about association football and told himself: "There, too, people only go after the player who's in possession." He kept tinkering away. But then came a time of hardship. He lacked financial backers. For the time being, he took a steady job, refrained from going on holiday and saved up. Eventually, the costs for the patent agent were to be paid.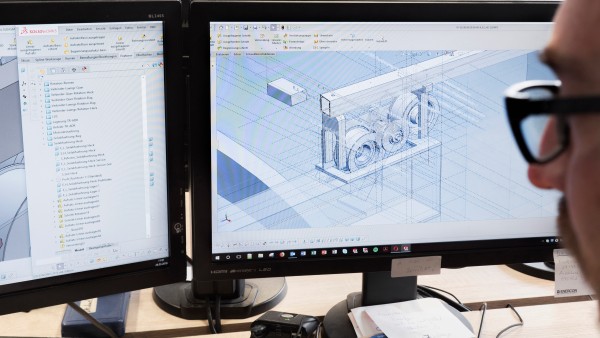 When he received the patent in 2010, he hurled himself back into work on his product. But he needed patience once again, needing to write business plans, get to know the right engineers, provide evidence of technical feasibility and apply for promotional funds. And right when there appeared to be a breakthrough, politics thwarted his plans: Suddenly, it was no longer clear whether Saxony's Ministry of Economic Affairs would approve the funding.
Dejected, Müller looked outside the borders of his state – to Brandenburg, where the red carpet was rolled out for him in 2015. By this point, he had already found five other equity holders. Together, they raised equity capital to the tune of EUR 200,000, which was needed for the company to start up – 10% of the total EUR 2 million sum needed for the prototype. The equity holders included Ole Renner, the second managing director, who left his job at lightweight development firm Leichtbauzentrum Sachsen to start the venture with Müller. Twelve mechanical and lightweight development engineers and various materials scientists set themselves to work. Twelve years later, the prototype was ready.
At first glance, it is reminiscent of a type of ski lift, fastened to the turbine's nacelle with steel cables and moved up using a cable winch. There are flexible and adjustable openings on the floor and ceiling of the platform's service workspace, through which the rotor blade can enter the workspace from above and protrude down through the base. This not only enables the workspace to move directly along the rotor blade – it can also be efficiently sealed up, allowing work to take place on rainy days. In addition, it can be heated, allowing for stable working conditions.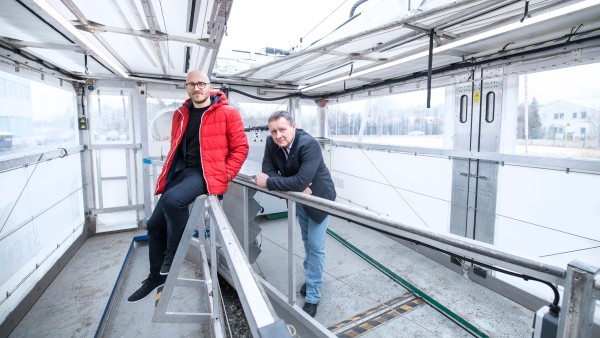 When the prototype was finished, recognition accompanied it at long last. Müller and his team won awards, including the KfW Entrepreneurs' Award for the state of Brandenburg in 2017. The industry's Husum Wind trade fair in autumn 2017 was also important, with people slapping them on the back after the prototypes were exhibited. One said: "I was sceptical, but I take my hat off to you for what you've done here."
The manufacturers of large wind turbines now come up to them and are interested in larger quantities. The first sealable service platform has been sold and is on its way to Romania. But Holger Müller and his crew keep on developing. They have set up a second company, Structrepair, and developed a new material to mend the rotor blades. And as a parallel project, they are working on technology to dismantle wind turbines. Once an inventor, always an inventor.
Published on KfW Stories: Tuesday, 25 September 2018
The described project contributes to the following United Nations' Sustainable Development Goals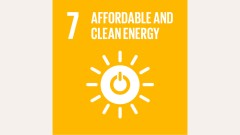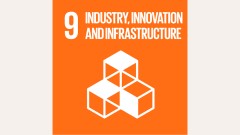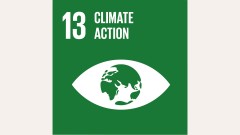 Goal 7: Ensure access to affordable, reliable, sustainable and modern energy
Close to 80 per cent of the energy produced worldwide still comes from fossil fuel sources. Burning fossil fuels also generates costs for the health system due to air pollution and costs for climate-related damages that harm the general public, not just those burning the fuel.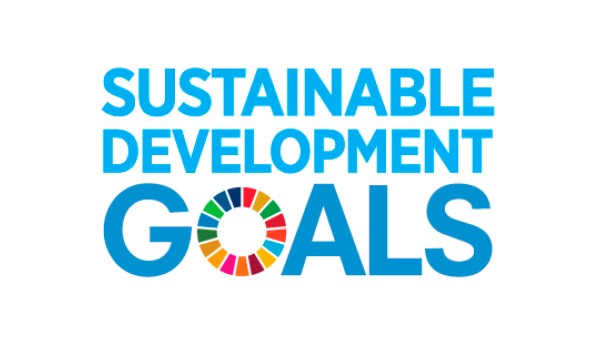 All United Nations member states adopted the 2030 Agenda in 2015. At its heart is a list of 17 goals for sustainable development, known as the Sustainable Development Goals (SDGs). Our world should become a place where people are able to live in peace with each other in ways that are ecologically compatible, socially just, and economically effective.