Overfishing, coral bleaching, plastic waste: the condition of the oceans is deteriorating dramatically. KfW experts Barbara Schnell and Eva Witt talk about the new marine conservation project Clean Oceans Initiative, which was presented on the occasion of the World Bank Annual Meeting.
About the persons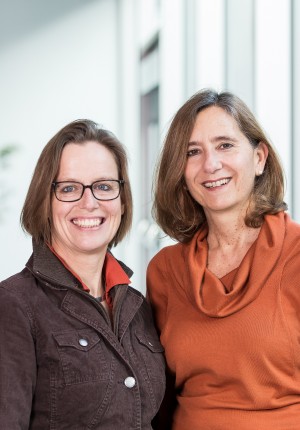 Barbara Schnell (left) has worked at KfW since 2001. She initially spent a number of years working as a project manager for water / waste water and team lead responsible for financial system development in Asia. Since April 2018, she has held the position of Head of the Sector Policy department at KfW Development Bank, which handles sector-specific topics and knowledge management.
Eva Witt has been at KfW since 1995. She held the position of Head of the Eastern Europe department at KfW Development Bank before assuming responsibility for the Federal German and European Affairs department for the Group in 2017.
Why has plastic waste in our oceans suddenly become such a hot topic?
BARBARA SCHNELL: The issue is not a new one. However, people have finally realised that our oceans are overloaded with waste and that they are not an everlasting resource. Images of dead whales with huge amounts of plastic in their stomachs and other marine animals tangled up in plastic or nets will certainly have played their part. The inclusion of ocean protection in the Sustainable Development Goals – not something that was envisaged from the start – also sent an important political signal. Resolutely dealing with this issue is one of the greatest tasks of our time.
Why is that?
EVA WITT: The oceans are of fundamental importance for the climate and biodiversity. They provide a food resource for around 2 billion people. The condition of the oceans, however, is deteriorating dramatically. Overfishing, coral bleaching and clearing of mangroves are just a few key terms. One particularly striking issue is the rapidly accelerating rate of pollution with solid waste. Today, it is estimated that 100 million tonnes of plastic waste are already in the oceans. Plastic places marine wildlife at risk and can also affect humans as it returns through the food chain.
And what can the global community do to tackle this problem?
SCHNELL: There are already a number of projects that approach the problem from different angles – ranging from the establishment of conservation zones to waste prevention and sewage treatment. KfW's ocean protection portfolio alone totals almost EUR 400 million.
The main focus at the moment is on forming cooperations, raising awareness of this issue among the global population and joining forces to turn back the tide.
How is KfW involved in this undertaking?
WITT: KfW in 2018 founded the Clean Oceans Initiative, a European initiative to protect the oceans from pollution and contamination by waste, established together with the European Investment Bank (EIB) and the French development bank AFD. Over the next five years, we intend to make two billion euros available to finance waste management and sewage treatment in developing countries and emerging economies. By the end of 2018, KfW already had committed 147.5 billion euros under the Clean Oceans Initiative - for waste water disposal in Cape Town and Costa Rica, as well as for controlled landfills in the framework of the reconstruction programme in Sulawesi and Lombok in Indonesia.
Get the oceans clean!
In mid-October 2018, KfW Group launched the Clean Oceans Initiative together with the European Investment Bank (EIB) and the French Agence Française de Developpement (AFD). The partners have committed an initial amount of EUR 2 billion for reducing plastic pollution of the oceans.
Learn more
Many developing countries are not only faced with the problem of dealing with their own waste, but also with the masses of waste washing up on their shores. We are the throwaway societies...
WITT: Which is why we Europeans must take responsibility. We need to organise our own economies to use resources more efficiently and be more sustainable. In the coming year we would like to work together with other national promotional banks to create a platform in Europe that we can use to promote projects in the recycling economy sector. Such projects could include the reconditioning or recycling of used electronic equipment and start-ups that develop innovative solutions for waste processing or for preventing waste in the first place. We would also like to work together with the European Commission, which already adopted a Circular Economy Action Plan in 2015. Promoting a circular economy is intended to contribute to making Europe's economy sustainable and competitive while ensuring resource conservation and low carbon emissions.
The Clean Oceans Initiative
KfW CEO Dr. Günther Bräunig presents the Clean Oceans Initiative at the World Bank Annual Meeting on Bali (KfW Group/Dr. Michael Helbig).
What is your opinion of technical solutions such as oversized vacuums for fishing plastic from the oceans?
SCHNELL: It's good to develop different ideas for reducing waste contamination in our oceans. However, I'm afraid to say that such technical solutions are not yet sophisticated enough to clean up large areas. . And we shouldn't rely too heavily on clean-up campaigns like this. I believe it is much more worthwhile to tackle the problem on land and prevent waste from entering the oceans in the first place.
Are you referring to effective waste management – collection and, ideally, recycling of plastic waste?
WITT: Yes, because every year somewhere in the range of 8 to 10 million tonnes of additional plastic waste – most of it originating from the land – end up in the ocean. Without countermeasures, there will be more plastic than fish in the oceans by 2050. And the same goes for wastewater, which in many Asian countries – and elsewhere – is fed into rivers and seas untreated.
Are there any examples from developing countries that set a good example?
SCHNELL: The small, densely populated, landlocked country of Rwanda in eastern Africa banned plastic packaging and the previously omnipresent plastic bag outright several years ago and strictly monitors this ban. German development cooperation has been providing assistance for setting up a waste management system in Tunisia since the late 1990s. Consumers of plastic packaging participate in the costs of its disposal through product fees similar to the German green dot system – and are therefore incentivised to use less. Incidentally, this project confirmed that there is another positive side effect of waste management to be considered: collecting and sorting waste offers huge opportunities for permanent jobs, even for those who have few qualifications.
Some time ago, the Blue Action Fund was launched on behalf of the Federal Ministry for Economic Cooperation and Development. How does it differ from the new initiatives?
SCHNELL: The Blue Action Fund brings together governmental and non-governmental players so that they can achieve more by working together towards coastal and marine protection. The focus is on designating more conservation areas that are better linked with each other and on improving the management of existing conservation areas, which currently only make up four per cent of the world's oceans. It is about environmentally friendly fishing, sustainable aquaculture and gentle tourism.
Have you already had any successes to present in this context?
SCHNELL: The first projects were approved in 2017. Take, for example, the areas off the coast of Costa Rica, Panama, Columbia and Ecuador, where the Blue Action Fund is working together with the US nature conservation organisation Conservation International to improve management of 12 marine conservation zones. This will give skates, tunas, sharks and sea turtles a chance to recover and local fishermen the opportunity to make a living from sustainable fishing in the future. We have already financed more than a dozen projects from the Blue Action Fund to date. Further donors such as Sweden and the French AFD have already joined and potential additional backers have signaled their intent.
Do you think that the problem can really be solved?
Eva Witt: There is a long way to go – and it won't always be easy. We will only manage it by working together with the relevant governments, other financing partners, UN organisations and civil societies. As I've said before, without countermeasures, there will be more plastic than fish in the oceans by 2050. So we simply have to start now!
What makes you so certain?
Eva Witt: Protection of the rain forests started back in the 1980s with small measures but since then we have achieved great success by combining sustainable usage patterns with improved conservation. In many areas the rate of deforestation is on the decline. Nearly two dozen countries – including Chile, China, Thailand and Vietnam – have even been able to increase the size of their forest areas. Why should it not be possible to do the same for the sea that we have done for the land?
Published on KfW Stories: Friday, 12 October 2018
Last updated: Tuesday, 5 February 2019