Flensburger Brauerei, a brewery in northern Germany, is investing in energy-efficient technology. With the help of KfW loans, it has once again updated its production facilities. And this is paying off – for the environment and for the company.
THE BEER THAT GOES PLOP
Why is the traditional brewery investing in energy efficiency? (KfW Group/bp Content) This video is only available in German.
The concert starts at 9 am on the dot. The filling system provides the beat. The bottle cleaning machine hums in the background. And on the conveyor belts, you hear the clink of the small, brown flip-top bottles that are the heart of the whole operation.
Volker Carstens looks out from a gallery over the gleaming chrome orchestra of machinery. He looks happy. "Everything's going according to plan," says the energy officer (53) at Flensburger Brauerei. His collar is adorned with Flensburg's slogan – probably the world's shortest – "plop".
According to the plan, the brand new "line 4" is due to be up and running soon. At the moment, a workman is standing on a lifting platform and securing the final soundproofing plates to the ceiling. Down below, technicians and engineers are checking the water pressure, motor power and pH values of the machines. Soon, bottles will be transported by these belts every hour, 24 hours a day, five days a week. Every hour, 40,000 units will roll out into the brand's dark blue crates.
While people love their beer to be bitter in North Germany in particular, "Flens" has long been served in bars all over the world. "We export to around 40 countries," says Mr Carstens. The distinctive "plop'" sound of opening a bottle of Flens can now even be heard in the USA and China.
It is this success and the brand's expanded range that have caused the current filling lines to finally reach their capacity limit. Besides "Flensburger Pilsener", which has been brewed here since 1922, the product range includes twelve further varieties – other types of beer, like wheat beer and lager, and alcohol-free drinks like malt and special flavoured lemonade.
Total sales at the brewery have increased from about 437,000 hectolitres in 2011 to over 520,000 hectolitres (domestic brand) in 2015. "It was clear that now is the time to invest," says Hans-Peter Heyer, head of technical management. He and Andreas Tembrockhaus, Managing Director of Marketing and Sales, are in charge of the company, which still remains non-consolidated.
To solve a bottleneck in production, the company wanted to move around and convert part of its facilities. The renovations to the hall that is now being used to test Line 4 proved to be particularly problematic for architects. It was built in 1980 and had been used as a warehouse for a very long time. "Transforming it into a production hall meant updating everything from the ground up," explains Mr Carstens. The requirements for food hygiene and occupational safety alone meant that extensive changes were needed. From room temperature to humidity, from sound insulation to lighting: there are regulations for everything. On top of this, the brewery had its own set of standards.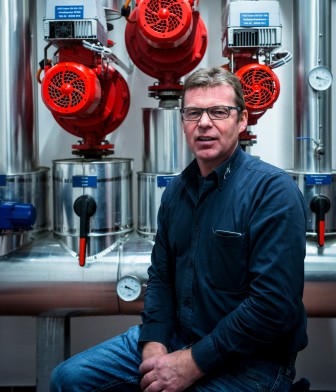 "We took on an obligation to improve our energy efficiency."
"In the context of the ISO 50001 standard, we took on an obligation to build up an energy management system in order to systematically improve our energy efficiency," says Volker Carstens. As early as 2013, the brewery installed its own block-type thermal power station with the help of a low-interest KfW loan of EUR 1 million. Since then, the power station has provided 410 kW of current per hour and 550 kW of exhaust heat, which are used to supply the bottle cleaning plant, to heat the brewing water and even to support the heating in the winter.
A TRADITIONAL BRAND FROM THE COAST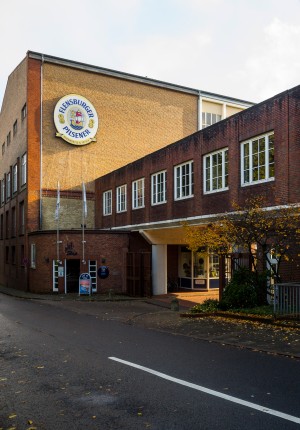 Flensburger Brauerei's listed headquarters were built in 1888. Founded in 1919 as Flensburger Brauereien AG, the company currently employs 190 staff and produces around 520,000 hectolitres of beer and non-alcoholic drinks (domestic brand) a year.
Flensburger Brauerei raised the necessary funding for the new hall through its regular bank, NORD/LB, and also in cooperation with KfW, because the modernisation included roof insulation and a modern ventilation system with a heat recovery function. The brewery received about EUR 714,000 for these investments from the KfW Energy-efficient Construction and Refurbishment Programme.
"Our production halls require a constant supply of fresh air. In future, we will not lose as much energy anymore," says Volker Carstens. He has calculated that the modernisation will help the business to save about 30 tonnes of CO2 per annum in future.
During the planning phase, another potential saving came to light: the transport system that connects the production hall and the warehouse. It is located in a 70 metre-long tunnel that runs under a road. "The system had become rather old," explains Mr Carstens. The solution: new conveyor belts, efficient motors and intelligent control technology. A loan of just under EUR 700,000, which the brewery applied for in the context of the KfW Energy Efficiency Programme for Production Systems and Processes, made it possible to put the plan into action.
SOURCE
This article appeared in the "Fördern - Energieeffiziente Unternehmen" magazine ("Promotion - Energy-efficient Companies") in 2016.
to German edition
The new system is already in operation and consumes up to 30 percent less power than the old one: savings that will pay off, because ultimately this conveyor belt is rather like the central artery of the business – it transports about 7.5 million crates per annum in every direction. "For us, investing in energy efficiency always means two things: an economic cost/benefit balance and a contribution to protecting our environment," says Managing Director Hans-Peter Heyen.
Published on KfW Stories: Tuesday, 21 March 2017
The described project contributes to the following United Nations' Sustainable Development Goals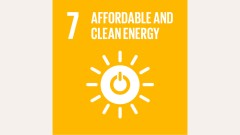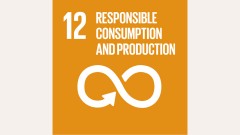 Goal 7: Ensure access to affordable, reliable, sustainable and modern energy
Close to 80 per cent of the energy produced worldwide still comes from fossil fuel sources. Burning fossil fuels also generates costs for the health system due to air pollution and costs for climate-related damages that harm the general public, not just those burning the fuel.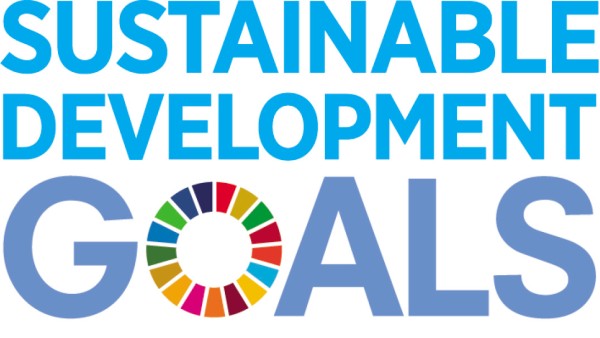 All United Nations member states adopted the 2030 Agenda in 2015. At its heart is a list of 17 goals for sustainable development, known as the Sustainable Development Goals (SDGs). Our world should become a place where people are able to live in peace with each other in ways that are ecologically compatible, socially just, and economically effective.