In January 2020, Tim-Alexander Karusseit took over the trade fair construction company Hoffmann, based in Sehnde, Lower Saxony. Just a few weeks later he was facing an existential crisis – the coronavirus pandemic brought the whole sector to a standstill. He and his team reinvented the company at record speed. This won them the Special Award for Inspirational Leadership in the KfW Entrepreneurs' Awards.
Video: How the Hoffmann trade fair construction company is reinventing itself in response to the coronavirus crisis (KfW Group/n-tv). This video is only available in German.
You don't always have to reinvent the wheel. Taking over from a predecessor is also a good opportunity to found something new. That's what professional businessman Tim-Alexander Karusseit thought, too. He had been an entrepreneur since he finished his studies and started to look for a company that he could develop. He concentrated his search on trade fair construction. "It's varied work in an environment that isn't vulnerable to crises, with plenty of core customers and repeat sales. And I've always been really into craftsmanship, that's my passion," he says.
The search for the right company
He devoted all his energies to this search for nearly three years, living off savings. He wanted to give up on several occasions. Then, through the nexxt-change exchange, he met Andree Hoffman, second-generation managing director of Hoffmann Dienstleistungen für die werbende Wirtschaft GmbH. The two men were a similar age and hit it off right away. The company, with an affiliated carpentry business and a 35-person team, was well structured and the order books were full. "In spite of this, the negotiations weren't easy. At the end of the day, there are many different interests and, for a profitable company, it's also about getting the right price," explains Karusseit. The financing was spread across multiple institutions. Alongside promotional funds from KfW were promotional funds from the state of Lower Saxony and a loan from his bank.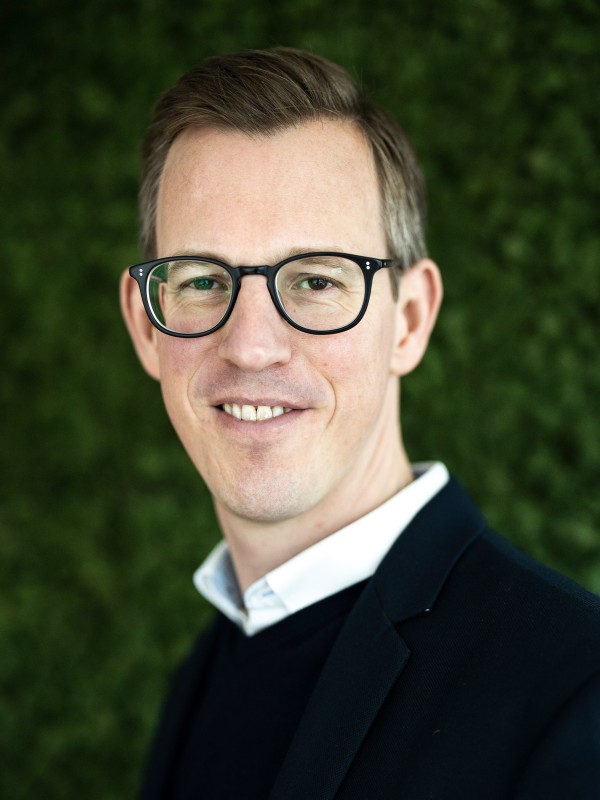 In late 2019, Karusseit took over the company. Working closely with the departing managing director, he got to know the business and prepared his inaugural address with the help of a communication coach. Very few people had been made aware that major changes were afoot.
In January 2020, the traditional New Year's breakfast was held with the whole team. "That's where we dropped the bombshell. At first, people were lost for words and their appetite disappeared. The company was completely geared towards its charismatic managing director. Many of the employees had a really close relationship with him. I promised everyone that nothing about the business model would change and that I would primarily look to expand the trade fair business and digitalise the company."
Read more under the gallery.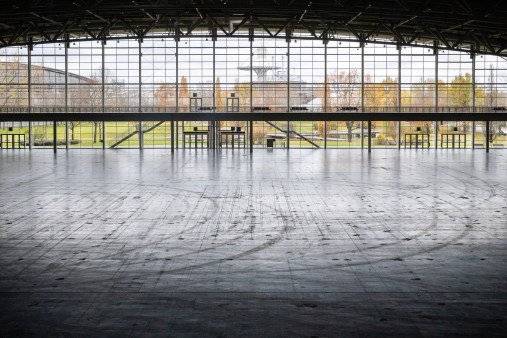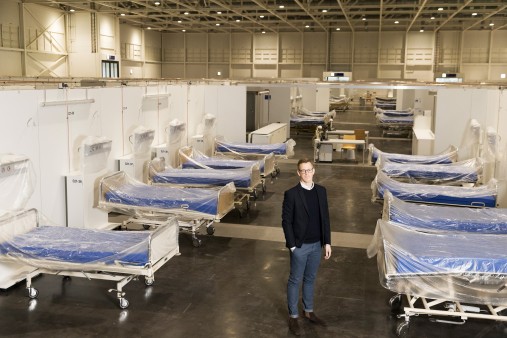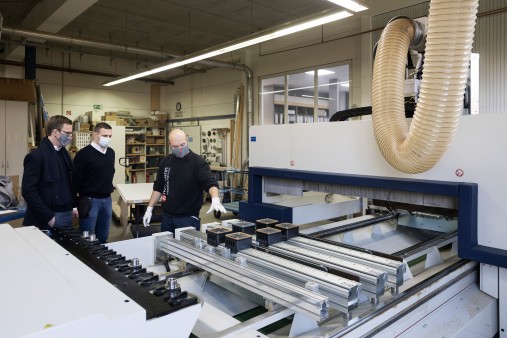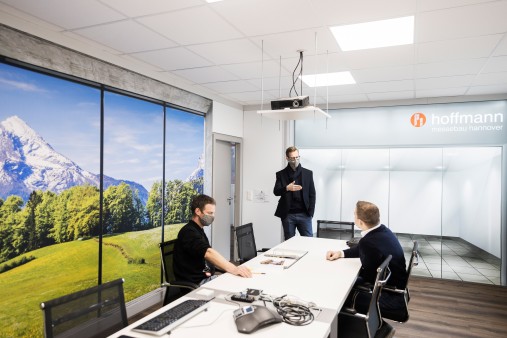 If events can no longer take place, new paths must be found.
The pandemic put paid to everything
In February, however, coronavirus spread across the world. Schools, leisure facilities and restaurants closed. Large events were no longer possible. Customers were cancelling their places at upcoming trade fairs and requesting refunds by the hour.
A few weeks after he had started, Tim-Alexander Karusseit was facing an existential crisis. The buyout had left him with a lot of debt. Overnight, he was forced to start leading the company without the former managing director, who was supposed to advise him during the first few weeks, and introduce short-time work.
However, the employees proved that there are opportunities even in the darkest of times. The coronavirus pandemic was reminiscent of the refugee crisis. Back then, they wanted to equip sports halls with room-in-room solutions to be able to accommodate a large number of people quickly. Without Karusseit's knowledge, a plan was drawn up to show how a makeshift hospital could be laid out using trade fair display walls.
KfW Entrepreneurs' Award
In November 2020, the KfW Entrepreneurs' Award was presented to 16 state winners and one national winner in recognition of their business ideas. Two special prizes were also awarded. Applications for the next award can be submitted starting 1 April 2021.
"Just getting on with it, rather than burying your head in the sand. I liked that," said Karusseit. This was followed by a lot of sales work and several appointments to market the concept. The first coronavirus outpatient clinics in Vulkaneifel were built, and the Hanover region followed with the construction of a surge hospital in an exhibition centre. Around two and a half kilometres of trade fair display walls were installed to create spaces for 460 patients. Hoffmann has its own carpentry workshop equipped with high-quality technology, meaning that it could manufacture everything in-house. Some staff came off short-term work to make this all happen. They even worked night shifts, and administrative staff supported the production effort. The team pulled together to play their part. Karusseit was involved, too. He left his desk and worked as a lorry driver.
"It really got me, emotionally. The founder had told me that the team was great. I only found out just how great it is when the crisis hit. That doesn't mean that everything is running smoothly: a lot of communication is required. When it comes to short-time work, people's pockets are affected and that's always tricky. But we didn't have a choice. The team placed a lot of trust in me and I'm very grateful for that."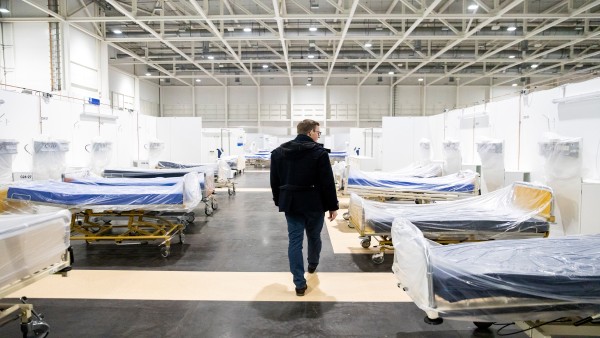 New ideas needed
In April, the surge hospital was ready. "Then I was watching the news and saw that a company in Holland had set up collapsible containers to enable visits to retirement homes. I said to myself, 'that's something that we could do, maybe even better!'" Karusseit remembers. He wrote to care homes across Germany, offering them portable room systems. When the first orders came in, some employees worked through the weekends.
Despite these efforts, summer 2020 was the worst period in the company's history. A KfW Entrepreneur Loan helped to mitigate the difficult situation somewhat, but to succeed in the long term, Karusseit needed to have a rethink.
He started a survey: what professions were represented within the team? He was surprised to find that many employees were qualified roofers or shopfitters. This gave him the ability to execute orders that required these skills. He offered renovation, wall dehumidification and interior design services to private customers, training employees or redeploying them to other posts. And he truly believed that the business would succeed.
"Obviously, that also caused some anxiety. The employees have a passion for trade fair construction, there's a particular atmosphere that goes with that. You go into the massive hall with the sprinter, get the music blasting and start building. Direct customer contact is through the project management team. It's completely different work to standing with a private customer in their kitchen."
With a huge amount of energy, the company succeeded in setting up a new division and now it is slowly returning to full employment. As soon as large events become possible again, the employees will return to trade fair construction as well. The managing director has already promised them that.
"My aim was to grow as a trade fair construction company. Now we have two departments running in parallel and we can grow in both. Everything has turned out differently. It helped that I had experience in managing crises from my previous start-ups, so I don't get discouraged easily," says Karusseit. The company is currently building mobile vaccination centres – doing its bit to contain the spread of the virus.
Published on KfW Stories: 10 December 2020.