Abandoned fishing nets pollute the oceans and wash up as flotsam on beaches all over the world. Madeleine von Hohenthal and Benjamin Wenke salvage the nets together with marine conservation organisations, and then use them to manufacture bracelets and other products. Their company Bracenet was honoured with the special Social Entrepreneurship prize as part of the KfW Entrepreneurs' Award.
Video: How Bracenet wants to free the oceans from ghost nets (KfW Group/n-tv). This video is only available in German.
A cool breeze blows in from the Alster (a tributary of the Elbe river in northern Germany) across the Jungfernstieg promenade. The old brick facade of the Hamburger Kunsthaus art centre stands out between cosmetics shops and smartphone stores. Hundred-year-old, creaky steps lead Bracenet's premises.
Benjamin Wenke rubs his eyes. He recently became a father and the nights are short. It reminds him of the beginnings of Bracenet: "I founded it together with my wife Madeleine in 2015. We worked on it after we finished at our day jobs, and we slept much less then than we do now," he says, laughing.
Wenke talks about the particular journey where it all began. They were backpacking on Zanzibar, where they spent a lot of time diving. Beneath the water's surface, but also when walking the beach, they kept stumbling across abandoned nets. Fishermen either lose them from their boats or they dump them on purpose – instead of paying for their disposal.
Read more under the image gallery.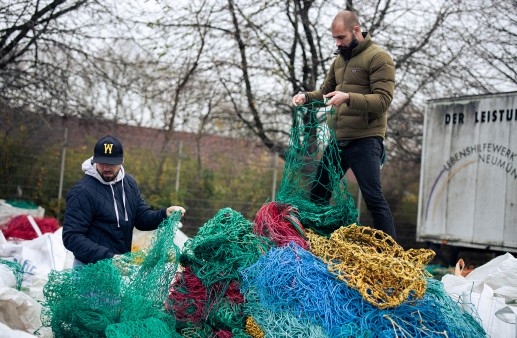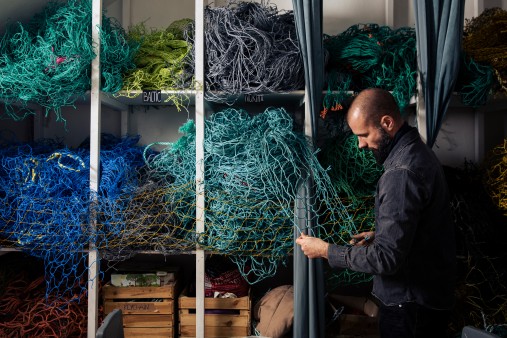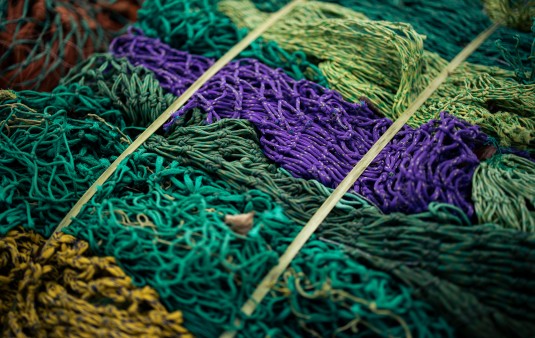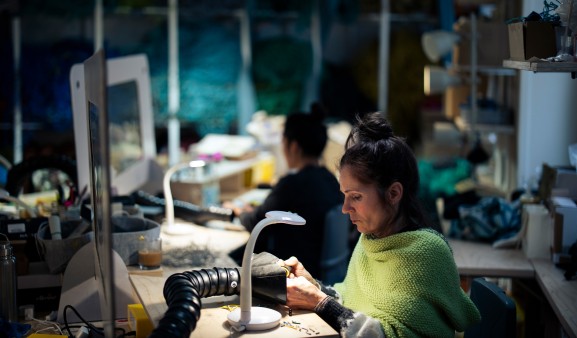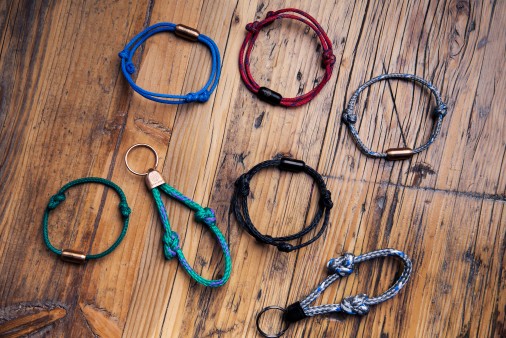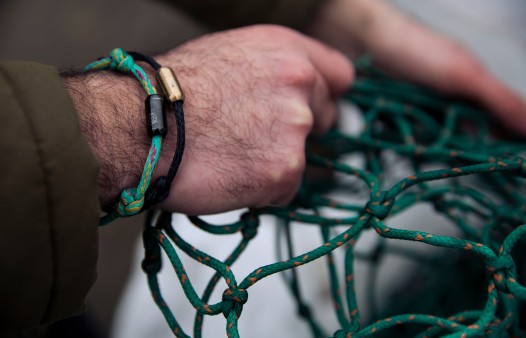 Marine conservation organisations are among those recovering the nets. Bracenet finances the voyages with part of the proceeds.
Dangerous waste in the oceans
Many creatures die tangled in large knots of plastic. Known as "ghost nets", they can float around for centuries without decomposing. Up to a million tonnes of fishing net material is added to that each year. "We were really preoccupied with what we saw and spent the whole time wondering what we could do to stop it. The nets are robust and the colours are beautiful. Maybe someone could use them to make something new?" Before their flight back, both vacationers gave away their clothing, filling their large backpacks with the newly found fishing nets instead. They turned heads and got a lot of questions at the airport during luggage inspection.
At home, the couple took a closer look at the nets' structure. How are they woven together? How long are the cords? How can we get the knots out? Weeks of experimenting followed. They used a creme brulee torch to try to loosen the rigid knots. Then came the epiphany: "We'll make bracelets and leave the knots. That will be our trademark!"
The name Bracenet and a logo developed simultaneously. The couple launched their own website to educate people about ghost nets and to introduce the bracelets as symbols of marine conservation. Wenke and von Hohenthal began contacting organisations that recover nets all over the world and were allowed to ride along, cutting free quite a few nets that had become tangled in wrecks in the Mediterranean.
KfW Entrepreneurs' Award
In November 2020, the KfW Entrepreneurs' Award was presented to 16 state winners and one national winner in recognition of their business ideas. Two special prizes were also awarded. Applications for the next award can be submitted starting 1 April 2021.
Building a brand
After two years, the project took up so much of their lives that they both left their jobs so they could dedicate their time to their own company. Benjamin Wenke remembers, "We started very small, using some of our savings. There is a lot of support available for start-ups that surely would have helped. But we just wanted to get started instead of spending time on a business plan. We wanted to build something with our own two hands."
From the outset, the entrepreneurs invested in strong public relations, avoided paid advertisements and didn't book any influencers. Their approach succeeded. Celebrities like Bill Kaulitz and actor Hannes Jaenicke talked about Bracenet, raising awareness about the brand. The company receives material from their partners, Healthy Seas and Ghost Diving. The organisations recover the nets from depths of up to 50 metres. Bracenet donates a portion of the revenue to finance the trips. But individuals can also report nets they find using a form on the website.
Today Bracenet employs a staff of 35 people and works with the workshops of Lebenshilfe, an organisation that supports people with disabilities. They make bracelets, rings, dog leashes and key rings from the upcycled fishing nets. "When we needed to expand our team, we were surprised at how well educated the applicants were. Many more people today favour meaningful work over money and company cars. Some of the staff spend part of their time working in production, and otherwise dedicate their time to the political situation and legislation to make dumping waste punishable," reports Benjamin Wenke.
The business founders want more, too, which compelled them to insisted that their products – many of which are sold by airlines on board their planes – are not packaged in plastic. In a project with Lufthansa, they are looking into whether the seat pockets or even the seats themselves could be manufactured from recycled fishing nets. They have started to act more often as consultants for companies that want to make their products and processes more sustainable.
Since its founding, Bracenet has processed five tonnes of ghost nets. Benjamin Wenke uses his colourful Bracenet to show that "reducing plastic in the oceans is our vision. And even if we still have a long way to go, we are already making a relevant contribution now."
Published on KfW Stories: 3 December 2020.
The described project contributes to the following United Nations' Sustainable Development Goals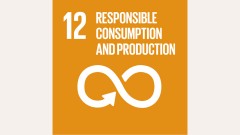 Goal 12: Ensure sustainable consumption and production patterns
Humanity has long lived beyond its ecological means. This applies in particular to industrial countries and the growing upper and middle classes in many emerging economies. The transition to an economic strategy and way of life that respects the natural limitations of our planet can only be successful if we adjust our consumption habits and production techniques. Internationally valid rules for labour, health and environmental protection are important for this.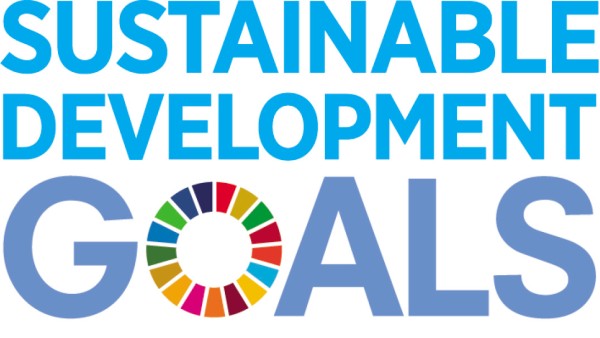 All United Nations member states adopted the 2030 Agenda in 2015. At its heart is a list of 17 goals for sustainable development, known as the Sustainable Development Goals (SDGs). Our world should become a place where people are able to live in peace with each other in ways that are ecologically compatible, socially just, and economically effective.