Only fresh ingredients — this is the philosophy of ice cream parlour owner Jochen Jung. As an ice cream and chocolate maker, he indulges his customers with his own creations. KfW provided support for the Heppenheim-based start-up Coccola.
The founder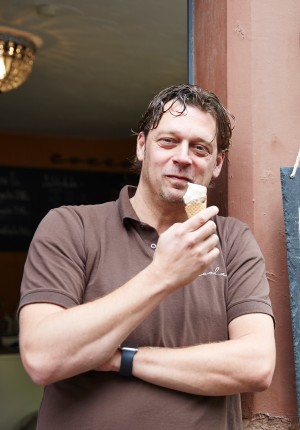 "If someone had told me in 2010 that I would make so much money selling ice cream that I wouldn't have to work at all in the winter, I would have told him he needed his head examined. At the time, I decided to set up my own business — an ice cream parlour with ice cream I make myself. I was already living in Heppenheim back then and when the shop in Heppenheim's old town became vacant, I leapt at the chance. Although I had been managing senior citizens' homes in the years before that, I was not entirely unfamiliar with the hospitality industry: I studied hotel management and also worked in hotels. But it wasn't easy to find someone who could teach me how to make ice cream. Artificial, ready-made products are most commonly used — which is exactly what I wanted to avoid. I eventually heard about the master confectioner Uwe Koch from Werl in the state of North Rhine-Westphalia. He specialises in ice cream and trained me. When we finally opened the shop, Uwe Koch was at my side: his support was especially important to me on the first day.
Refresher
From the idea to finished ice cream. Jochen Jung explains why customers love his flavours (KfW Group/Thomas Schuch). This video is only available in German.
My life partner Constance Beier has been involved right from the outset — we still work together successfully and today have 51 employees. Five are permanent employees. Constance likes to experiment with exotic ingredients: she recently created a goat's milk and hay ice cream. In the last five years, we have created almost 300 different varieties of ice cream. The selection is constantly changing: every week we have something new in the shop window. We always have the classic flavours: my favourite is still chocolate ice cream.
I travel a lot in the region with my pistachio green ape ice cream and am also invited to company events and village festivals. During the summer holidays, children from the school's day care centre came to make ice cream with us.
At the beginning, everyone used to make fun of me — which I think makes it all the more admirable that my regular bank and KfW supported us with a start-up loan. We invested the money in two more stores: we opened a second store in Darmstadt in 2012 and a third one in Bensheim in in 2015.
In Darmstadt, Coccola is considered a real insider's tip, customers even queue up. And we also have customers who travel to Heppenheim from Kassel and Cologne to try our ice cream — all people who care about the quality of their food. We only use fresh ingredients and shop at weekly markets. If one or two kids are upset that we don't have blue Smurf ice cream on a particular day, I'll tell them, 'There were no fresh Smurfs at the market today.' People with allergies are also welcome: since we produce everything ourselves, we can tell you exactly which ice cream you can eat. Our ice cream isn't more expensive — it just takes more time to make. I think that my life experience helped me take the step into self-employment. I wouldn't have been able to transition successfully at the age of 25. We plan to expand production in the near future. We may have already found the right location."
Published on KfW Stories: Thursday, 23 March 2017
Last updated: Tuesday, 27 February 2018