Shoemaking is a craft that requires knowledge about everything from anatomy to custom design. Stefanie Degle has this knowledge. She creates custom-made orthopaedic shoes. She describes for KfW Stories how her dream of owning her own company came true.
The founder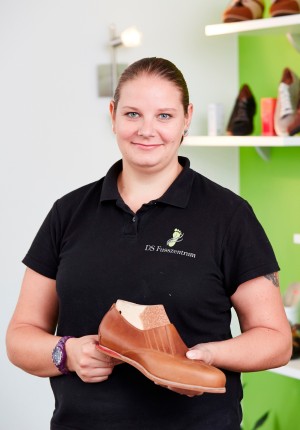 Stefanie Degle is a shoemaker. In 2014, she ventured into self-employment. Alia Begisheva tells her story.
"My grandfather was a shoemaker. I never knew him, but I have his craft in my blood. I started on my path as an orthopaedic shoemaker in 1999 with an apprenticeship and I worked as an apprentice until 2012. After that, I attended a school for master artisans for one year. KfW already supported my basic and advanced training.
Today I am not just a shoe expert: I have a good understanding of body structure, bones and muscles. Our feet are our foundation. Cracks in the foundation of a house also affect the roof. It is exactly the same with our feet: if they have problems, we feel it in our neck.
I am also knowledgeable about leather and know how to work with it. A good basis to start an orthopaedic shoemaking business: I ventured into self-employment in August 2014. Now I make tailored orthopaedic shoes in my DS Fußzentrum in the Bavarian town of Waldkraiburg. My regular bank and KfW helped me with the low-interest "ERP Start-up Loan - StartGeld".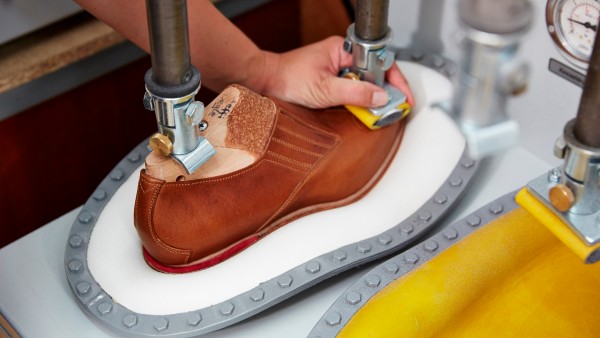 Right now, my life partner and I run the business as a couple. But he still has another job. Once the store is on firm footing, he will quit his job and start full-time at DS Fußzentrum. I am quite confident that this will happen.
My workshop is very well-equipped with two grinding machines and one mending sewing machine as well as a sole and heel press and a vacuum press. These tools enable me to make four to five pairs of shoes a week — from slippers to boots.
Most customers come from Waldkraiburg and a 30-kilometre radius around it. I really like this proximity: after all, I have to deal with the problems of each individual customer. Some customers have a prescription, while I give others a prescription recommendation for their doctor.
I am not allowed to make my own diagnosis. But I can analyse how the customer walks, do a 2-D scan of his or her feet and get a 3-D footprint, I also offer shoe repairs. Six weeks can pass between the measurement and the finished orthopaedic shoes. I coordinate every step with the customer. I found my dream job!"
Published on KfW Stories: Thursday 23 March 2017
Last updated: Tuesday, 27 February 2018