Five young companies in Dresden and Leipzig are developing innovative solutions – to reduce energy consumption, in biotechnology and housing. More than three decades after the fall of the Berlin Wall, they have come to symbolise the German state of Saxony as a cutting-edge business location. These companies advocate an open-minded and tolerant society – because the best ideas need the best minds from all over the world. We introduce the companies Cloud & Heat, Sunfire, Rhebo, c-LEcta and Asuna.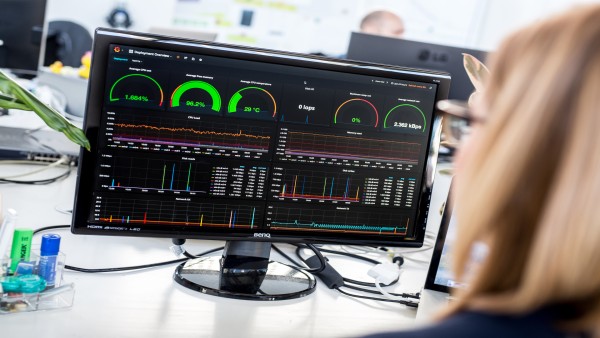 Cloud & Heat uses exhaust heat from server racks
In the middle of the colourful building complex dating back two centuries, a shipping container with a window stands in front of an old factory building. It belongs to the company Cloud & Heat, which is headquartered on this site, called Zeitenströmung, in Dresden. Royal Saxon military was housed here until 1918 and then aircraft turbines were built here in a state-owned enterprise (VEB) during former East German times. Today, it is the address of many start-ups. Customers and investors from all over the world stop by to see the spectacular interior of the Cloud & Heat container first-hand. This is because the giant walk-in building houses the model of a mobile data centre: an entire corporation can be managed from here, protected from the cold or hot desert sand. Last week, a customer from Dubai showed considerable interest.
Cloud & Heat now has more than 100 employees working on hardware and software solutions for data centres that combine two features: energy efficiency and security. The ETF III fund, which KfW subsidiary KfW Capital has invested in and which is co-financed with Cloud&Heat, also specialises in sustainable business models. The company, which was founded in 2011, used the money to develop a technology that uses the exhaust heat from servers to heat buildings. The Dresden company has put this technology to use in Frankfurt am Main redesigning the high-rise building of the former computer centre of the European Central Bank. According to Cloud&Heat, this saves the customer as much as EUR 160,000 a year in energy costs. "We are now the global leader in energy efficiency," says CEO Nicolas Röhrs. Cloud & Heat's IT infrastructure is primarily used by customers processing particularly computationally intensive jobs and who want to scale flexibly. To this end, the Dresden-based company just recently expanded its portfolio with tailor-made infrastructure solutions that enable customers to choose from a pool of different hardware. A software security solution has also been developed. Companies are dependent on cloud solutions for large data volumes. Cloud & Heat offers encrypted cloud access to meet this need. Customers usually depend on half a dozen experts to create an efficient, economical and secure IT infrastructure, says Röhrs. His company, on the other hand, offers turnkey solutions from a single source.
Success stories like this one are nothing new in Saxony. Just a few years after the fall of the Berlin Wall, Dresden was able to develop into one of the most successful economic regions in former East Germany thanks to a targeted policy to attract companies. Top-notch IT engineers and a lot of expertise were available in and around the former headquarters of Robotron, the largest computer manufacturer in former East Germany. 68,000 people used to work at Robotron until it closed its doors in July 1990. With the arrival of Siemens in 1993 and the American chip manufacturer AMD in 1998, the seeds were sown for a state-of-the-art technology location. Today, the region is considered the Silicon Valley of eastern Germany with about 2,000 companies and 50,000 employees. Various high technologies such as microelectronics, nanotechnology, mechanical and automotive engineering and biotechnology have become established in the region.
At Cloud & Heat, IT specialists tinker with new ideas and tailor-made solutions for customers in large loft-like offices and workshops. The team comes from all over Germany, both east and west, but also from India, Spain, Turkey and Finland. Most of them studied at the Dresden University of Technology – where Cloud & Heat grew out of a research project. "We embody a very agile, colourful side of Dresden and try to communicate this positive message to the outside world," says CEO Röhrs. The manageable size of the city helps it to be noticed by politicians. In the highly competitive market for skilled specialists, applicants from Munich and Berlin are now also being attracted to Dresden. However, the infrastructure is still inadequate. The train could travel faster in the region, and the airport could expand its capacity. Even though an office has just been opened in San Francisco and other sites in Singapore and Dubai are conceivable, Dresden will remain the headquarters.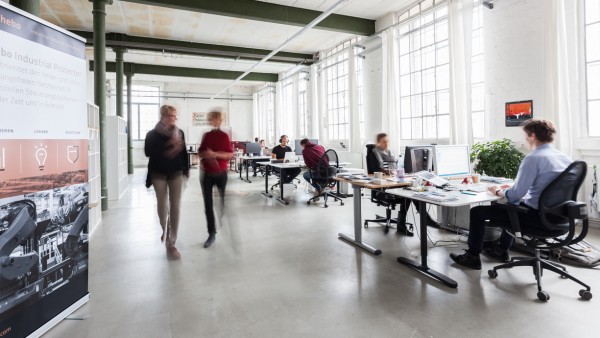 Rhebo ensures cyber security
The people living in Leipzig have never had it as easy as in Dresden. After the fall of the Berlin Wall, ten thousand industrial jobs were lost. But Leipzig quickly managed to establish itself as a venue for trade fairs and, thanks to its good location in the centre of Europe, attracted a number of large investors such as BMW, Porsche and DHL. The city has been focusing on core industries for many years with its business development initiatives: automotive manufacturing and its suppliers, health and biotechnology and logistics. But this doesn't stop IT start-ups from setting up shop in Leipzig, either.
Like Rhebo, which is located in Hall 6 of the old Leipzig cotton spinning mill, where painter star Neo Rauch also creates his opulent works of art. In an open-plan factory floor, the software developers among the 25 employees are fine-tuning a product designed to protect the control technology of energy, water and industrial companies with networked production. In modern industrial production, but also in public utilities services providers, more and more components are connected with each other. This makes this information technology infrastructure susceptible to all kinds of disruptions. In many industries, risk awareness is still low, and industrial cyber security know-how is often not available. "We offer a kind of fire alarm system," explains Kristin Preßler, Chief Operating Officer at Rhebo. Rhebo places analysis modules wherever communication is clustered in networks in order to create a real-time snapshot of the situation. The goal is to identify anomalies, which are unknown deviations, in the workflows. "It is important to identify unknown processes in the first place. We immediately issue an alert if we detect 'smoke' in the control technology, figuratively speaking", explains Preßler. "The smoke can be a configuration error in the system control or communication with a hacker's command-and-control server. The evaluation results from event data that is documented in detail. Monitoring creates both cyber security and stability."
Rhebo – which is partly financed by the German VC fund eCapital IV in which KfW Capital has invested – still recruits its staff from the region. In the future, however, it will also be necessary to recruit international staff in the highly competitive developer market. According to Kristin Preßler, the team offers a good corporate culture and challenging tasks, but this needs to go hand in hand with the right political environment. At Rhebo's Monday meetings, the team's concern about a further shift to the right in the region was palpable. The employees agree that, should this happen, their quality of life would suffer, says Preßler: "I take it for granted that I live in an open society. The shortage of highly skilled workers is evident. For me there is no question that other cultures should also have their place in Saxony. I hope this has resonated in the political realm."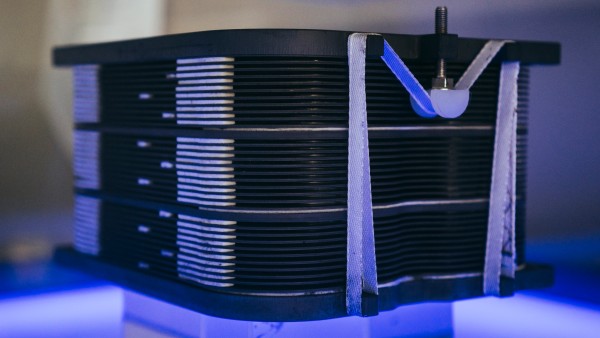 Sunfire develops hydrogen-based fuel
Sunfire in Dresden, honoured as one of the ten most innovative energy companies in the world in 2016, agrees with this message. Business idea: the development of synthetic, sustainable hydrogen-based fuel. It can be used to power aircraft, ships and heavy-duty transporters. In other words, a creative player that works to secure the energy needs of the future. "Sunfire clearly advocates a spirit of openness and tolerance and actively practices this culture," explains CEO Carl Berninghausen. The company is a member of the association Wirtschaft für ein weltoffenes Sachsen (Businesses for an open-minded Saxony). Here, employees are coached on the issue of diversity so that they can share their knowledge internally. Similar to Cloud & Heat, Sunfire, which has grown to 170 employees within a few years, finds highly qualified employees among the graduates of the Dresden University of Technology, including electrical and process engineers, mechanical engineers, mechatronics specialists and staff for financial administration. When Pegida's following peaked, however, serious reservations about the location were expressed in appraisal interviews, Berninghausen said. Which is why there is a commitment to tolerance.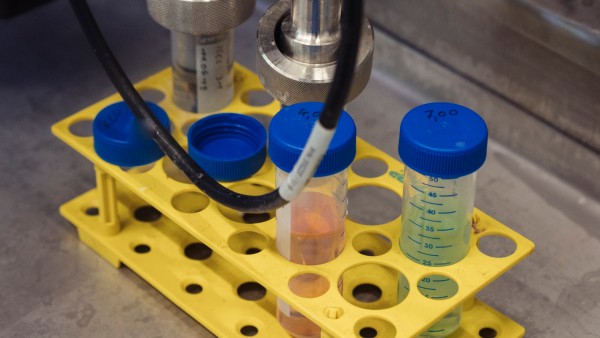 c-LEcta produces natural sweetener
As a technology location, Saxony certainly offers advantages, also for the Leipzig biotech company c-LEcta. KfW is involved through the ERP Start-up Fund; the start-up capital was provided by an investment fund of the City of Leipzig. "It was ultimately regional business promotion that helped our start-up," says CEO Marc Struhalla. He takes us through a laboratory where an employee in a white coat is working with petri dishes. Next to him are shake flasks and fermenters, the entire biotechnological arsenal. "We change microorganisms to make them do what we want them to do," explains Struhalla. This made it possible for c-LEcta to produce a natural sweetener. "We have developed and launched a process that transforms the sweetener of the stevia plant to give it a better taste profile." Besides the food industry the pharmaceutical industry is the second, strongly growing market segment that c-LEcta serves – worldwide.
Marc Struhalla feels very well positioned in Leipzig. Although there is a relevant biotechnology sector here, a growing company does not get lost among the large number of competitors as it would in larger locations. In the beginning, a lot of convincing was necessary in job interviews to attract talent to the East. "Now we recruit with a combination of things," says Struhalla. On the one hand, c-LEcta is an innovative up-and-comer in an exciting industry. "On the other hand, we are located in a city with a tremendous quality of life and a lot of culture, which is very appealing for our young employees."
Struhalla also stresses how important the social framework is for continued growth. c-LEcta is already dependent on expertise of other countries. "This will continue to intensify," he says. "I am convinced that we must become a true country of immigrants." It is not a question of just letting someone into the country: "We must recruit well-trained specialists to come to us". The biotech shooting star is helped by his own history with exciting product development as well as that of Leipzig, which is increasingly perceived as a cosmopolitan cultural city – and offers niches for visionaries in many places.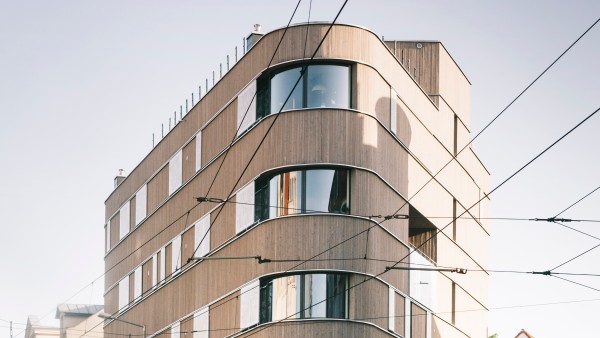 Asuna from Leipzig is committed to sustainable architectureAsuna from Leipzig is committed to sustainable architecture
Visionaries like Dirk Stenzel, who calls his one-man business Asuna: studio for strategic and sustainable architecture. Its mission is to contribute to a modern, environmentally friendly urban landscape. Stenzel stands in front of a house that slides like a narrow, rounded wedge between two streets and whose striking form is accentuated by the striking wooden façade. "Leipzig is open to colourful life, colourful people and colourful buildings," says Stenzel, who himself comes from the region and values the free spirit of his hometown. "The building is a statement of how a building can be sustainably constructed on difficult terrain." The commercial and residential building made of wood – only the staircase tower and firewall area to the neighbouring buildings were built of reinforced concrete – is designed to last for at least 100 years. Stenzel's plans initially did not comply with building regulations. In an intensive consultation process with the building authorities, the strict fire protection requirements were finally met. In the event of a fire, a building has to withstand the flames for an hour and a half. The architect found the city to be very open-minded during his pioneering work on the KfW Efficiency House. The aim was not to prevent his pilot project, but to find ways to make it possible.
The architect takes us through the wooden house, shows the two-storey commercial area and several of the four apartments. No two are the same, each floor plan is different. Urban Leipzig is visible through the curved windows of the rounded point. The building community is creating a quiet zone above the rooftops of the city on the roof terrace where solar panels are also installed. Stenzel is currently planning two other projects in Leipzig. Once again made of wood, once again for building owners' associations who want custom-made housing. "I also want them to have greatest possible freedom," says Stenzel. In the same way that Leipzig gives him freedom for his ideas.
Published on KfW Stories: 1 October 2019, lat updated: 1 December 2022.