The leather manufacturer Heinen, which has been operating for almost 130 years, has survived many crises. Now, the factory in Heinsberg district is facing the coronavirus pandemic. It is not directly affected, but the indirect impact is very real: the shoe industry, which was experiencing difficulty anyway, has seen heavy losses.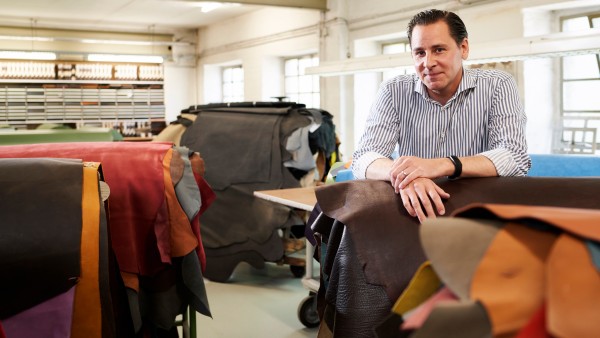 The old brick building vibrates in places and, while Thomas Heinen sits at the wooden table in the meeting room and tries to find the right words, a rumbling can be heard through the walls. "Our entire sector has been shaken up," says the company's CEO, who comes from Wegberg in the district of Heinsberg. "The whole market has been turned upside down." The fourth-generation entrepreneur speaks the unvarnished truth about the position of his business, which is soon to turn 130, and the fashion industry in which Heinen trades. He is nevertheless pleased about the noises in the background. They come from the steel vats which turn night and day. That is how he can tell production is continuing.
Leder Heinen is the last company in Germany producing quality leather for shoes and bags. Founded in 1891 by great-grandfather Josef Heinen, the business was already producing shoe soles from animal hide on the current site by the end of the 19th century. What previously required depressions in the ground, water, vegetable ingredients and a lot of time has now been automated for decades and relies on chemistry. Employees are assisted by computer technology. "As a tannery we have our special recipes which allow us to achieve the precise quality of leather that sets us apart," says Thomas Heinen. In the winding halls of the factory there is a strong smell of animal hide. Sometimes it stinks as well, and there is constant humming, drumming, knocking, clattering and crashing. With a lot of physical effort, the one hundred or so employees transform the black and white hides of German bull carcasses into goods by the square yard, with the customer's chosen colours, thickness and patterns. The raw material comes from meat processors in Germany — including those which hit the headlines due to the high number of coronavirus cases among their meat cutting staff.
While the business is traditional, the network within the fashion sector is global. Around 50 per cent of the invoices are for recipients in Germany, but 98 per cent of the leather is made into shoes, and more rarely into bags and belts, abroad. Until a few months ago, Thomas Heinen's daily routine was governed by his booked-out calendar, with a lot of jet-setting, visits to customers and international trade fairs.
Read more under the image gallery.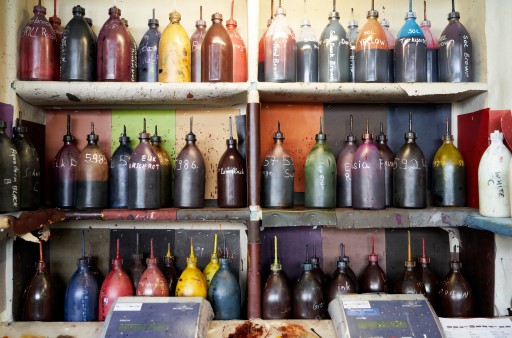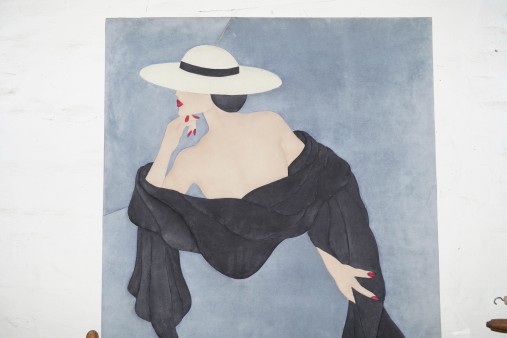 The tanner has his own formulation: leather can be dyed to any colour the designer desires.
In late March, everything collapses
In January, business was still buzzing: the modellers' creative ideas were to be made from colourful leather onto which sellers could add new designs for their discerning customers. However, after the leading Lineapelle trade fair in Milan at the end of February, Heinen started to feel uneasy. He read the reports about coronavirus in northern Italy while at home in Heinsberg, one of the first German superspreader events was taking place: the carnival event which led to an exponential increase in the number of coronavirus cases before the authorities realised. When the stock exchange and the oil price fell heavily in early March, one thing was clear to Heinen: "That's it for our plans."
He sat down at his desk and thought about what would happen to the global economy and to the fashion industry. What if a customer has to shut down processing, or just goes bankrupt altogether? What if there were to be a case of coronavirus in his company and the authorities stopped production? "Then we saw the first orders imploding in late March. That's when I called the bank," says Thomas Heinen.
Leder Heinen had already worked with Helmut Weitz, a corporate client adviser at Kreissparkasse Heinsberg savings bank, before the current crisis. The previous year, the bank had facilitated investment in a new production site in Poland. "We know the Wegberg-based company and we advised them on the options to ensure greater liquidity for the business in light of the current challenges," says Weitz. It applied for one million euros from KfW in the form of an 'Entrepreneur Loan', with a five-year term and one per cent interest. "The justification and the supporting documents that Leder Heinen provided were highly professional," says Weitz, and KfW was able to approve the loan quickly as a result. The company was able to access the money around two weeks later.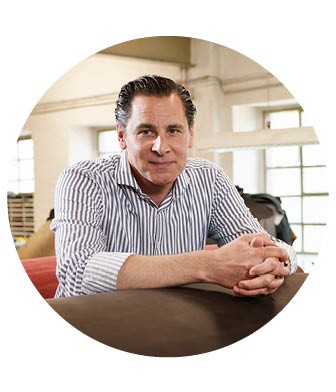 "Flexible, targeted and fast: that's exactly what people want from KfW's products, especially during the coronavirus crisis," says Markus Merzback, a Director at KfW. "In times of crisis we're running at full blast, and of course it makes us particularly happy when we feel that the support is getting to those who need it. That's what we're currently hearing from lots of companies and financing partners."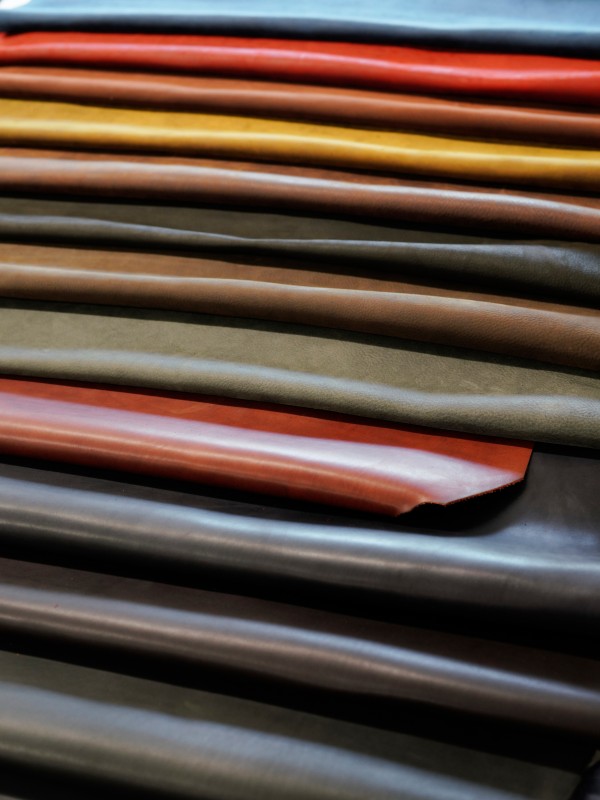 Strict rules, not many orders
For Heinen, the prompt assistance from KfW was a piece of good news among all the justifiable pessimism. What is more, no one in the factory became infected with coronavirus, so the company was able to carry on processing leather in three shifts, with the machines continuing to run from Sunday evening to Friday afternoon. Thomas Heinen separated the teams and introduced strict distancing rules. Thanks to public sector commissions from the military and police forces, there are relatively secure orders. There were heavy losses nonetheless: while revenue in 2019 still totalled 35 million euros, CEO Heinen expects a reduction to around 20 million euros for the current year.
There is pressure at several points, which is why the liquidity from the loan could be crucial to the firm's survival. When it comes to logistics, for example: it hasn't just become difficult to book the leather we produce onto containers. "Prices have exploded," says Heinen. Orders also disappeared almost immediately. Leder Heinen does not produce for stock, but always with a four week lead time for the shoe manufacturers' factories. It quickly became evident that the sector was experiencing substantial problems. "We have seen 50 per cent fewer orders since the start of the coronavirus crisis," says Thomas Heinen, "and that's not bad when I consider how many shoe businesses probably won't survive."
Coronavirus, says Heinen, has massively accelerated the structural change in the shoe manufacturing industry. Businesses were already being squeezed out left, right and centre, with 20 per cent of all shoe sales taking place online. That is a challenge for Heinen's customers in turn: they are specialist brands which mostly offer shoes to customers through traditional bricks and mortar trade. Shop closures lasting several weeks, reluctant consumers when city centres reopen: all of these things have caused problems for shops and are putting pressure on the brands. "None of our customers can tell me today what will happen in eight or in twelve weeks," says Thomas Heinen. With the pandemic, structural change will speed up – and in the meantime, his company will face new challenges as well. Leder Heinen put its employees on short-time working but topped their salaries up to 80 per cent. Many jobs are in the low-wage sector. "It's important that we don't cause even greater suffering among our guys." There has been some relief thanks to the purchase prices: the market for animal hide collapsed, which gave us some headroom.
Thomas Heinen is dealing with his situation openly. He knows that his company delivers a level of quality that is prized by customers all over the world. He is an experienced businessman. However, when it comes to the consequences of the coronavirus crisis and how the coming collections and seasons will go, he has hopes but no certainty. "Maybe there really will be more tourism in central Europe," he says, which would be no bad thing for outdoor brands and high-quality leather. His great hope: "It could be, as has often happened in previous crises, that people would rather spend their money on one pair of good shoes than on three pairs of 'fast fashion' shoes."
Published on KfW Stories: 18 June 2020.