Christoph Kessler, Director KfW Office New Delhi, returned home during the summer for safety reasons. Here he describes India's particularly critical situation and explains how Germany was able to help the subcontinent in the fight against the coronavirus pandemic so far.
I have been watching the occurrence of infections in India from my home in Germany for some time. The coronavirus situation in Delhi eased over the summer, but worsened again in September. Both in the metropolitan areas and in the rural regions, the curve of recorded new infections is on a steep increase. The availability of hospital beds for severe instances of the illness remains uncertain.
Before events forced us to leave at the end of June, my wife and I were right in the middle of everything and also experienced bizarre situations on the day we left: hundreds of passengers were waiting to board wearing disposable gowns, masks and face shields. Four hours before departure, they already needed to make their way to Indira Gandhi Airport, one of the busiest and most hectic airports in Asia. But on that day, most of the shops were closed. There was nothing to eat or drink. Despite that, the people seemed relieved because the few Lufthansa flights that left Delhi for Germany at the end of June were immediately booked out online.
On 24 March, Prime Minster Modi unexpectedly imposed a national lockdown with only four hours' warning. The same week, the employees at the KfW Office in Delhi switched to working from home. The registered case numbers were still very low in India back then. They wanted to react in good time to contain the spread of the pandemic. They accepted that there would be a massive economic downturn with devastating consequences, particularly for the poor. When pressure from the suffering population became even greater, the government had no alternative: they had to open up the economy again at the beginning of June, even though there was no sign that the curve was flattening. On the contrary: the number of infections grew slowly but steadily throughout the entire lockdown. They knowingly had to tolerate seeing the curve steepen when the lockdown was lifted.
4.5 million registered COVID-19 cases in India as a whole
As the Director of the KfW Office in New Delhi and a German living in India, I had followed the recommendations of the German Embassy closely since the beginning of the pandemic. The embassy's regional doctor assessed the situation at the beginning of June and came to the conclusion that the embassy would be able to intercede and gain access to a hospital bed and critical care for Germans in an emergency. This assessment changed on 12 June. Then, even in private clinics, it was no longer safe to assume that appropriate treatment would be available. At that point, the embassy recommended that all Germans who did not need to be there return to Germany immediately.
Three months later, the number of COVID-19 infections recorded in all of India has reached 4.5 million since the outbreak, over 75,000 of whom have died; measured in terms of the overall population of close to 1.4 billion, this is a tiny fraction. Although the media places particular emphasis on this figure, there is no doubt that the actual number of infections is much higher. Until recently, only patients already showing symptoms of a disease were tested, and even many in this group did not get tested – often for fear of the authorities' measures like mandatory quarantine in improvised camps. Random samples from the middle of June indicate that 30 percent of the population of the capital of Delhi is infected or has already been infected. India's rural regions are also increasingly affected. The virus arrived in the villages long ago when the migrant workers returned home. The infection rates are also rising dramatically there.
Read more under the image gallery.
Christoph Kessler running final errands a few days before leaving.
Project work in difficult conditions
Fifteen Indian colleagues work for the KfW Office, which continues to function reliably thanks to the well-developed grid infrastructure in the capital. They now sit at their computers at home and can take care of their families at the same time. At each of our weekly office meetings, which have taken place virtually since March, my first question is always about their health. Fortunately, not a single staff member has come down with the coronavirus. Isolated, we have noticed that when video conferences and telephone conversations replace physical meetings, there is not enough personal contact with our Indian partners. We will have to accept that for this interim period. However, in the long run, business relationships are under stress because business meetings are always framed by small talk, especially in India. These pleasantries create a sense of closeness and trust, which are often necessary when difficult loan negotiations need to be conducted successfully under pressure of time.
"Due to the pandemic, project implementation is now also delayed."
These types of situations occur frequently. KfW mainly finances large infrastructure projects in India on behalf of the German Federal Government. Recently, these have totalled around 1 billion euros every year: solar power plants, power lines for green electricity, metros, electric buses, ferries, wastewater treatment plants, to name just the most important types of project. A number of contracts are concluded every year, and because many agencies participate in the projects, and all of them need to approve the loan agreements, negotiations can take a while.
Due to the pandemic, project implementation is now also delayed. Work at many building sites has come to a standstill or has been put on the back burner. One example of this is the green power lines that are to transport sustainably generated power to urban areas: in the centre of Rajasthan, an Indian construction company set up a camp for workers to use as a base for setting up power lines many kilometres long, building substations and laying cables. The camp was closed at the end of the March due to the lockdown. The workers needed to go into quarantine in a large hall in the nearest small town. They spent three months there. Even though they were given essential supplies, they had no work or reliable incomes. In particular, the distance to their families in Bihar or Uttar Pradesh bothered many of them, despite WhatsApp and occasional telephone conversations. So it is no wonder that many workers immediately made their way home when the lockdown was eased, and they will stay there for the time being – harbouring deep suspicions and uncertainty. The construction companies are having a difficult time finding workers to get the building sites up and running again under these circumstances.
KfW's work in India has picked up due to the pandemic. In the current portfolio, Indian partners are requesting payment deferrals, fee cancellations or an expansion of intended loan purposes due to the coronavirus situation. This is usually associated with challenging negotiations because the coronavirus is frequently presented as a reason for delays, despite there often being quite different reasons.
Furthermore, the government is asking for KfW's best efforts to provide support as they work to overcome the crisis. In mid-March, I received a phone call from a senior official in the Indian Ministry of Finance. On behalf of the Prime Minister's office, he was urgently searching for funds to procure emergency equipment for hospitals with coronavirus patients: masks, gloves, disposable gowns, but also oxygen equipment and ventilators. Is it possible to divert funds from ongoing projects that have not been used yet? Can projects be reprogrammed if they were already contracted but haven't actually started yet? Is the German government able to provide additional funds to fight the coronavirus?
Aid programmes to cushion the social impacts of the pandemic
Together with Unicef, we were able to conjure up an assistance programme of EUR 15 million from nothing, in record time. They were able to use that to procure some of the urgently needed items of equipment. A discounted loan from German Federal funds amounting to nearly EUR 500 million supported the Indian government programmes that served to cushion the social impacts of the pandemic: subsidies for staple foods like rice and lentils for the poorest people, labour programmes, health insurance for destitute groups of the population. Other development banks like the World Bank, the Asian Development Bank, and AFD in France also supported these programmes, raising several billion euros of external financing. This was a visible sign of solidarity for a subcontinent that was forced to deal with numerous other destructive events in recent months, like cyclones, heat-waves of up to 50 degrees Celsius, and harvest-devouring swarms of locusts.
I have been the director of the office in Delhi since 2017; there has not been a concentration of catastrophes like this since I have been there. This suffering hurts. India is a fascinating country in every respect, with immense potential, and it is a professional challenge that I made a very conscious decision to take on.
When will it be possible for my wife and I to return to India? She is a teacher at the German school in Delhi, and most recently taught online. This of course depends on how the pandemic develops. After a temporary downturn in the number of coronavirus infections in the capital, the numbers are starting to rise again there too. At the beginning of September, some are talking about a second wave. So we are still waiting. Only when we are certain that appropriate medical care can be ensured in an emergency will I be able to resume working in Delhi again.
Followed up on 27 October 2020
A lot has happened in India too since September – fortunately with a different trend than in Europe. The infection figures in the country seem to be stabilising at a high level. Many people have adapted their lives to the pandemic situation as much as possible: The streets are filling up again, masks are worn almost everywhere and distance rules are mostly observed. The offices of the partners are also functioning again and meetings are increasingly taking place physically again in compliance with hygiene rules. For me, this brings the question of how we can create a new normality in the KfW office in Delhi into focus. In recent months we have proved that we can mobilise large amounts of money for our Indian partners in a short time, even as a virtual team. Nevertheless, it is clear to me: my place in shaping this new normality is in India.
Published on KfW Stories: 27 October 2020.
The described project contributes to the following United Nations' Sustainable Development Goals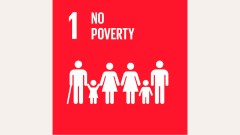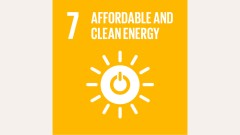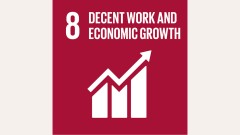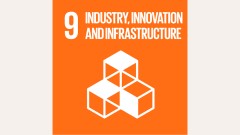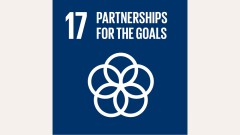 Goal 1: End poverty in all its forms everywhere
Around eleven per cent of the world's population lives in extreme poverty. In 2015 that figure was around 836 million people. They had to live on less than USD 1.25 a day. The global community has set out to end extreme poverty completely by 2030.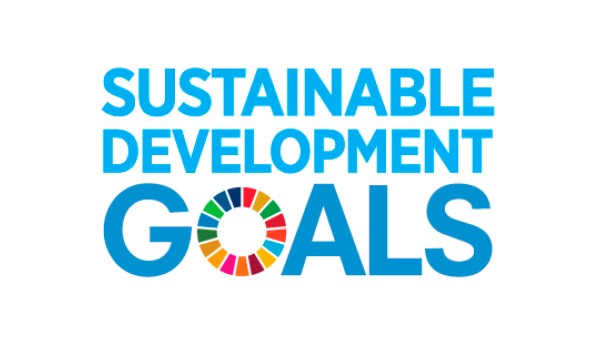 All United Nations member states adopted the 2030 Agenda in 2015. At its heart is a list of 17 goals for sustainable development, known as the Sustainable Development Goals (SDGs). Our world should become a place where people are able to live in peace with each other in ways that are ecologically compatible, socially just, and economically effective.