Normally, the refugee women who work at the Frankfurt tailor workshop Stitch by Stitch produce high-quality fashion. When the orders started falling off due to the corona pandemic, they faced the threat of reduced working hours. But they suddenly received enquiries from doctors' offices, nursing homes and private individuals for mouth and nose protection. Stitch by Stitch reacted quickly and expanded its product range.
"We can't keep up with the work." Nicole von Alvensleben is still amazed at Stitch by Stitch's quick rebound. The Frankfurt company is a tailor workshop and social enterprise all rolled into one, founded four years ago by fashion designer and tailor Claudia Frick and the marketing and communications expert von Alvensleben to help refugee women in Germany find work. Normally the tailors make collections and design sample models for fashion companies. Since mid-March, however, they have been sewing mainly masks.
When the corona pandemic hit Germany, Stitch by Stitch's orders dropped off. "We thought we would close and propose short-time work," von Alvensleben recalls. But at this very moment an unusual order arrived from another manufacturer who ordered face masks. Before long, the enquiries were endless. We were contacted by nursing homes, moving companies, doctors' offices, museum shops, and of course private individuals. Stitch by Stitch responded quickly. They purchased large quantities of fabric and 5,000 metres of elastic cord.
From simple design to fasionable one-off
Actually, the name of the workshop stands for high-quality fashion. "Design is where we excel," says Frick, who co-founded the fashion label Coco Lores in 2008. And that is why they started "to develop their own mask designs". In the meantime, customers can choose from nine versions in the company's online shop, some of them embroidered. The basic model is the best-seller, but the adjustable denim mask is also popular. Companies that order 100 masks or more can have their logo sewn into the side upon request.
"We can't keep up with the work."
"We are glad that we have work," says von Alvensleben, "and that our work is helping to overcome the crisis." The company itself owes its existence to a special challenge. As part of its aid for refugees, in 2016 KfW Stiftung awarded Stitch by Stitch a prize for its idea of training migrant women as tailors and thus giving them a professional and financial opportunity. The company was incorporated into the "Ankommer. Perspektive Deutschland-Programm" (Newcomers. Prospects in Germany Programme).
Stitch by Stitch began with two refugees. Today, 14 women work in the social enterprise, including ten tailors from Syria, Afghanistan, Iran, Madagascar and Ethiopia. Seven of them are still apprentices, and three have since completed their apprenticeship, including Esraa Ali, who had fled Damascus with her family and joined Stitch by Stitch in 2016 at the age of 20.
Read more under the image gallery.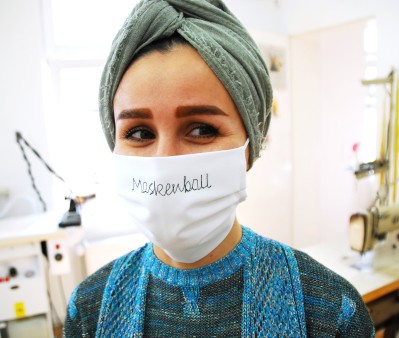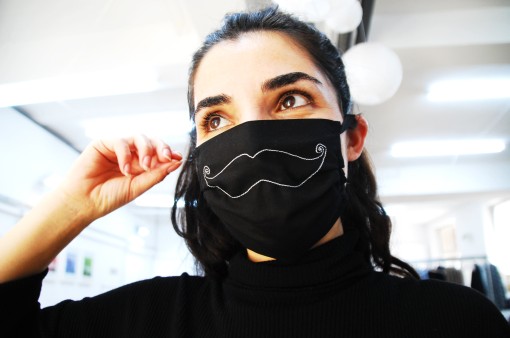 The fashionable masks are sometimes creatively embroidered. This series is called "Maske #2 mit vielen Lippenbekenntnissen" (Mask #2 with lip service). You can choose between the words "Maskenball" (masked ball) or "Mundart" (dialect).
From PET bottle to item of clothing
The city of Frankfurt continues to support the company as it offers training, not just vocational. The immigrants take German language classes, receive extra tutoring in German and mathematics at Stitch by Stitch and are coached for exams. Von Alvensleben explains that the women who come to them without a school-leaving certificate could somehow find a way to study for a degree by way of apprenticeships and apprenticeship certificates and a master craftsperson's examination.
The founders' commitment was recognised after the KfW Stiftung awarded them the Entrepreneurs Award for the city of Frankfurt in 2017 and a spot on the shortlist for the German Integration Prize in the same year.
The workshop launched its own label a year ago. "Sustainability is our guiding principle," explains Frick. Most parts of the collection are made from a fabric that a German company makes from recycled PET bottles. However, the work on the company's own brand had to take a back seat at times, as the external orders kept the workshop busy. Sales doubled last year.
When it comes to mask production, the company stays true to its own line. According to von Alvensleben, the cloth mask, which all German federal states will require people to wear on public transport and in stores from the end of April 2020, will become a "fashion statement". A stylish mask can also bring "a little lightness" to a crisis situation. "We are not running out of ideas," says the manager. And so, Stitch by Stitch will not only offer a face mask made of virus-resistant material, but possibly also accessories like a bag for the mask, protection for protection so to speak, or gloves with the same design and material.
Published on KfW Stories: 28 April 2020.