The start-up Linguedo is solving a distribution problem on the European labour market: Germany has far too few nurses, while in Italy and Spain not all trained nurses can find a job. One of them was Kristine Kasala, who now works as a nurse in Darmstadt, thanks to Linguedo.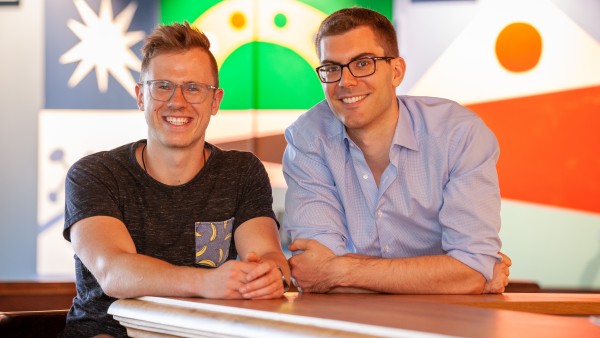 Kristine Kasala successfully completed her nursing degree in Rome. But after enjoying a brief moment of pride upon passing her examination, she was very frustrated to find a lack of good opportunities. There are too many graduates in Italy for too few jobs – that are also poorly paid.
Two years ago, the 24-year-old came across Linguedo while looking for a job on the Internet. The German start-up founded in 2016 promises a professional future at a German hospital, offering personalised support and an intensive language course specifically tailored to Italian nurses.
"At first, I was a bit nervous and wasn't sure if they were legitimate," she says today, laughing. "It just sounded way too good." But she wanted to work and pursue a livelihood, so after initial contact, she signed up for the nine-month language course, which she attended for at least one hour a day via Skype.
She learned vocabulary, grammar and, among other things, how to flirt in Germany. But unlike other language courses, nursing staff also have to be familiar with difficult German technical terms like 'long-term blood pressure measurement' or 'forearm crutches' to successfully complete a degree. In the meantime, Kasala has mastered this special knowledge, which qualifies her to work in German hospitals.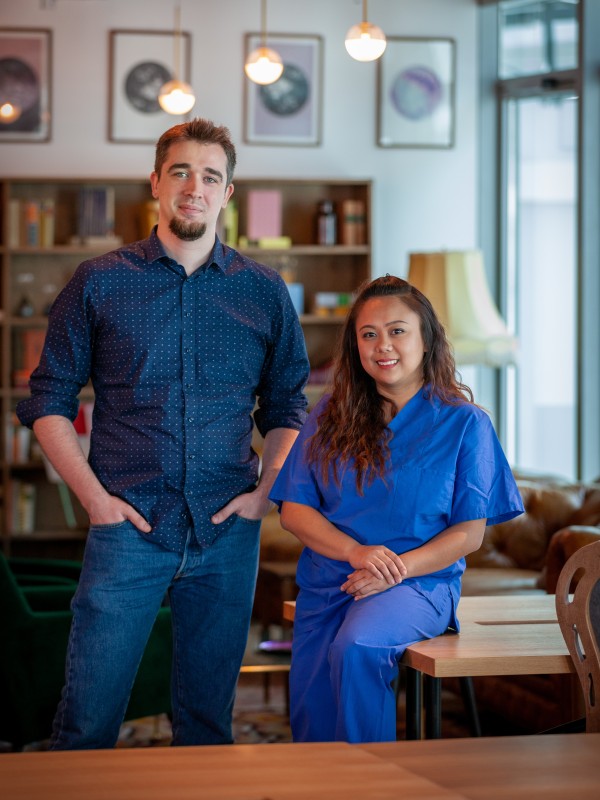 Young, modern and digital
For almost half a year now, Kasala has been working in the intensive care unit of the Agaplesion Elisabethenstift in Darmstadt. "I am happy. Work in Germany is more accurate and precise," she reports. Of course, she is homesick sometimes and misses her parents and boyfriend, who stayed behind in Rome. But he is visiting right now, and she is radiant in her blue nursing gown.
Felix Vacek, integration manager at Agaplesion Elisabethenstift, works with Linguedo's founding duo Matthias Gilch and Dominik Nitsch to fill vacant positions in nursing. "The two of them are young, modern and digital. That appealed to me right away. And now I am also very convinced of the merits of the language programme," he says.
Kristine Kasala already completed the first handover on her own after just two weeks of training. "The patients support me and are very understanding," says Kristine. This is because sometimes she still searches for the right word or asks someone to speak a bit slower so that she can understand everything.
Integration Manager Felix Vacek has more difficulties with the lengthy and often very different procedures for recognising qualifications. "Since nursing is different in Italy, we have to train people as nursing assistants for about six months." The hospital provides an apartment and Vacek is their contact person, should problems arise.
Social start-up
Linguedo has placed around 150 nursing staff from Italy at a dozen hospitals in Germany, mainly in Munich. About 70 more are currently learning German in the language courses. In the meantime, the young entrepreneurs – who are 25 and 28 years old – are also expanding into Spain, as more nursing staff are currently being hired in Italy.
"We see ourselves as a social start-up," says Dominik Nitsch. For the co-founder of Linguedo, social entrepreneurship is the key to solving the world's problems. The Social Impact Lab Frankfurt gears its training to founders like Nitsch with a training programme called AndersGründer ("StartupDifferent"). Here Nitsch also learned how to solve societal and social problems through entrepreneurship.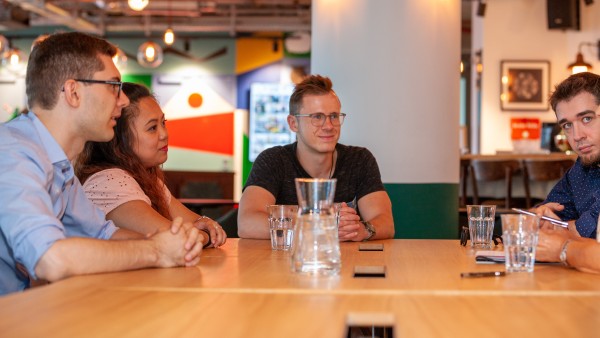 Sustainable job placement
Dr Martina Köchling, the responsible Programme Director at KfW Stiftung, is delighted at the high level of commitment and success. "Linguedo is an outstanding example of how our Responsible Entrepreneurship pillar can be put into practice. The social start-up has devised an approach to cover the shortage of skilled workers in the nursing sector, acting as an intermediary between opportunities for companies and for individuals." "The combination of innovative language training and nine months of support until the first day at the new workplace is the first step towards sustainable employment."
Linguedo has rented offices in the co-working space Mindspace in the Eurotheum office tower in Frankfurt. Most of the 14 permanent employees work there, along with the managing directors. The language teachers currently teach their students in Italy via computer. Kristine Kasala warmly embraces her teacher during her visit to the Linguedo office. She still remembers well what it was like to sit in front of the screen in Italy and is happy that she made the move to Germany.
Published on KfW Stories: Tuesday, 30 July 2019