Antibiotics have been the most efficient weapon against bacterial infectious diseases to date. But due to widespread use, they are becoming less and less effective. Multi-drug-resistant germs are on the rise. Researchers at the German-French start-up Allecra have now developed an effective shield for antibiotics and want to bring it to market as quickly as possible.
The danger posed to humanity by multi-drug-resistant germs has long been known to the international community. Back in 2015, Chancellor Angela Merkel even put the fight against the spread of resistant germs on the agenda for the G7 summit at Elmau Castle in Bavaria. The German Minister of Health at the time, Hermann Gröhe, warned of a "relapse into the pre-Penicillin age". Since 2015, the situation has become even more acute.
Experts estimate that about 700,000 people worldwide currently die from multi-drug-resistant germs every year. An analysis conducted by the Institute of Hygiene and Environmental Medicine at Charité Hospital in Berlin assumes that this number could increase to ten million by 2050 if no countermeasures are taken. This would mean that more people would die of infections from multi-drug-resistant germs than from cancer today.
"Antibiotic resistance is a danger that is growing exponentially and continues to increase," confirms Nicholas Benedict. The 54-year-old is CEO of the start-up Allecra, which has established itself in the border triangle around the pharmaceutical stronghold of Basel. The company has declared war on multi-drug-resistant germs with a new drug, a β-lactamase inhibitor known as AAI101. β-lactamases are enzymes formed by resistant germs. They render antibiotics ineffective and therefore play an essential role when bacteria become resistant.
AAI101 is an inhibitor that makes these β-lactamases harmless. Simply put, the β-lactamase inhibitor ensures that an antibiotic works even if bacteria are resistant to it. Nicholas Benedict says: "What we are developing is a protective shield for antibiotics."
The head of Allecra says it clear: "We have to conduct more research". Because new medicines are needed. However, antibiotic resistance cannot be overcome with new drugs alone. According to Benedict, further measures would have to be implemented to overcome the crisis. First, the excessive use of antibiotics must be curbed – not only for people who are ill, but also in agriculture. Antibiotics are used on a massive scale to fatten up livestock. Second, hygiene in hospitals must be improved in order to minimise the risk of dangerous germs multiplying as much as possible.
"Antibiotic resistance is a danger that is growing exponentially and continues to increase."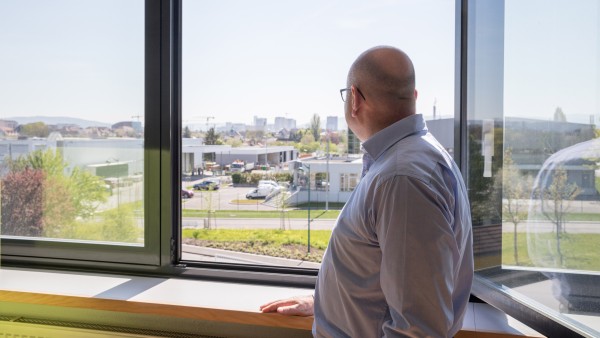 Allecra's headquarters is located in the German border town of Weil am Rhein, but the majority of the team is based in France, in a special-purpose building in the industrial area of the municipality of Saint-Louis. This is also where Nicholas Benedict has his office. It is sparsely furnished. The white walls are bare, a few pages of notes are lying on the desk, a small meeting table stands next to the wall and a family photo can be seen on the windowsill.
When Benedict looks out of the window of his office, he looks across the French-Swiss border to Basel. Two high-rise buildings immediately stand out, one belonging to the pharmaceutical giant Hoffmann-La Roche, the other to the Novartis Group. Benedict worked for both companies for several years and has been active in the healthcare industry for over 25 years. "This is an incredibly dynamic industry with unbelievably bright minds," he says. He grew up in the UK, studied at King's College London and the University of Manchester, and holds a Master's degree in Business Administration. He is now also a Swiss citizen.
More than a dozen scientists, developers and financial experts currently work for Allecra. Benedict hopes that the company will soon grow – cautiously. Take small leaps, move forward step by step: that, it seems, is his credo. Allecra carries out the studies required for product approval in collaboration with partners, universities or research institutes, as Allecra does not have its own laboratories.
Company history
Founded: 2013
Registered offices: Weil am Rhein and Saint-Louis
Goal: To develop novel treatments for combating multi drug-resistant bacterial infections
Product: A β-lactamase inhibitor called AAI101
It is not easy to find investors who will put their money toward the development of antibiotic drugs, says Benedict. Other areas offer better prospects of high returns. "We're used to antibiotics only costing a few pennies," he says. Which makes it difficult to set higher pri-ces for new products. But this is what it takes to be able to pay investors the profits they are hoping for.
Private risk capital is essential for research into new drugs like AAI101. There are now several venture capital funds that invest exclusively in biotechnology, medical technology and diagnostics. Among others, two VC funds in which KfW has also invested have a stake in Allecra. One of these private funds is Forbion. "As a promotional bank KfW is an investor that emanates a sense of calm. And it sticks with projects over the long run," says Forbion manager Holger Reithinger. This important signal can help to attract additional private capital.
BioDiscovery is the second VC fund through which KfW supports a number of start-ups in the pharmaceutical sector. ANDERA Partners backs the fund. Olivier Litzka takes care of the BioDiscovery funds for the VC company, one of which supports Allecra. The molecular biologist designs investment funds for biotechnology companies to provide them with risk capital. "We build bridges between investors and companies," is the way Litzka describes his role. Five BioDiscovery funds have already been established, and Allecra is also involved in the fourth fund, which has a total volume of around EUR 200 million.
Thanks to the financing, Allecra can now take the necessary steps to reach market maturity. The effectiveness and tolerability must be proven in clinical tests. These studies consist of three phases. The first phase, during which the preparation is tested on a group of healthy test subjects, has already been completed. Allecra's β-lactamase inhibitor is currently being administered in combination with an antibiotic to a selection of patients. This is the second phase. Many patients will be tested in the third phase, which is scheduled to start in summer 2018. "If we are successful, our drug could be on sale in 2020," says Nicholas Benedict. "I would be incredibly proud if we could make our small contribution to the battle against multi-drug-resistant germs."
Published on KfW Stories: Wednesday, 2 May 2018
The described project contributes to the following United Nations' Sustainable Development Goals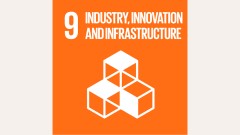 Goal 3: Ensure healthy lives and promote well-being for all at all ages
Health is the goal, prerequisite and result of sustainable development. Supporting health is a humanitarian requirement – both in developed and developing countries. Around 39 per cent of the world's population lives without health insurance. In poor countries, this amount even exceeds 90 per cent. Many people still die from diseases that are not necessarily fatal with the right treatment, or that could easily be prevented with vaccinations. Strengthening health systems, particularly by making vaccines widely available, can make it possible for us to drive these diseases back and even eradicate them by 2030.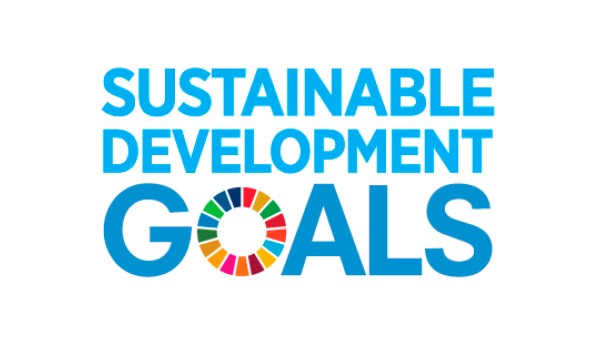 All United Nations member states adopted the 2030 Agenda in 2015. At its heart is a list of 17 goals for sustainable development, known as the Sustainable Development Goals (SDGs). Our world should become a place where people are able to live in peace with each other in ways that are ecologically compatible, socially just, and economically effective.