Small and medium-sized enterprises are particularly slow to invest in energy efficiency. However, the promotion options available to help businesses save energy are more attractive than ever before.
Let's assume you go to a bakery and buy a piece of cake for €2.50. Have you ever thought about how much you are paying for the energy that the baker used to make this one piece of cake? Auditors from Pricewaterhouse Coopers asked a range of SMEs to estimate the proportion of energy costs within their products and services. While responses varied greatly, the average figure provided by businesses ended up as 21 per cent of the gross sales price. For our piece of cake, that is equivalent to 49 cents.
Getting more out of energy
The German Ministry for Economic Affairs and Energy's information campaign "Germany Makes It Efficient" issues information about how to make the best possible use of potential energy-saving measures and what promotion options are available in this area.
Learn more
Though this may sound manageable for one piece of cake, the baker's energy bill adds up to several thousands of euros per year – and reduces his profits. "A portion of these costs could be avoided," says Harriet Wirth, Director of the Product Management division at KfW SME Bank. Be it machinery, processes or buildings – plenty of things that gobble up energy are hidden within businesses. Or why not look at it the other way round: there are a variety of ways to save energy just waiting to be discovered and tapped into. Nevertheless, many business owners are still hesitant, as a special study by the KfW SME Panel demonstrates. Just one in three entrepreneurs with fewer than ten employees invested in efficiency measures between 2012 and 2015. This figure rises to 48 per cent for companies with up to 50 employees. "Small businesses in particular shy away from the costs needed to update their energy systems," says KfW expert Harriet Wirth. "They often overlook the fact that investments are normally paid off after just a few years thanks to low interest rates and high repayment bonuses."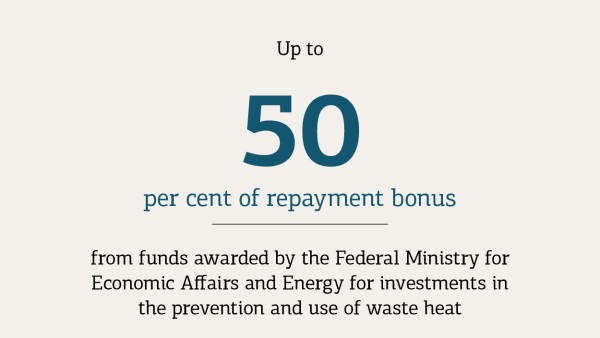 In contrast, large companies have proven to be more than happy to invest, with 61 per cent having already successfully invested in energy efficiency. And KfW is expecting further impetus in this area following the elimination of revenue restrictions for the KfW Energy Efficiency Programme in July 2015. Since then, large companies have also been able to access a wide range of promotional products. Any business wishing to invest in energy-efficient systems, machinery or processes is able to apply for KfW support, even if the anticipated energy savings are as low as 10 per cent. Motors, air compression systems, pumps and control systems are all an especially rich source of energy-saving potential. Investments in commercial property can also be worthwhile. From individual measures, such as insulating the shell of a building or using efficient heating and ventilation systems, through to a full refurbishment to KfW Efficiency House standard or even the construction of a new Efficiency House-certified building, any action can help to "save up to 80 per cent of energy, depending on where you start from." No matter what type of measure is used, one rule always applies: the higher the energy efficiency standard achieved, the higher the repayment bonus. In the real estate sector, bonuses of up to 17.5 per cent of the loan amount are available.
A new addition to KfW's corporate financing programme is the KfW Energy Efficiency Programme for Waste Heat, which is promoted by the Federal Ministry for Economic Affairs and Energy. Set up by KfW in May 2016, it focuses on an area with particularly high potential for savings. Process heat makes up around two thirds of total energy requirements in industry. It is the type of energy most likely to be lost after being used just once. "A business investing in systems that either minimise this loss or help to recycle waste heat can benefit from repayment bonuses of up to 50 per cent," explains Harriet Wirth. If we return to our baker from the beginning of the article, this means that "an investment of around EUR 100,000 could help him to save EUR 13,000 in energy costs a year. With repayment bonuses of 40 per cent – a realistic figure – his investment would be paid off after just six years or so. And his important contribution to the energy transition goes even further."
When it comes to buildings, many individual measures are also eligible for funding. You don't necessarily have to turn the whole operation inside out. It is much more important to identify potential savings and approach them in a logical sequence.
Published on KfW Stories on Tuesday, 25 April 2017