Julia Schnitzler is the managing director of Strassburger Filter in the fourth generation. The process engineer explains how she holds her own as a woman in this male-dominated industry and what she does differently from her father.
When were you certain that you would follow in your father's footsteps?
I was always certain of that. Even as a child, I was often in and out of the company. We lived right next door.
Your father comes from a generation in which it was unusual to have a woman at the helm of a company. Did that affect your work together?
From the very beginning, my father felt I was capable of taking on his role one day. There were no difficulties when he handed over the company. We have always gotten on very well. But I also didn't have a brother to compete with.
How did long-time employees react to the new boss? After all, they had known you since you were very young.
But they also knew that I worked in the company while I was in school and attending university. That included work in the manufacturing department, where you really have to knuckle down. They knew from the start that I know what I'm talking about. I was also able to provide knowledge from my experience outside the company. I had previously worked for a large mid-sized company in the power plant and environmental technology business sector for several years. That proved to be a good combination.
In many smaller mid-sized companies, the head of the company has a close confidante in operations. Do you? Is this person the same associate your father trusted?
Yes and no. Firstly, of course there are long-time employees who have expertise. I rely on them. But I have also established new close ties. But my most important confidantes are my parents. My mother even still works in the company.
How is your management style different than your father's?
I think I leave less to the staff and take more matters into my own hands. One employee even once described my leadership style as patriarchal (laughs).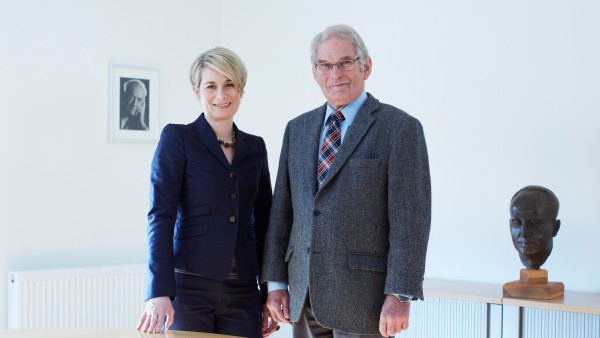 But you don't come across as someone who would make that kind of impression.
Well, perhaps some men have a problem when women don't do things exactly the way they want them to after all. I really do always try to involve the staff. That's good for the business.
What have you changed as the head of the company?
My father didn't tackle too many new things anymore, which surely had to do with his age. So my job was to think about how I could equip the company for the future. I had to improve controlling, develop a marketing strategy and, most importantly, decide which products are the right ones for the future. I had to look forward and couldn't limit myself to what we already had.
Your company produces filtration systems for solid-liquid separation. Have you been able to gain new customers for this?
Most of our customers used to be wine-makers. At some point I noticed that there wasn't much more we could do in the wine-making industry. The market is more or less saturated. The pharmaceutical and chemical sectors, on the other hand, offer opportunities for growth. Around 60 to 70 per cent of our turnover now comes from these industries.
As the head of a small mid-sized company, you were part of a trade delegation that accompanied Angela Merkel to China in 2012. How did that come about?
Very simply: I applied for it. I had been interested in the Chinese market for a while. At that time, we were only involved in China through a distribution partner. Soon after the trip to China, we opened a representative office. In fact, it is Strassburger Filter's very first foreign office. We have since even established a company in China. We are among the wholly foreign-owned enterprises, the equivalent to German GmbHs with exclusive foreign ownership according to Chinese law. Looking back, I can say that this trip with the Chancellor gave me the impetus to start something new.
Were you able to generate new business during the trip?
No, but pictures with the German Chancellor or the previous Premier of the People's Republic of China Wen Jiabao build confidence, even years later. They are like references.
Why is the Chinese market so important for you?
It is the market with the greatest growth potential, plain and simple. Our filtration system for blood plasma fractionation is in demand there. At the moment, China can only cover around 50 per cent of its demand and must purchase the rest on the global market. The Chinese are currently in the process of adapting their production to steadily increasing demand.
So your business is going well?
We chose the right business sector at that time when we decided to focus on blood plasma fractionation. Production capacity in this sector is currently being expanded globally, not just in China. In Germany and Switzerland, too. As a filter manufacturer, we benefit from this trend. Our turnover increased by 30 per cent in the past three years. We will therefore expand our manufacturing capacities. Otherwise we wouldn't be able to keep up with the growing demand.
What role do promotional banks like KfW play for you?
A large role. We were able to build an assembly hall using a KfW Entrepreneur Loan, for example. Before that, the Investment and Economic Development Bank of Rheinland-Pfalz helped us with a loan. These types of promotional loans are absolutely necessary for small businesses like ours to grow.
As a mother of three, what is your response when you are asked how you reconcile work and family?
There can only be one answer to that question: would you ask a man that? But seriously: I am a manager and organising things is my job. That is not a problem for me.
Will one of your children become the head of the company one day?
I hope so. But when it's time for the decision to be made I will handle it as my parents did and not put any pressure on my children. You have to want to do this job.
Many medium-sized enterprises are not able to find a successor within the family. What would have to change in Germany to change this?
In general, our society should provide more support for taking risks. We need to become bolder again. People need to consider entrepreneurship a worthy goal.
Can you imagine selling the business one day?
Someone would have to offer me a very good price (laughs). No. At the moment I am doing exactly what I want to do. I wouldn't dream of selling.
Published on KfW Stories on 13 February 2018, updated 17 April 2023.