Back then
The 2010s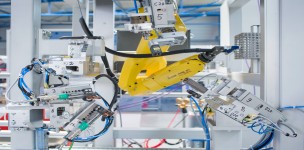 KfW has faced numerous challenges since the beginning of the new decade. Requirements resulting from the banking and financial crisis, growing demand for long-term, large-volume loans, changing client needs and regulatory changes require new solutions, processes and structures.
Further information
The German Federal Government's "KfW Energy Turnaround Action Plan" launches in 2011. As the largest financier of the energy transition, KfW has been supporting the objective of the German Federal Government to transfer energy production to renewable sources by offering low-interest loans to municipalities, companies and private customers. The financing volume in the Energy Turnaround Action Plan already exceeded the EUR 100 billion mark at the beginning of 2017.
Today, KfW Group is one of the world's most important promoters of renewable energy sources. In Germany, it helps companies to switch their own energy supply to renewables.