Blechwarenfabrik Limburg saves energy wherever possible. KfW supports this sustainable strategy with promotion loans. The mid-sized company has received the 2020 German Environmental Award for its efficient use of resources.
Blechwarenfabrik Limburg started with the tin can. The company was founded in 1872, and nearly 150 years later, it is still manufacturing tin cans. However, the 350 employees at the company's headquarters in the Hessian town now use ecologically exemplary methods to produce the metal packaging. The German Federal Environmental Foundation (DBU) described Blechwarenfabrik Limburg as "an excellent industrial enterprise that makes efficient use of resources and sets an example to the whole manufacturing sector" and awarded it the 2020 German Environmental Prize, the best-endowed award of its type in Europe.
"Over 50 per cent of our costs are incurred procuring tinplate and paying our energy bills," says Hugo S. Trappmann, the company's CEO. Using resources efficiently is therefore of economic importance to the company as well. "The company has a long tradition of sustainability," says Annika Trappmann, who worked her way up to join the management board in 2020. As an example, the company's environmental and energy management processes have been certified ten years ago already.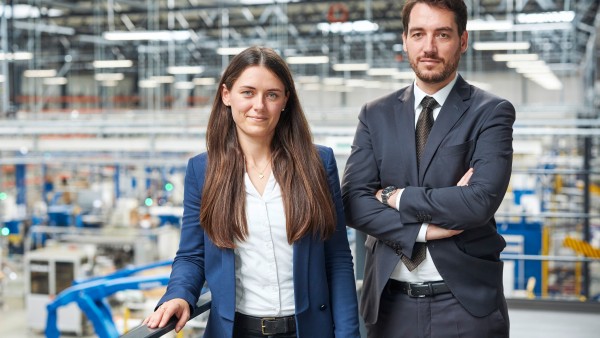 Start of a more sustainable era
The young Trappmann siblings, aged 38 and 28, are continuing the work of their father Hugo, who was Managing Director of Blechwarenfabrik Limburg from 2000 to 2015 and holds 20 per cent of the company's shares. The remaining 80 per cent is owned by the Saarland-based Obenauer Group.
Since late 2018, the business has been based at its new headquarters in an industrial area on the northern edge of Limburg. The move from the old factory, which is due to be finally completed in early 2021, also marked the start of a more sustainable era. With all its nooks and crannies and its multiple levels, it just wasn't feasible to refurbish the old factory building situated on the river Lahn in the town centre in a way to significantly improve its energy efficiency, says Annika Trappmann.
The new production hall with the administrative building satisfies the criteria of energy efficiency for buildings. Blechwarenfabrik Limburg achieves this reduction through measures including specially insulated walls and windows that filter UV light. This allowed it to finance around half of the 30 million euros of construction costs via a promotional loan from KfW.
Read more under the image gallery.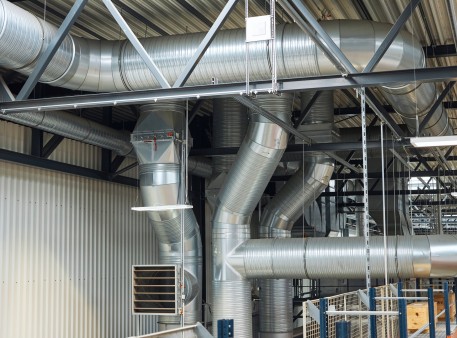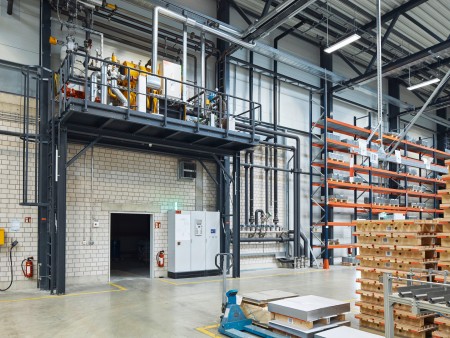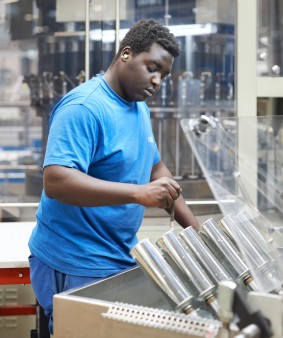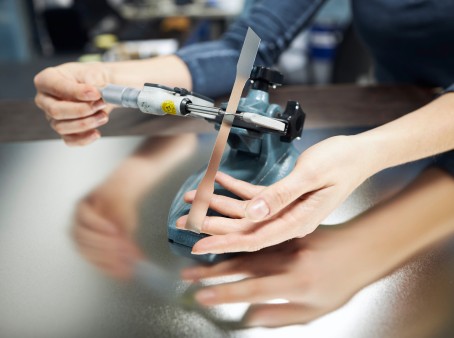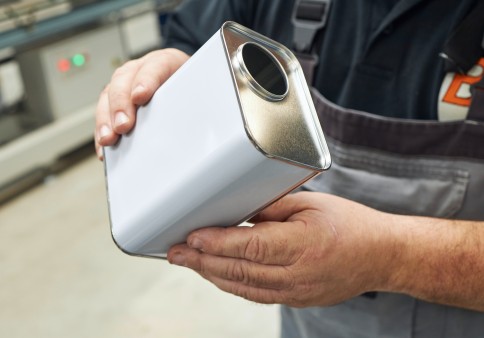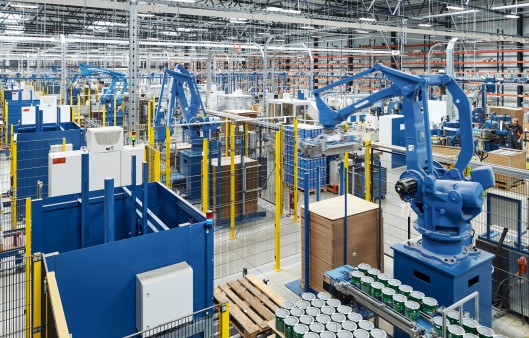 Limburger Blechwarenfabrik is using resources efficiently. In the cold season, the production hall is heated with exhaust heat from the paint shop.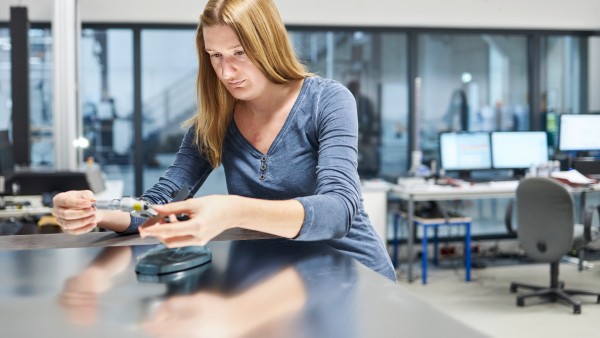 Tinplate in the circular economy
On behalf of the Federal Ministry for Economic Affairs and Climate Action, KfW also provided the Limburg-based company with additional loans for sustainability projects. Replacing gas ovens for drying with induction ovens reduces energy consumption, as does procuring electricity-saving plastic injection moulding equipment. As they use process heat smartly in the new buildings, there was no need to install either heating or air conditioning. "We heat the offices and cool our welding machine," says Annika Trappmann, "at the same time and from the same energy source: exhaust heat from the paint shop."
Thanks to environmentally-friendly investments, the company saves 2,600 tonnes of carbon dioxide each year. It almost goes without saying that around a third of the electricity required is produced by a photovoltaic unit on the hall roof.
A good carbon footprint is one thing, says Hugo S. Trappmann. However, a "bigger challenge" when it comes to sustainability is the circular economy. Blechwarenfabrik Limburg has an advantage there. The vast majority of what it processes is tinplate: 25,000 tonnes a year, equivalent to three-and-a-half times the weight of the Eiffel Tower. Tinplate, tin-coated sheets of steel, "is 100 per cent recyclable," says Hugo S. Trappmann, "and has by far the best recycling value of any material."
Blechwarenfabrik Limburg uses tinplate to manufacture cans, bottles, buckets and canisters, primarily for technical chemical substances, in sizes ranging from 100 millilitres to 35 litres. On a three-shift pattern, six days a week, steel sheets are coated, printed, cut, stamped, welded and given a top and a bottom.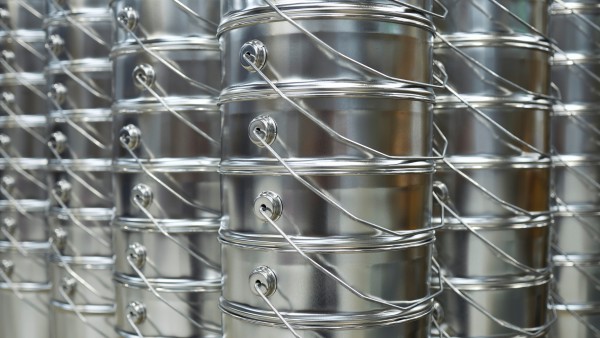 "Innovative by tradition"
In the large hall, presses and conveyor belts rattle. Twelve stamping lines and 15 final assembly lines will stand here once the two-year moving process is complete. Line by line, they have moved from the old factory to the new one while keeping operations going.
On the "roads" in the 22,000-square-metre hall, there is plenty of traffic. Fifteen driverless forklifts fitted with sensors slide noiselessly over the grey screed, unless someone is standing in the way, in which case they issue a warning beep. The autonomous transport vehicles carry steel trestles weighing multiple tonnes to the production lines, or transport the lightweight containers, stacked onto pallets by blue and yellow robots, to the lorry loading bays. A total of 1,000 pallets leave the factory every day.
"Our material flow is fully automated," says Hugo S Trappmann. "Making efficient use of resources through digitalisation is our real innovation." This applies in both production and building management. The LED lighting automatically adapts to the amount of light required in the various working areas around the hall.
A dozen firms are still manufacturing metal packaging in Germany. It is a small sector with a long history. No-one is dynamically developing traditional technologies any more, says Hugo S. Trappmann, because there is a lack of machine manufacturers. The company therefore designs and manufactures some of its machines itself in Limburg. This is another reason why Trappmann confidently states, "we're a leader in technology and quality when it comes to metal packaging."
The tin can is a 19th century invention. When Limburg-based master tinsmith Joseph Heppel began manufacturing cans in 1872, he was a pioneer. " Aus Tradition innovativ– Innovative by tradition," says Annika Trappmann, quoting Blechwarenfabrik Limburg's motto. They have stuck to the tried-and-tested tin cans here, but today they manufacture them using digital, energy- and resources-saving methods.
Published on KfW Stories on 23 October 2020, updated on 1 March 2022.