Climate change affects us all. Everyone can play a part to contain the climate crisis. So what can each of us do? Our guide contains 50 tips from different areas of life that will help you to act responsibly. Be inspired by our suggestions in the four categories "buy & consume", "drive & fly", "live & reside" and "work & earn". Here are the tips in the category "work & earn".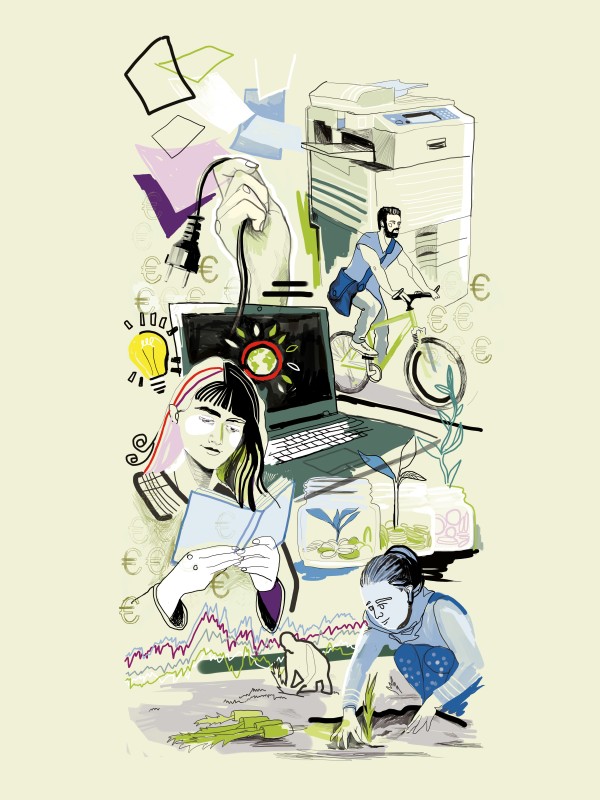 42. Laptops instead of monster computers
Say goodbye to monstrous desktop computers. Laptops are often already just as powerful as large computers and are much more energy-efficient.
43. Saver doesn't save
Do you really think that the screensaver with its psychedelic designs or nature photos saves electricity in your absence? Actually, the opposite is true: the monitor is still running, and the graphics card and RAM are also in continuous use. It's better not to use a screensaver or to switch off the computer completely!
44. Make sustainability a principle!
Do the staff in your company's purchasing department give priority to environmental protection? As an employer, draw up a guideline to ensure that all purchases are reviewed to determine their climate footprint. Or suggest this if you are an employee.
Laptops are much more energy efficient than desktop computers.
45. Energy-efficient internet search
Every move you make online consumes energy. Server operation in particular is very energy intensive. Two hundred Google searches consume as much energy as ironing a shirt. Even though Google is increasing the percentage of renewable energy sources, an alternative outperforms this internet giant: Ecosia! The German search engine runs on 100% renewable energy, in addition, a tree is planted for every approx. 45 searches. This is because Ecosia passes on the profits from advertising revenues to reforestation projects.
46. The right reading material
How do you read when you take the subway to work? Books and e-readers of course have different climate footprints. A study by the Freiburg-based Öko-Institut found that e-readers do better when avid readers use them to read ten or more books per year. The most sustainable solution would be to get the reading material from the library.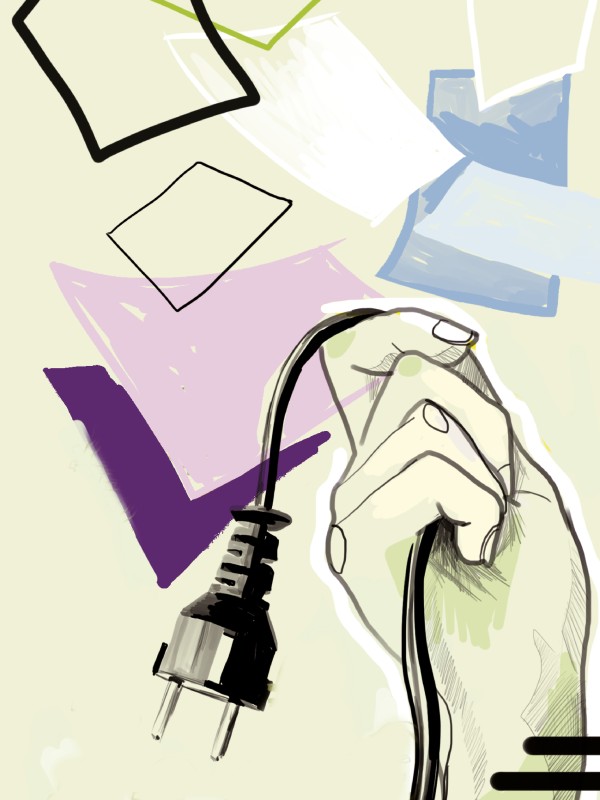 47. Green investments
What to do with the money you save? Remove your money from investments that finance the exploitation of the planet and switch to environmentally sound investments. For example, KfW regularly issues green bonds. These are bonds that are used to carry out sustainable projects.
48. Hop on your bike!
As an employer, encourage people to cycle to work You can do this by making a fleet of bicycles available to your employees, with parking spaces, showers and changing rooms for sweaty employees.
49. Paperwork
It does not always have to be spotless white paper. If you cannot avoid printing something in your office, use recycled paper. It only takes half the energy to make as virgin fibre paper.
50. The last to leave turns off the lights
If you are always the last one in the office anyway, switch off any monitors or printers that are running unnecessarily on your way out and turn off the lights.
Published on KfW Stories: 6 October 2020.