A public transport company in Germany is expanding electric rail in Germany, wind power is booming in Argentina, and Bulgaria is promoting energy efficiency in homes. This shows the progress being achieved in the global transition to clean energy.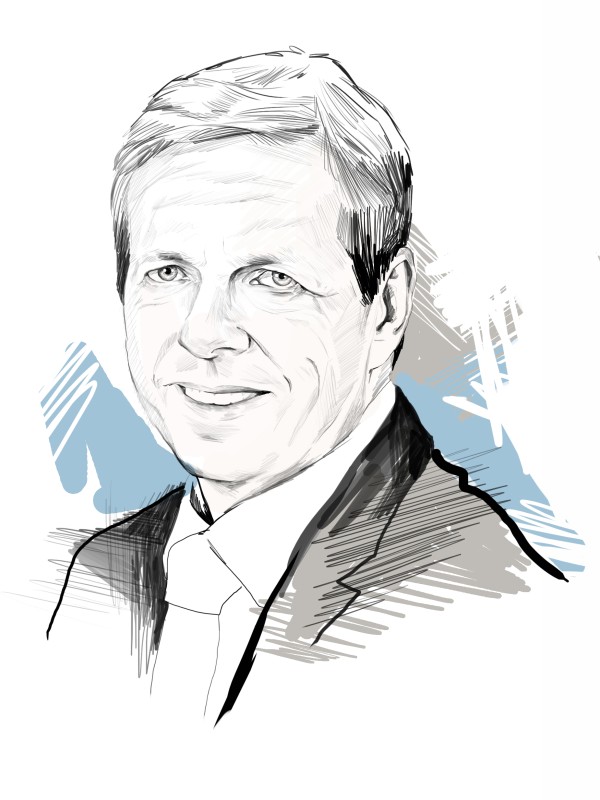 Electric trains between East and West Germany
When the states of Hesse and Thuringia announced a joint call for tender to promote the expansion of rail services across the former Inner German border in 2005, we submitted an application through our subsidiary Cantus. At the time, many in the industry said: "you don't have a chance as a small provider – and if you win the bid, you will be operating at a loss." So today, there is even more interest in the success story we have experienced since the first Cantus train made the journey between Bebra and Eisenach.
Since 2006, our Kassel-based company Cantus has been providing regional rail transport for people in northeast Hesse. The Bebra–Eisenach route is particularly significant. This route has led through the Werra River Valley since the beginning of the 20th century. When Germany was divided, it was the most important route for transport across the Inner German border. After reunification, rail traffic diminished, and the train stations lay virtually dormant. But since our blue, white and orange electric trains have been running, new links have developed.
We have used environmentally friendly methods to create supply in an region that includes economically underdeveloped areas, which is being met with increased demand. Interestingly, this is happening in both directions, with commuters from Thuringia using our services to get to work in Hesse, while students from Hesse commute to Thuringia. Cantus offers good coverage with 17 to 18 connections each day in both directions, which we plan to expand.
KfW IPEX-Bank is playing a key role in this project. When we wanted to finance our 20 state-of-the-art trains, KfW IPEX-Bank was one of the few partners with experience in our industry. We were only able to raise the EUR 80 million and implement our plans with this partner's help.
This success has been unique: we have created green and reliable local transport services. The passenger volume has been growing by 4% per year – the national rate is around 2.5%. We have been making a profit since our first year of operation. And we have gained a great deal in a human sense, too: private relationships between employees from the former East and West have been growing dramatically.
I am also pleased with these strong connections on a personal level, as I grew up just two kilometres away from the rail route in Thuringia when the country was still divided.
Argentina benefits from Europe's expertise
Argentina has ideal conditions for using wind and solar power. But renewables have only received the necessary support to make them competitive energy sources in the country within the past four years. Changes to Argentinean renewable energy legislation in 2015 created a more robust legal framework to increase investments. The law sets out a clear objective: to increase the proportion of renewable energy sources in the domestic electricity mix to 20% within ten years.
By taking this approach, we are convinced that Argentina will assume a leading role when it comes to generating sustainable energy in South America in the future. As independent power plant operators, we specialise in thermal and renewable energies and have a great deal of experience in operating wind farms. During implementation, two important factors have been the outstanding equipment from Europe, like that of the two world-class wind turbine manufacturers Nordex and Vestas, as well as the comprehensive financial support. The European financial institutions draw on their full wealth of experience to provide support for the expansion with intelligent financing solutions.
A good example is the cooperation with KfW and its subsidiaries KfW IPEX-Bank and DEG. After signing four credit facilities totalling over USD 300 million, these institutions committed to facilitating stable financing.
One of our most recent successes is the Pomona wind farm, which came online this summer. Thanks to this project, we have been able to cement our leadership role in Argentina, with 498 megawatts of installed renewable output and a market share of over 35%. Europe's expertise is the key to the rapid development of renewables in Argentina.
Improving homes and increasing awareness
The Bulgarian energy sector has made considerable progress in the past decade. As a dynamic liberalisation process has been undertaken, we have seen an increase in renewable energy sources. The share of renewables was only 9.4% in 2007; in 2015, this number had already risen to 19%.
We are pleased with this development given our work as a national promotional bank to support sustainable infrastructure and businesses with appropriate financing, as well as our strong commitment to a future-facing energy sector in Bulgaria.
Our participation in the state-subsidised national energy efficiency programme serves this mission. The goal here is to increase the energy efficiency of multi-family housing and promote SMEs in Bulgaria. The positive effect on the country's environmental impact is substantial, saving 726 million kilowatt hours of power – equivalent to 319,000 metric tonnes of carbon dioxide. Previously, the Bulgarian Development Bank had provided EUR 1 billion for energy modernisation in privately owned flats. KfW provided co-financing for energy-efficient rehabilitation of around 500 buildings in this case, which was equivalent to about 25% of the entire programme. At the same time, it provided support to the Bulgarian SMEs that completed the rehabilitation projects. The investments cannot be measured in figures alone. They also influenced consumer behaviour, while increasing awareness of personal energy consumption and its effects on the climate.
Source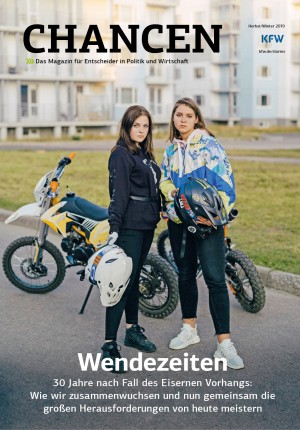 This article was published in the autumn/winter 2019 issue of CHANCEN magazine "Wendezeiten".
To German edition
As the CEO of a development bank, I am convinced that we create important incentives for implementing solutions to political and social issues. We establish partnerships to this end, allowing us to be more effective when carrying out sustainable initiatives. After all, every key player needs to take responsibility for progress when it comes to our environment – politicians, energy suppliers, investors and financing partners alike.
Published on KfW Stories: 10 December 2019.