Delivering vaccines and other important goods to places that are hard to reach is time-consuming, unsafe and expensive. Wingcopter has developed an unmanned drone that is used for humanitarian purposes. KfW chose the start-up as the winner of the KfW Entrepreneurs' Award 2020 for the state of Hesse.
Video: How Wingcopter plans to use drones to bring medicine to remote areas, for example. (KfW Group/n-tv). This video is only available in German.
Jonathan Hesselbarth comes from a family of gliding fans and he spent much of his childhood at the airfield. Later, he sent up drones he had built himself and tested their potential load by flying a bottle of beer to friends across a field.
During his mechanical engineering studies, he met like-minded inventors and spent a lot of time at the university's Akaflieg aviation club. Here he built prototypes for a plane that can take off vertically and then fly forwards.
Hesselbarth spent several years working intensively on the materials and technology and designed a flying machine with a two-metre wingspan and four rotors, which he named Wingcopter. What is special about it? It climbs like a drone, can hover in the air and switches to fast gliding within seconds. No runway is needed, and the landing is very precise. The Wingcopter is much faster and quieter than other models, and the swivel-mounted rotors mean that its flight is particularly stable, even in windy conditions. He protected the invention with patents in several countries.
Learn more under the image gallery.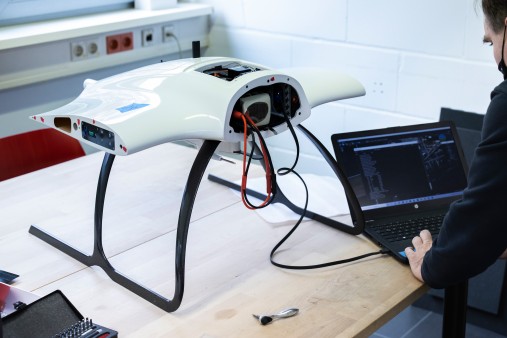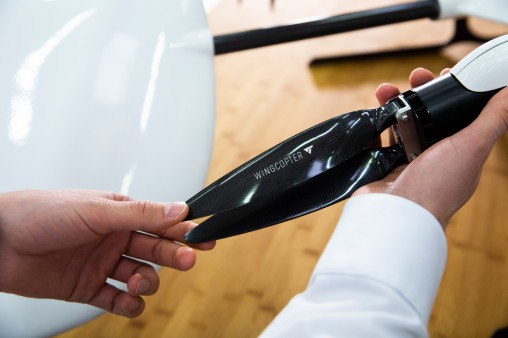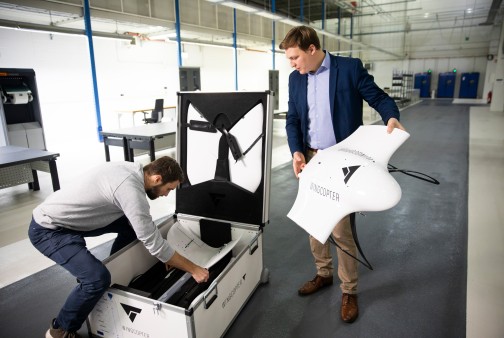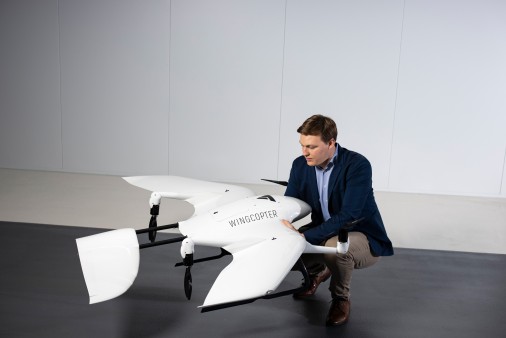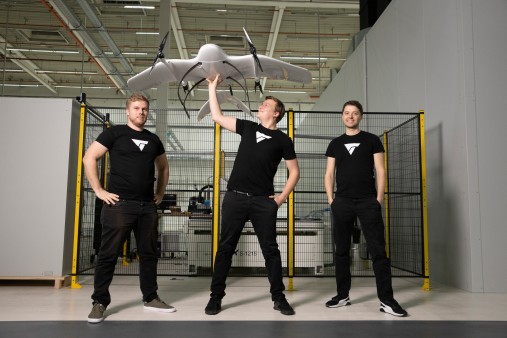 Many years of development work and sophisticated interior workmanship go into every product. The technology is protected by patents.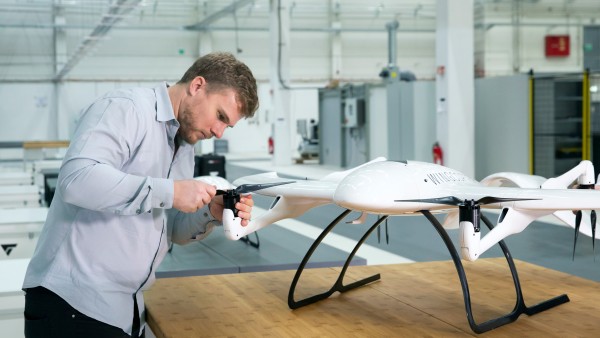 Prototype with potential
He met Tom Plümmer through a mutual friend. Plümmer told him about the year he spent volunteering in Ghana. A baby died in the house next door to his host family. With prompt medical assistance, it might have been possible to save the child's life. How about using the Wingcopter to deliver medicines to areas that are hard to reach? The two men formed a team. They got in touch with aid organisations and presented their idea.
To make themselves known, they also deployed some unusual methods: they decided to test the Wingcopter's maximum speed. With a maximum speed of 240km/h and a range of 120 kilometres, they secured an entry in Guinness World Records as the world's fastest drone. They also coated one specimen with 24 carat gold and presented it at a trade fair in Abu Dhabi as the "One Million Dollar Drone". It did not find a buyer, but some media reporting followed about the aviation fanatics from Darmstadt.
Ansgar Kadura was one of those who read about it on Facebook. He was studying industrial engineering and applied for an internship at Wingcopter. After working there for a few weeks, he applied to the Federal Ministry for Economic Affairs and Energy's EXIST support programme. The funding granted through the programme enabled the two developers to pay themselves and Kadura a salary for the first time. In 2017, the time had come: the trio founded Wingcopter as a private limited company.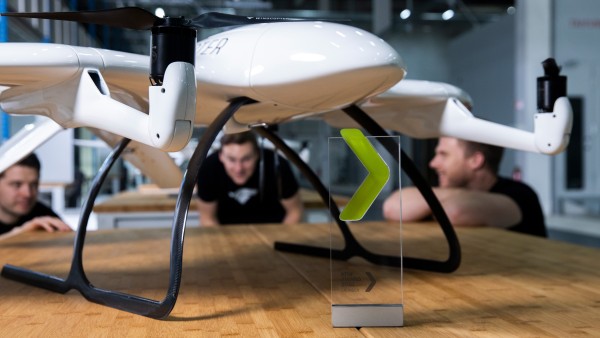 Pilot project in Tanzania
In partnership with DHL, international cooperation organisation Deutsche Gesellschaft für Internationale Zusammenarbeit (GIZ) and the Federal Ministry for Economic Cooperation and Development (BMZ), Wingcopter began a project in eastern Africa. Ansgar Kadura spent six months on location: "Ukerewe is an island off the banks of Lake Victoria. Around 400,000 people live in the region. The ferry is their only connection to the mainland and the crossing takes five hours. If, for example, a particular antidote is needed to treat a snake bite, the situation can become critical. With the drone, we were able to deliver medicines to remote areas in 40 minutes," he recalls.
In Vanuatu, an island nation in the South Pacific, the start-up supported UNICEF's regional vaccination programme. "A lot of places there are almost entirely surrounded by jungle. In order to vaccinate children, the nurses go on foot. They carry the vaccine doses in a cool box on their back. They may walk for up to 30 hours and during this time, the cold chain is not ensured. Using drones for transport solves the problem. They can carry six kilograms and the rope winch for lowering makes delivery possible even where there is no suitable landing place," says Kadura.
Developing countries have to solve lots of problems, and that creates a high degree of openness to innovation. Wingcopter is a hit in the western world as well, however. The start-up has flown coronavirus testing kits and insulin to islands off the coast of Scotland and Ireland. At the company headquarters in Hesse, its drones delivered laboratory samples flying over 25 kilometres from Gernsheim to Darmstadt. These delivery flights were as flexible as a courier journey, but far more environmentally friendly. Instead of the long car journey with high levels of emissions, the remote-controlled Wingcopter consumes electricity for just 50 cents.
Financial thrust
Just three years after it was established, Wingcopter employs over 100 people. The start-up recently won a prestigious hackathon organised by the Federal Ministry for Economic Cooperation and Development. The prize money will be used to train 160 people in Malawi and develop the local infrastructure for drone use.
The company is also seeing enormous interest from investors. In December 2019, a multi-family office from Singapore invested several million euros in a financing round. Just a few months later, the amount was topped up further.
Ansgar Kadura, who now runs the service division at Wingcopter, is delighted about how fast it has developed: "With the new capital we will grow at a rapid pace and be able to increase our competitive advantage. Drones can be used for many purposes. Unfortunately, these also include military applications. We have had a lot of requests in that vein, which we categorically refuse. Our drones fly under the motto "Drones for good" and for nothing else but that."
Published on KfW Stories: 21 December 2020.