Fear is an innate defence mechanism. However, if it arises frequently and in harmless situations, psychotherapy can help to understand what triggers anxiety and to learn new patterns of behaviour. The company Sympatient has transferred therapy content to an app and uses virtual reality for practice scenarios. The Hamburg-based healthcare start-up won the KfW Entrepreneurs' Award for this idea.
Video: We visit the team of Sympatient (KfW Group/n-tv). This video is only available in German.
As many as 30 per cent of people develop an anxiety disorder during their lifetime, which can have a variety of effects. Often the people affected are unable to travel, suffer from claustrophobia in confined spaces and on public transport or are extremely anxious in public. This can be accompanied by severe physical reactions such as a rapid heartbeat, sweating and shortness of breath.
The good news is that anyone suffering from an anxiety disorder can learn to overcome it in psychotherapy. Psychologist and Sympatient co-founder Julian Angern says: "60 to 80 percent of patients derive enormous benefits from guideline-based treatment." At the same time, he explains, four million people a year do not receive therapy as therapists do not have sufficient capacity. The disorder itself can also prevent access. For example, if someone has agoraphobia, it is usually very difficult to go to unfamiliar places.
Therapy from the comfort of your own couch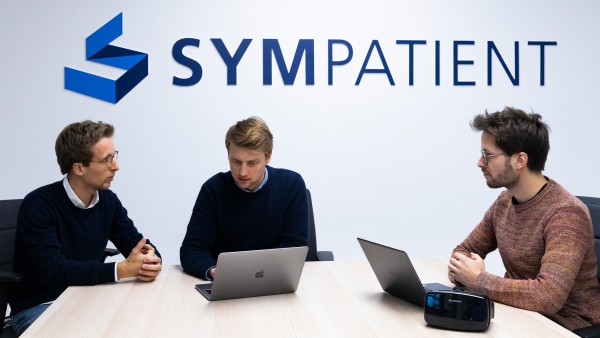 Treatment is also possible from home with the Invirto app. Prospective patients first have a three-hour psychological consultation to find out whether Invirto is suitable for their specific condition. If so, the equipment arrives in the post: it contains VR glasses, headphones and access to the Invirto app. In eight consecutive units, it provides comprehensive information about the disorder, what the causes are and outlines strategies on how to deal with it. A smartphone is inserted into the VR goggles for the extensive confrontation exercises. Now patients immerse themselves in situations that are difficult for them, this could be, for example, travelling in a crowded Hamburg underground. Accredited therapists accompany the entire therapy process. This involves several sessions via video call.
The provider Sympatient has thus adapted all the content of a traditional short-term therapy programme into digital format – with one exception. At the end of the four- to eight-week treatment, users are allowed to keep the Invirto set and can repeat the content as needed.
For those affected, this VR development offers a way to quickly resume normal everyday life. This is because untreated anxiety disorders run the risk of becoming chronic and causing ever greater limitations. Social withdrawal becomes more acute, the quality of life deteriorates and the likelihood of further illnesses such as depression increases.
Read more under the image gallery.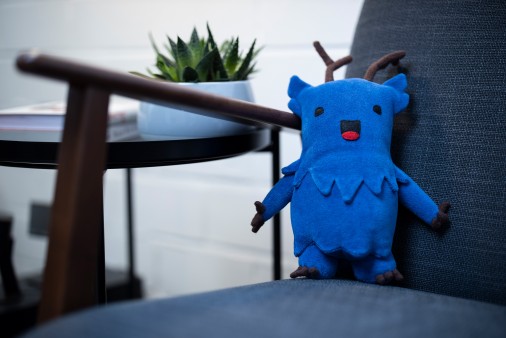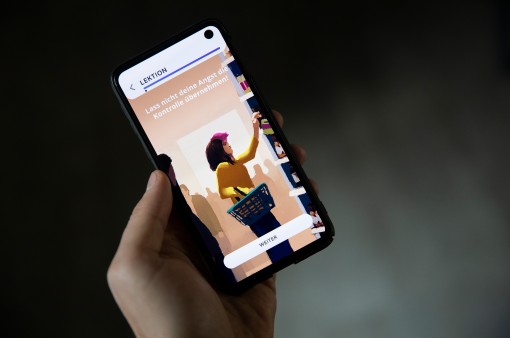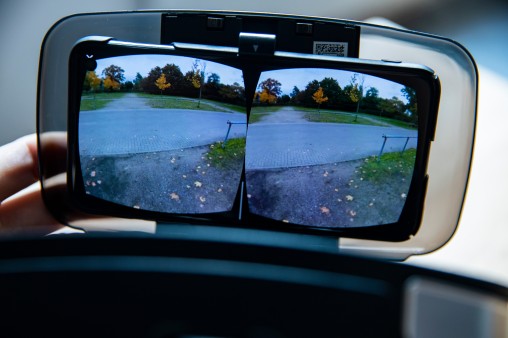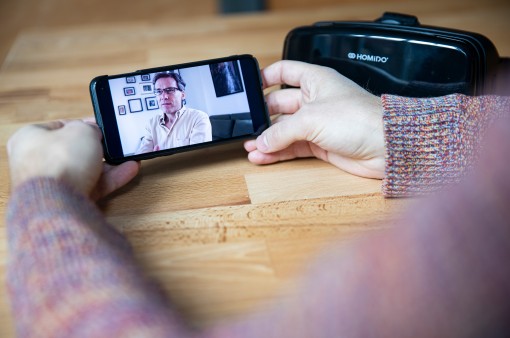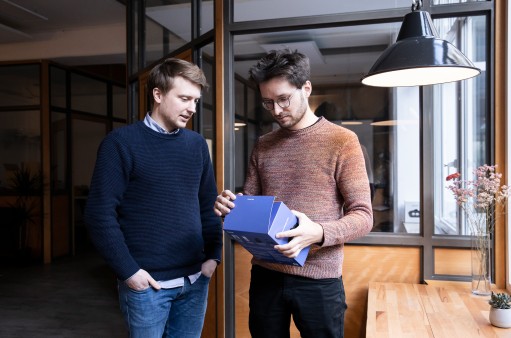 In the app, a little monster visually represents the fear - for many, this is a great help in dealing with it. Because sometimes this monster literally sits on the sofa with you ...
Greater reach through virtual reality
This was also something Julian Angern observed. While studying psychology, he worked at the University Hospital of Schleswig-Holstein (UKSH) on a ward for anxiety and obsessive-compulsive disorders. In his spare time, he explored virtual reality. By then, it was also possible for non-professionals to programme virtual worlds and create surprisingly real experiences. He told a senior doctor about it and aroused his curiosity – could it be used to support therapy? "So I lugged my computer and lots of cables to the clinic, arranged several sensors in a room and simulated situations like riding in a lift. The feedback was consistently positive, and the clinic was very interested in the technology," says Julian Angern.
His brother Christian Angern and Benedikt Reinke were in England at the time and in the final phase of their management studies. They still clearly remember the reports about the promising idea. But installing large, expensive systems in doctors' surgeries did not seem to make sense to them. A mobile solution could also reach previously unserved people. In addition, VR technology had matured sufficiently in the meantime to meet the special requirements in a private context as well.
Approval as a medical device
Sympatient GmbH was founded in autumn 2017. It was supported by the InnoRampUp programme of the Hamburger Förderbank and financed with venture capital and Business Angels. Thanks to the solid basis of more than two million euros, the founding trio was able to spend two years intensively studying the therapies of agoraphobia, panic disorders and social phobias and tailoring their VR application to these conditions.
The University Hospital Schleswig-Holstein (UKSH), a partner from the very outset, conducted the scientific studies for the product. This was the prerequisite for Sympatient's certification as a manufacturer of medical devices, which involves a complicated process. "This is not a sprint, but a long, hard marathon," says Christian Angern.
App on prescription
In the meantime, Sympatient employs 20 people and has received approval for the product as a Digital Health Application (DiGa). Doctors and psychotherapists can prescribe Invirto and all national health insurance companies reimburse the costs. This means that the application is free of charge for patients.
The digital version offers the health insurance providers many advantages: treatment for their members is guaranteed even if therapy spots are limited, and there is less danger of the disorder becoming chronic. Because this often leads to other illnesses, which in turn give rise to more costs. Health insurance companies have become more receptive to digital solutions during the coronavirus pandemic. Therapy providers have also switched to digital consultations so that they can continue to see their patients. For Sympatient, this is a good way to become better known .Media coverage of the KfW Entrepreneurs' Award also contributed to raising the company's profile.
For the future, the company plans to expand the technology to include a biofeedback process so that the success of the therapy becomes even more visible. The cost is high and the approval procedures are lengthy. But the prospect of being able to help the many anxiety patients who have not yet undergone therapy is an ideal motivation for the entrepreneurs and their dedicated staff. Christian Angern concludes: "We could certainly work fewer hours in another job, but working with this team on such important healthcare issues is just really fun!"
Published on KfW Stories: 16 February 2021, updated on 6 July 2023.