Unfortunately, itchy insect bites are as much a part of summer as flowers, ice cream and sandals. A group of students from Karlsruhe, Germany have developed a stick that connects to a smartphone and uses heat to combat itching and pain. Its mechanism is medically approved. The start-up Kamedi, which won the KfW Entrepreneurs' Award for the state of Baden-Württemberg with its idea, is now looking to expand.
Kamedi develops a smartphone gadget against insect bites (KfW Group/n-tv). This video is only available in German.
When Lukas Liedtke spent his holiday by the Baltic Sea a few years ago, he was plagued by itchy mosquito bites. A friend came to the rescue. She pulled out a special heat stick that is available in chemist's shops. It has a small ceramic plate on the end and it quickly heats the area of the bite to around 50 degrees, providing relief.
A few months later, there was an ideas competition at Liedtke's university, Karlsruhe Institute of Technology (KIT). The engineering student remembered the highly effective bite relief device, which, to his mind, only had one disadvantage: it was really large and battery-operated so, unlike a mobile phone, you wouldn't always carry it with you. So he was inspired to apply the principle to a smartphone gadget and enter this project into the competition.
Unexpectedly complex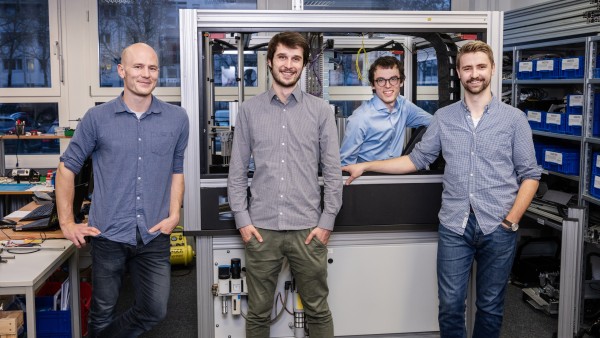 He convinced three of his fellow students to join the project, which "didn't seem too out there from a technical perspective," explains Lukas Liedtke. Together with Armin Meyer, Stefan Hotz and Christof Reuter, he got to work. There were several aspects to take into account, from the performance of the mobile phone and the design of the stick to its operability. By now, the students were spending less and less time in lectures. They were getting to grips with the many aspects of their idea in-depth.
They found a dermatology professor at the Charité hospital in Berlin who was an expert interested in all questions around how the device achieves its effect. This has still not been fully explained. The assumption is that the short, intense heating of the skin blocks irritation from passing along the nerve cells and prevents the distribution of histamine. This means that the bite swells less and does not itch as much.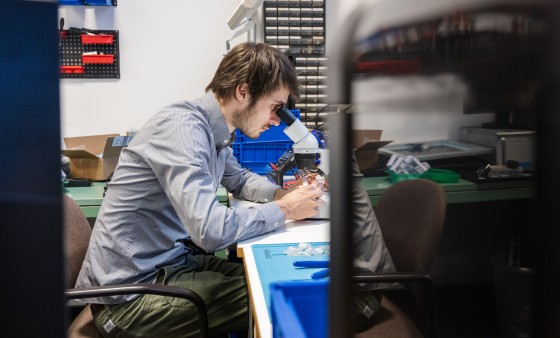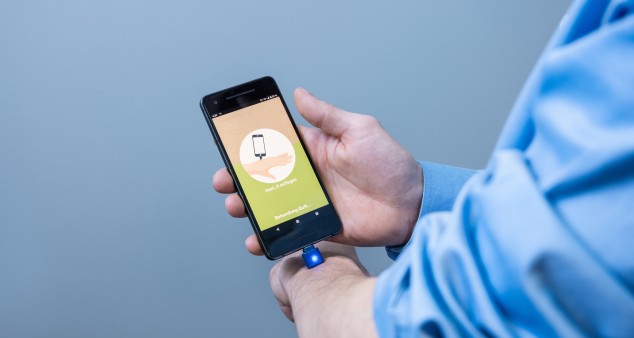 The founders spent many hours on development and soldered the components together under a microscope.
One prototype after another
The traditional bite relief sticks have two settings: three or five seconds of heat. A beep indicates when it is time to remove the stick. Everyone is sensitive to different degrees, and the area of skin makes a difference as well: the high temperature will be felt more strongly on the lower arm than on the calf. This is why there is an app for the heat_it stick which allows users to adjust the intensity and length of treatment individually from their smartphone. App development was another area in which none of the inventors had any experience. They were helped by a large dose of enthusiasm, online courses and the principle of "learning by doing".
At the same time, they were always building new prototypes. In summer 2017 the team patented the stick, which they named heat_it. After a win in the university competition that they had entered, a contest in Hong Kong followed. There, the students presented their product on the international stage and returned home having made the winning pitch. If they hadn't before, everyone now understood that the student project could become a company.
From student project to registered company
Lukas Liedtke remembers: "Each of us actually had other plans: working in development, as a consultant or completing a PhD. But then came lots of articles in the press and even requests from people who wanted to buy the stick – kindergarten staff, fans of outdoor activities and even someone who wanted to put the stick through its paces in a country in Africa. We had a good product, the market was there, we had registered the patent. What did we have to lose? In the worst case, we would have done a lot of work without much to show for it, but we certainly would have learned a lot."
Their courage paid off. Liedtke and his companions applied for the EXIST Business Start-up Grant. The 120,000 euros they received made it possible for them to dedicate themselves to the project full-time and prepare for market launch. In autumn 2018 they set up the limited company under the name Kamedi, which stands for Karlsruhe Medical Devices. Kamedi found its first investors through the Baden-Württemberg start-up programme, with L-Bank providing funding as well. Business angels came on board, providing the start-up not only with money, but also with the benefit of their experience as entrepreneurs. Life Science Accelerator Baden-Württemberg accepted the founders and assisted them as they moved forward.
Achieving certification as a medical device is not an easy task
But not everything ran so smoothly. There were still a few obstacles to overcome before heat_it could be brought to market. The creators spent many hours soldering the tiny components onto the chip inside the stick in order to optimise the technology. "It's not rocket science, but the devil is in the details," laughs Liedtke.
The prerequisite for sale was that the company be certified as a medical device manufacturer. To obtain this certification, it had to demonstrate a sophisticated quality management system that is inspected annually by the TÜV technical inspection association. The processes are complex and the formal criteria to be met are demanding. They must be transparent for all parts of the supply chains and adhere to European standards. In order to guarantee this, the entrepreneurs decided to manufacture in-house at their company's Karlsruhe headquarters.
With the certification, they entered completely new territory. "For understandable reasons, medical devices are subject to unbelievably strict requirements. With hindsight it was maybe a bit naive of us to think we could do it. At the same time, that was a great starting point to come from. If you knew in advance what was about to hit you, you probably wouldn't do it at all," says Lukas Liedtke.
Taking heat_it to a bigger audience
To finance the final stages before its market launch, Kamedi started a crowdfunding campaign. Its funding target was far exceeded in just a few hours. The high number of orders was another sign that lots of people found the product convincing.
The product for Android went on sale in June 2020, with the stick for Apple phones following in September. The 'heat_it' costs 30 to 40 euros depending on the operating system and it is available in the company's own online shop, on Amazon, in electronics stores and in ADAC travel agencies. Chemist's shops can also order it on request.
"We have registered various patents in all major countries around the world, which should enable us to expand internationally. We also have plans for other products that we can use to expand our portfolio. And originally, we didn't even plan to set up a company. But today I can say that it's really good fun," says Lukas Liedtke, summing up the past few years.
Published on KfW Stories: 21. January 2021, updated on 19 July 2023.